Polk State EMS Student Makes History as Davenport's First Full-Time Female Firefighter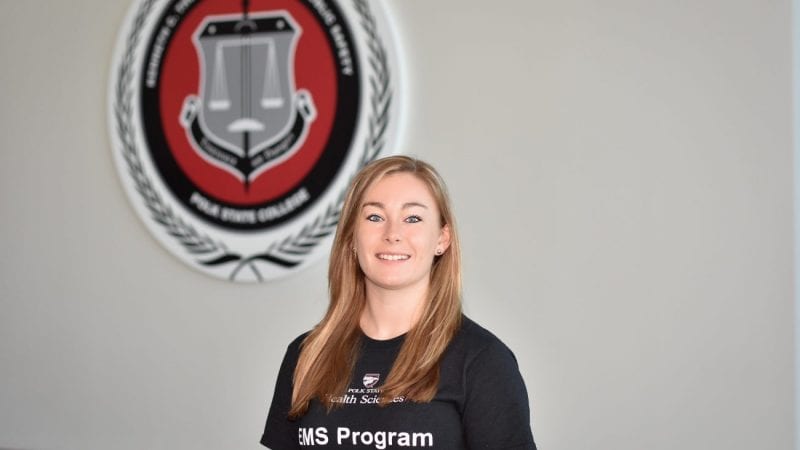 Currently studying in Polk State's Emergency Medical Services program: A history maker.
Jessica Spell, who is pursuing her Associate in Science in EMS, was pinned as the Davenport Fire Department's first full-time female firefighter last month.
"It's an honor not just for me but for the department," Spell said. "It shows the department is moving forward."
According to The Ledger, the city has had a full-time paid firefighting force since the 2008-09 fiscal year, but until Spell, none of those positions have been held by a woman.
Spell, 21, chose to pursue a career in EMS because it was exciting and hands-on, she said. She completed her emergency medical responder and emergency medical technician training at Polk State, and is currently working toward both her paramedic certificate and associate's degree.
She began volunteering with the Davenport Fire Department last November.
A mother of a 2-year-old son, Camden, Spell embraces the title of "role model," especially for young girls.
"You can do it all," Spell said, adding she relies heavily on her family for help juggling her shifts, schoolwork and parenting responsibilities.
"It's challenging, but my son gets so excited when he sees the ambulances and fire trucks. He's proud."
The field of EMS has three tiers, with paramedics at the top, above emergency medical technicians and emergency medical responders. Polk State EMS offers training options for those seeking to work at any level of the EMS ladder, and an associate's degree in EMS for paramedics interested in career advancement. In addition to EMS, Polk State Public Safety offers associate and bachelor's degrees in Criminal Justice, and an associate's degree in Fire Science. In addition to EMS, Polk State Health Sciences programs include Cardiovascular Technology, Diagnostic Medical Sonography, Nursing, Occupational Therapy Assistant, Physical Therapist Assistant, Radiography and Respiratory Care.