Polk State EMS Honors Its Instructor of the Year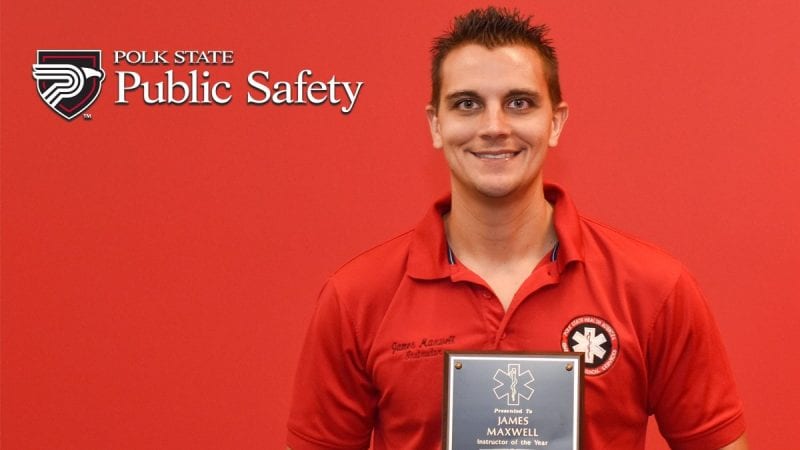 For his professionalism and demonstrated dedication to his students, the Polk State EMS program has selected James Maxwell as its Instructor of the Year.
"He's the kind of instructor who goes home and makes a study guide for his students to help them prepare for the exam. He's the kind of instructor who makes sure he delivers information for all the various kinds of learners," said Polk State EMS Program Director Don Guillette
"He goes the extra mile. He is an excellent instructor and we're better for having him."
Maxwell has worked in emergency medical services for more than 12 years, and is currently a captain paramedic for Plant City Fire Rescue.
He earned his Associate in Arts degree from Polk State, as well as associate degrees in Fire Science and EMS from Hillsborough Community College, a bachelor's degree in mass communications from Florida Southern College, and a master's degree in EMS management from Columbia Southern University.
Maxwell returned to Polk State to teach a little more than four years ago.
"Polk State College has always been the superior program, in my opinion," he said. "This program produces the best candidates. I wanted to be part of something I felt held the highest standard. I came back to help hold that standard and hopefully produce the best type of student possible for the EMS industry."
As for what specifically makes Polk State EMS "the superior program," Maxwell pointed to the curriculum.
"Students here learn the theory behind what they're doing," he said. "They learn fundamental life-saving skills, but they also learn the 'why' behind those skills."
Maxwell said he strives to instill a commitment to continuous improvement in his students.
"This is a field that changes and grows every single day," he said. "You have to be open to the ongoing changes of this industry. It is always moving forward, and you have to be ready."
Maxwell added that he is thankful for the support he has received from his colleagues in the EMS program, as well as from students studying in the program.
"Their support is what has allowed me to be Instructor of the Year," he said.
The field of EMS has three tiers, with paramedics at the top, above emergency medical technicians and emergency medical responders. Polk State EMS offers training options for those seeking to work at any level of the EMS ladder, and an associate's degree in EMS for paramedics interested in career advancement. In addition to EMS, Polk State Public Safety offers associate's and bachelor's degrees in Criminal Justice, and an associate's degree in Fire Science. In addition to EMS, Polk State Health Sciences programs include Cardiovascular Technology, Diagnostic Medical Sonography, Nursing, Occupational Therapy Assistant, Physical Therapist Assistant, Radiography and Respiratory Care.