Polk State EMS graduates first class from paramedic partnership with Polk County Fire Rescue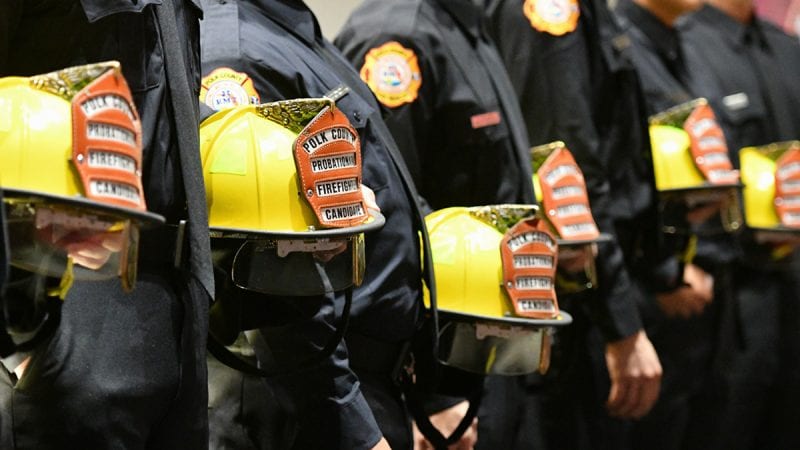 Polk State College celebrated the first graduating class June 6 from the Emergency Medical Services (EMS) Program's partnership with Polk County Fire Rescue (PCFR) to fill the local workforce need for paramedics.
The 13 graduates will enjoy immediate employment with PCFR, prepared to successfully serve the community as highly skilled professionals with a passion for aiding the residents of Polk County.
"I affectionally call this group the Integrity 13. I've watched their aspirations to become public safety professionals turn into success through hard work and perseverance," PCFR Interim Chief Robert Weech said. "Polk State's team has prepared them to perform at a high level and their diligent preparation will benefit Polk County Fire Rescue and the Polk County community."
Polk State EMS quickly responded to PCFR's need for paramedics by launching an accelerated program in September 2018 that condenses the standard 12-month paramedic program into eight and a half months without sacrificing quality.
"You should feel proud – this is a rigorous program that challenged you every step of the way," Polk State EMS Director Don Guillette shared with the graduates.
Because Polk State is accredited by the Committee on Accreditation of Education Programs for the Emergency Medical Services Professions (CoAEMSP), the program does not alter curriculum or instructional time. Instead, students complete the necessary courses and materials over a shorter period, still completing more than 1,000 curriculum hours per national standards as well as internships and field training.
"We have gained so many valuable lessons, skills, and experiences," valedictorian Susan Reed said. "Eight months ago, we started this daunting task that seemed impossible at times. We cried and we laughed together…, but we did it and I can't wait to work with you all in the field."
Students in the program receive their education and training at no cost to them, thanks to a scholarship and $1,600 a month stipend provided to each student by PCFR. In return, the students sign a five-year continuous employment agreement with the department.
"I know it was not easy – it was designed that way," Weech told the graduates, "but your results will speak for themselves."