Polk State EMS Again Surpasses State on Paramedic Exam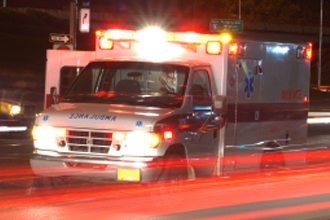 Polk State's Emergency Medical Services program has once again outperformed the rest of the state on Florida's paramedic certification exam.
The College's pass rate among students who took the exam late last year is 100 percent, according to data from the Florida Department of Health. That is compared to the statewide average of approximately 60 percent.
The program's pass rate has been 100 percent in six of the last 12 years, and it consistently surpasses the state on the exam.
EMS has three tiers, with paramedics at the top, above emergency medical responders and emergency medical technicians. Paramedics provide advanced life support, including intravenous therapy, intubation, medication administration and defibrillation.
Polk State EMS offers training options for those seeking to work at any level of the EMS ladder, and an associate degree in EMS for paramedics interested in career advancement. The program also provides Pediatric Advanced Life Support and Advanced Cardiac Life support training for Polk County Fire Rescue.
In addition to EMS, Polk State Public Safety offers associate's and bachelor's degrees in Criminal Justice, and an associate's degree in Fire Science. In addition to EMS, Polk State Health Sciences programs include Cardiovascular Technology, Diagnostic Medical Sonography, Nursing, Occupational Therapy Assistant, Physical Therapist Assistant, Radiography and Respiratory Care.