Polk State, Embry-Riddle Sign Academic Agreement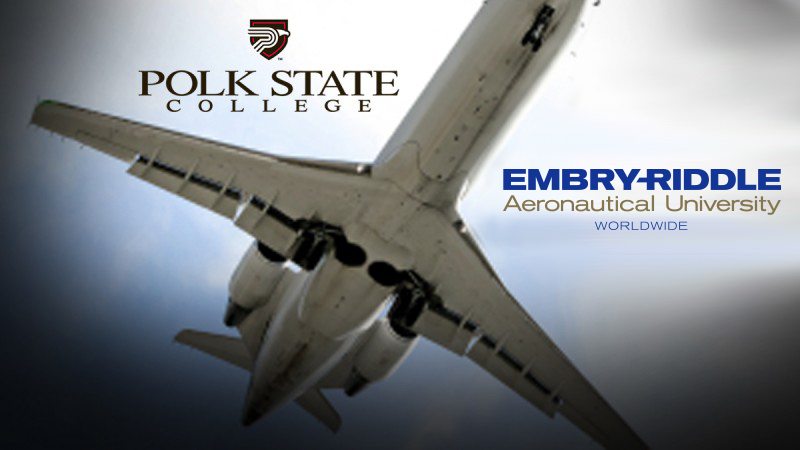 Polk State has inked an agreement with Embry-Riddle Aeronautical University —Worldwide, giving its Aerospace students more options for their bachelor's or advanced degrees.
The College and Embry-Riddle — Worldwide, a world leader in aviation-oriented higher education, signed their academic agreement in October.
"This establishes a very important educational connection between Polk State and Embry-Riddle," said Polk State Vice President for Academic and Student Services Kenneth Ross. "It provides our students with greater flexibility for earning their bachelor's and advanced degrees. Polk State is committed to providing students every opportunity possible to succeed, and this agreement, and the options it creates, is yet another example of just that."
Polk State Aerospace launched in January 2013 and includes associate's degrees in Professional Pilot Science and Aerospace Administration. The College was also recently approved to offer a bachelor's degree in Aerospace Sciences. Polk State will become the first public college or university in the state to offer the degree when it launches in fall 2014.
Through the new academic agreement, a number of educational pathways are now available to Central Florida's aerospace students.
Polk State Aerospace Director Eric Crump gave the following examples:
After attaining their associate's degrees, Polk State Aerospace students may now either continue into the College's Aerospace bachelor's program, or have their coursework seamlessly transfer to Embry-Riddle — Worldwide.
"What's great about that, for our students, is that Embry-Riddle — Worldwide has over 150 locations all over the world," Crump said. "Say one of our students is working on the bachelor's degree but gets a job with Boeing and has to move to Seattle, he or she can transfer straight into Embry-Riddle and take the job."
Polk State's bachelor's degree will be a traditional, face-to-face program, whereas Embry-Riddle's programs also use online and virtual classroom instruction.
"Students are getting more options, and will be able to pick the degree model that best meets their needs," Crump said.
Once Polk State students attain their bachelor's degree, they will now be able to move straight into an Embry-Riddle master's program, Crump added.
The agreement creates benefits for Embry-Riddle students as well, who may choose to come to Polk State for its affordable flight training.
"Our relationship with Polk State brings together two leaders in aerospace to create opportunities for all students located along Central Florida's I-4 corridor," said Jennifer Luke, campus director of Embry-Riddle — Worldwide's Orlando location. "We look forward to working with Polk State to educate tomorrow's aviation and aerospace professionals."
Embry-Riddle Aeronautical University, the world's largest, fully accredited university specializing in aviation and aerospace, is a nonprofit, independent institution offering more than 40 baccalaureate, master's and Ph.D. degree programs in its colleges of Arts and Sciences, Aviation, Business and Engineering. Embry-Riddle educates students at residential campuses in Daytona Beach and Prescott, Ariz., and through the Worldwide Campus, with more than 150 locations in the United States, Europe, Asia and the Middle East.
The Embry-Riddle agreement comes just weeks after the Florida College System announced a new partnership with Florida State University. Under the FCS-FSU deal, students who earn their bachelor's degree in Criminal Justice or Public Administration through the FCS will be guaranteed admission to FSU's online Master of Criminal Justice Studies Program. Polk State offers a Bachelor of Science in Criminal Justice, and its Bachelor of Applied Science in Supervision and Management degree includes a Public Safety Management concentration.
In addition to its bachelor's degrees in Aerospace, Criminal Justice and Supervision and Management, the College offers a Bachelor of Science in Nursing. More baccalaureate degrees are in development.