Polk State College Presents First Shakespeare Performance, "Taming of the Shrew," Beginning with Free Preview on March 27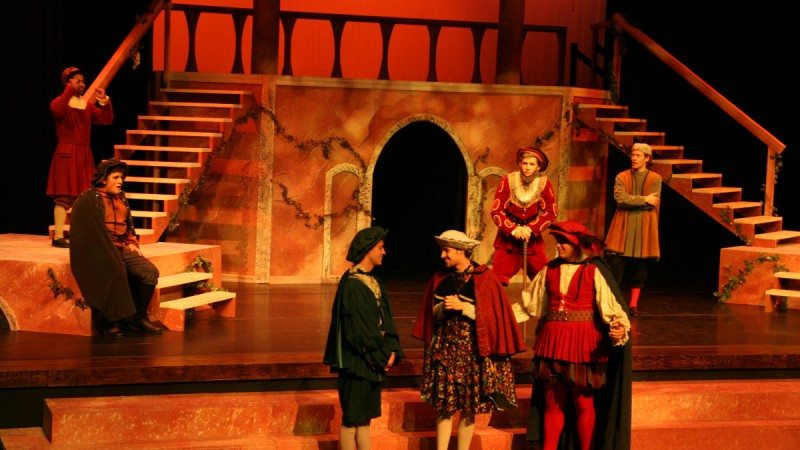 William Shakespeare's classic comedy "The Taming of the Shrew" will take the Polk State Winter Haven Fine Arts Theatre later this month, beginning with a free preview on March 27.
The production tells the story of two sisters — sweet, young Bianca, and mean, spiteful Katharina. Their father, Baptista, insists that Bianca will remain unwed until Katharina is married. What ensues is a hilarious parade of suitors determined to woo Bianca and tame Katharina.
The play has known dozens of Broadway revivals and in 1967 became a movie starring Elizabeth Taylor as Katharina. The film version went on to receive two Academy Award nominations.
This is the first time Polk State's Theatre Department has performed a Shakespeare play, but it will not be the last, said Producer Paul Carbonell.
"This is the start of a renaissance of classical theater at Polk State," he said. "Classical theater doesn't get done a lot in Central Florida, so we're carving out a niche here at Polk State."
The cast and crew of Polk State's "Taming of the Shrew" includes:
Christa Barber, Petra
Marguerite Berrios, Felissa
Michael Defelice, Vincentio
Madison Dill, Josephina
Leisa Englert, Katharina
Chelsea Glass, Bianca
Samuel Hunter, Tranio
Sara Keilty, Tailor
Michael King, Hortensio
Devon Maver, Widow
Bobby McDonald, Pedant
Chris Ninan, Biondello
Tiffany Nystrom, Maria
Chris Rigby, Lucentio
Charlie Sigler, Grumio
Baron Simmons, Petruchio
Austin Thomas, Gremio
LaPassion Webster, Habadasher
Paul Carbonell, Producer
Mark Hartfield, Director
Jessica Glover, Stage Manager
Sydney Reynolds, Stage Manager
The March 27 free preview is scheduled for 7:30 p.m. "Taming of the Shrew" will also be offered at 7:30 p.m. March 28-31, and 2:30 p.m. on April 1.
The Fine Arts Theatre is located on the Winter Haven campus, 999 Ave. H N.E.
Admission is free for high school students and Polk State College students, faculty and staff. Tickets are $5 for the general public. The box office opens 30 minutes prior to each show.