Polk State College & LEGOLAND® Florida Resort partner to provide prepaid scholarships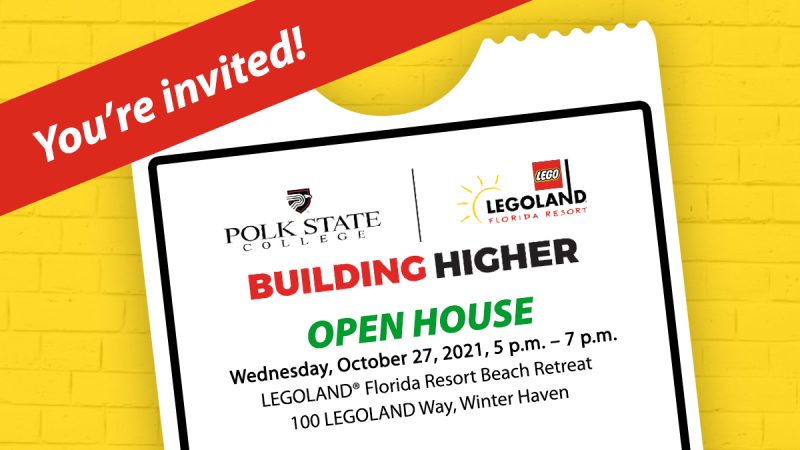 Polk State College and LEGOLAND® Florida Resort are proud to build on the longstanding partnership between Polk County's largest-serving higher education institution and premier theme park to offer prepaid scholarships to Polk State College for LEGOLAND® Florida Resort employees.
The public is invited to an open house at LEGOLAND® Florida Resort's Beach Retreat to learn more about this exciting initiative, including LEGOLAND® Florida Resort's hiring process, Polk State College's admission and financial aid processes, and how to become eligible for this scholarship opportunity that will provide funds for tuition and fees upfront for employees, rather than a traditional reimbursement program.
LEGOLAND® Florida Resort/Polk State College Building Higher Open House
Wednesday, October 27, 2021, 5 p.m. – 7 p.m.
LEGOLAND® Beach Retreat
100 LEGOLAND Way, Winter Haven, FL 33884
Polk State is proud of its strong partnership with LEGOLAND® Florida Resort, which serves as a key player in Central Florida's tourism industry and works closely with the College to provide academic and career-building opportunities for students, graduates, and employees.
One of the highlights of this powerful partnership is the Polk State College LEGOLAND® Florida Resort Internship Program which, since its inception in 2015, has served more than 60 students. The internship allows Polk State students the opportunity to earn college credit while receiving valuable hands-on experience in areas including finance, marketing, and waste and environmental management.
Internships and Polk State degrees have led to employment and promotions for LEGOLAND® Florida Resort employees, signifying the company's value of a Polk State education.