Polk State College Day At Polk Museum Of Art At Florida Southern College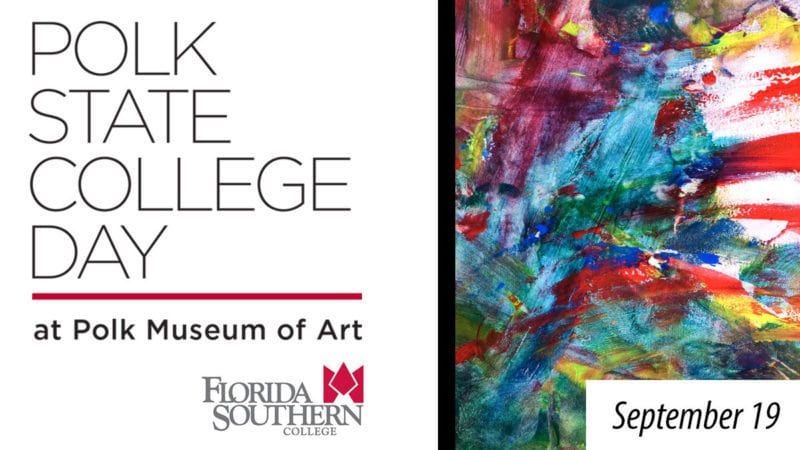 Students from Polk State and Florida Southern colleges will engage in a day-long series of art education programs at the Polk Museum of Art at Florida Southern College on Tuesday, Sept. 19, from 10 a.m. to 4 p.m.
Polk State College Day at the Museum celebrates the partnership of the two higher education institutions working in conjunction with the Polk Museum of Art to bring the Rembrandt's Academy exhibition to Lakeland from the Netherlands.
"Polk State College Day at Polk Museum of Art is the coming together of three institutions that understand the important value of art and art education," said Polk State College President Dr. Angela Garcia Falconetti.  "We value participating in this shared educational opportunity and are grateful to President Emerita Holden for her stellar leadership of and vision for advancing programs and critical partnerships."
The event, which was originally scheduled for Sept. 7 but postponed due to Hurricane Irma, will begin Tuesday with a lecture and tour by FSC Art History Professor Dr. Alex Rich entitled "A Close Look at Rembrandt's Academy."
The program schedule will include several Rembrandt's Academy presentations, discussions, and a painting demonstration by Polk State College fine art and humanities professors, and a behind-the-scenes look at the making of the exhibition by the Museum curatorial staff.
The day will conclude with a reception honoring Polk State College President Emerita Dr. Eileen Holden, who was responsible for co-developing the partnership with Florida Southern College President Dr. Anne Kerr.
"Polk State College and the Polk Museum of Art have enjoyed a strong relationship for many years now," said Polk Museum of Art Executive Director Claire Orologas. "We are excited about this special day of learning with the students, faculty and staff, and look forward to saying a proper thank you to our former Museum Trustee, colleague, and friend, Dr. Holden."
Dr. Anne Kerr echoed a similar sentiment.
"Dr. Eileen Holden has been a stellar leader in higher education throughout her career. Under her guidance, Polk State College has become a recognized example among community colleges, providing excellent educational programs for the people of Central Florida," Dr. Kerr said. "She is also a good friend, and I wish her much success in the future.  I am sure she has many more valuable contributions to make in her future endeavors."
The reception will take place from 4 to 5:30 p.m. in the Hollis Gallery at the Polk Museum of Art located at 800 East Palmetto Street in Lakeland.
The public is invited to attend this special event.
The full schedule of events for the day is available here.
About Polk State College
Located in Winter Haven, Florida, and established in 1964, Polk State College is a multi-campus institution serving more than 16,000 students with Bachelor of Applied Science, Bachelor of Science, Associate in Arts and Associate in Science degrees, as well as a wide range of certificate and workforce training options.  The College also operates three charter high schools.  Polk State's advantages include small class sizes; hands-on learning; dedicated faculty; day and night classes; online options; affordable tuition; excellent financial aid; and a diverse community and vibrant student life, including fine arts opportunities, clubs, and intercollegiate athletics.
About Florida Southern College
Founded in 1883, Florida Southern College is the oldest private not-for-profit college in Florida.  The College maintains its commitment to academic excellence through more than 50 undergraduate programs and distinctive graduate programs in business, accounting, education, and nursing.  Florida Southern is committed to the development of the whole student through vibrant student life programs that prepare graduates to make a positive, consequential impact on society.  It serves 3,500 national/international students yearly, and welcomes 40,000 worldwide visitors annually to its National Historic Landmark Frank Lloyd Wright-designed campus.
About the Polk Museum of Art
The Polk Museum of Art is a 501 (c)(3) not-for-profit arts organization founded in 1966 by a dedicated group of Lakeland community members.  Its enduring mission is to enhance lives through inspirational and engaging art experiences for the community-at-large, as well as a broad network of higher education institutions throughout Florida and the Nation.  It is the largest and the only nationally accredited visual arts museum in Polk County and has been a Smithsonian Affiliate since 2010.  The Museum serves 140,000 local and global visitors annually through its exhibitions, programs and events.