Polk State College Cardiovascular Technology Program granted continuing CAAHEP accreditation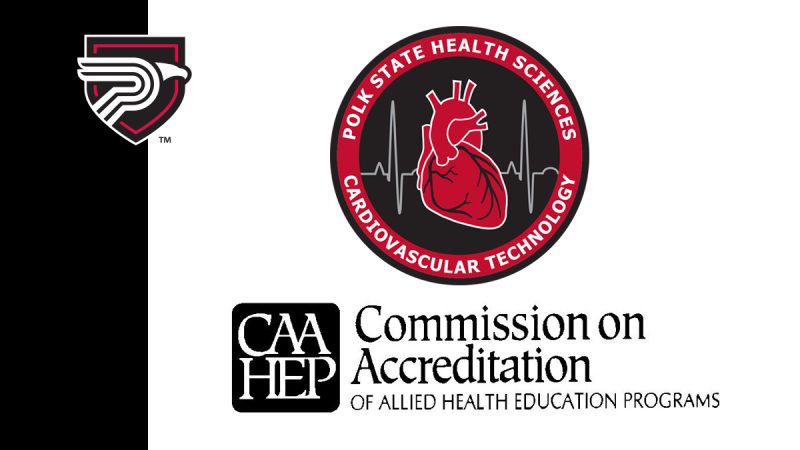 At its meeting on May 15, 2020, the Board of Directors of the Commission on Accreditation of Allied Health Education Programs (CAAHEP) granted continuing accreditation to the Cardiovascular Technology Program at Polk State College in Lakeland, Florida.  The CAAHEP Board acted upon the accreditation recommendation of the Joint Review Committee on Education in Cardiovascular Technology (JRC-CVT).
Through the accreditation process, which includes a thorough review of the program, curriculum, resources, faculty, and staff, as well as a site visit, the Cardiovascular Technology Program at Polk State College was determined to be in substantial compliance with the nationally-approved Standards and Guidelines for educational programs. The CAAHEP Standards by which the program was measured have been developed primarily by Cardiovascular Technology professionals, are approved by each profession's sponsoring organizations, and are intended to reflect the required knowledge and skills that a person needs to be able to successfully function within the Cardiovascular Technology profession. CAAHEP Standards focus on quality outcomes, assuring that educational programs are preparing competent Cardiovascular Technology professionals.
"Providing quality assurance in health sciences and health professions education by setting standards for program accreditation and evaluating program performance is the mission of CAAHEP. As each individual program is reviewed, CAAHEP stays focused on each profession's Standards and quality outcomes to assure that every CAAHEP accredited program is preparing students to be successful as they enter their chosen health care field," said CAAHEP President Glen Mayhew. "We congratulate Polk State College's Cardiovascular Technology Program on achieving continuing CAAHEP accreditation."
The Cardiovascular Technology Program is a two-year limited admission program that awards an Associate in Science degree in Invasive Cardiovascular Technology upon program completion.  In addition to didactic course instruction, the program includes approximately 900 hours of hands-on lab time at the Airside-West Cardiac Catheterization Lab and nearly 1,500 clinical hours in local affiliate hospitals working with cardiologists performing procedures on real patients. The rigorous program has a 79 percent completion rate, a 95 percent pass rate on the credentialing exam, and a 100 percent job-placement rate.
"Polk State's Health Sciences programs are dedicated to preparing students to become the highly skilled professionals our healthcare employers and community need," Polk State President Angela Garcia Falconetti said. "The College's Cardiovascular Technology Program provides exceptional education and workforce training for our students, and I am extraordinarily proud of our CVT faculty and staff for achieving reaccreditation."
CAAHEP accredits more than 2,200 educational programs that prepare health professionals in 32 different disciplines. Accreditation is a critical step in a process that is meant to protect the public and ensure a supply of qualified health care professionals.  For more information about CAAHEP and accreditation, visit www.caahep.org.
For information on the Cardiovascular Technology program at Polk State College, visit www.polk.edu/cardiovascular-technology.