Polk State College Administrator Receives Award from Association of Florida Colleges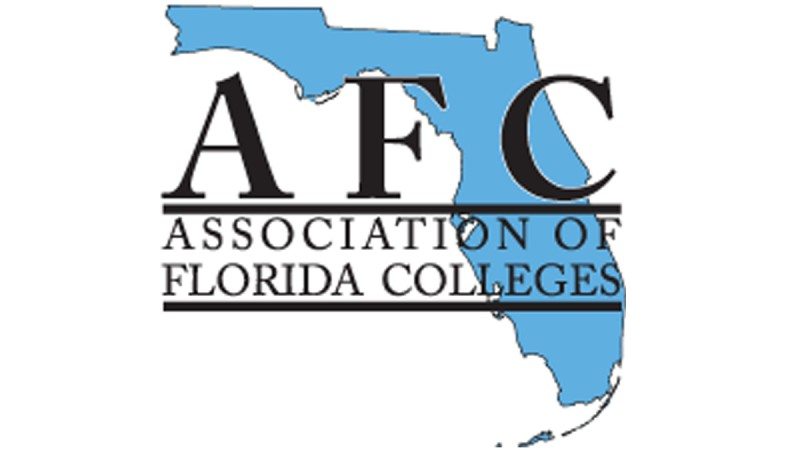 The Association of Florida Colleges has honored Polk State College's Peter Usinger for his service on both local and statewide levels.
Usinger, director of institutional research, effectiveness and planning for Polk State, received the AFC's Distinguished Service Award at its annual convention last month in Naples.
Dr. Eileen Holden, president of Polk State College, expressed pleasure – but not surprise – at the news: "Those of us who work with Peter on a daily basis already appreciate his unique combination of integrity and intensity. Polk State counts on those attributes, and now it's gratifying for us to see that his excellence has been recognized by his peers."
Usinger is currently in his second term as both a member of the AFC's board of directors and chairman of its Institutional Effectiveness, Planning and Professional Development Commission.
In his leadership roles with the AFC, Usinger has emphasized improved knowledge sharing among the AFC's 28 institutions.
To that end, he has led the effort to create a Best Practices Resource Network for AFC members. The network will provide information collected from a variety of sources that will cover topics such as improving first-year retention, student services, professional development and distance learning.
"It will be a one-stop knowledge repository for what works and what doesn't," said Usinger, who has worked with Polk State for nine years.
AFC members will also be able to post new information to the BPRN, making it a current and relevant source for other colleges.
Related to the BPRN, Usinger is also working to create a Speaker Bureau that will connect colleges with expert speakers from within the AFC.
"That way, the folks associated with the best practices can offer their expertise," Usinger said.
The BPRN will launch later this year, while the Speaker Bureau will be available early next year.
Usinger has also facilitated several nomination processes for the IEPPD's Exemplary Practice Awards.
Among his achievements locally, Usinger in 2010 was heavily involved in Polk State's Quality Enhancement Plan, titled "Math – The Bridge to Success." That plan initiated a shift in the way the College views teaching and learning, moving it from a concentration on the material that is taught to a more comprehensive understanding and revision of how it is taught.
The QEP received excellent reviews from the Southern Association of Colleges & Schools' reaffirmation committee. It was also selected to be presented at the 2011 Association for Institutional Research conference in Toronto, where it was used as a best practices standard in QEP development and institutional effectiveness compliance.
The QEP has also been nominated for the AFC's 2011 Exemplary Practice Award.
Usinger has dedicated time and effort to the AFC for seven years.
"The AFC is a unique chance for college's to connect, and a wonderful opportunity for information exchange and for the colleges to learn from each other," he said.
That cooperation, he explained, results in cost-savings for the colleges and improved experiences for students, faculty and staff.
Usinger's commitment to the organization has been unfailing, said Marsha Kiner, AFC associate executive director for membership and professional development.
"He has been an avid supporter of everything related to IEPDD. He is always thinking of what he can do to make it better, to broaden its scope and to involve more people," she said.
Also receiving the Distinguished Service Award was Frances Ash, human resources specialist at Florida Gateway College, and Susan Thomas, director of advisement and career services at Miami Dade College.
The AFC is the professional association for Florida's 28 public community and state colleges, their boards of directors, employees, retirees and associates.