Polk State celebrates NJCAA Day: The Journey Begins Here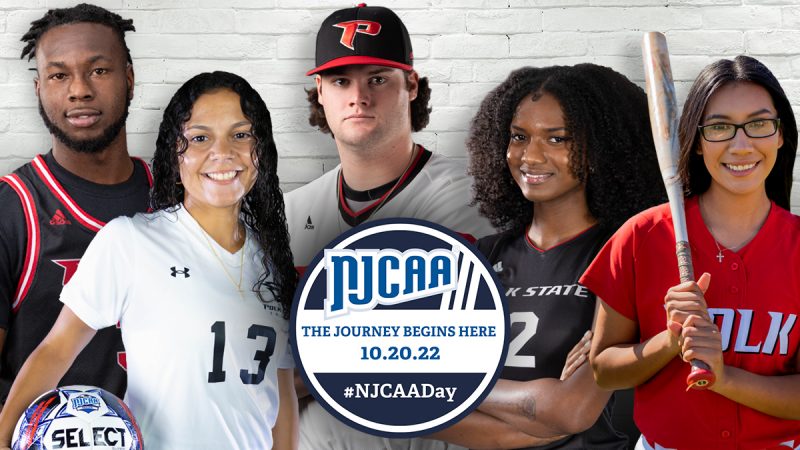 Junior college athletics will likely never get the fanfare or notoriety of major NCAA Division I sports, but for many, it has played a vital role in who they are today.
Today is NJCAA Day, which celebrates junior college athletics. This year's theme is "The Journey Begins Here." For many well-known successful athletes over the years, junior college played an instrumental role in their careers.
Quarterback Cam Newton, the 2010 Heisman Trophy winner at Auburn University, No. 1 overall pick in the 2011 NFL Draft and 2015 NFL MVP, never started a collegiate game until 2009 when he led Blinn College to an NJCAA national championship.
Jimmy Butler, a star forward for the NBA's Miami Heat, and six-time All-Star began his collegiate career at Tyler Junior College in Texas. A trailblazer known for breaking baseball's color barrier with the Brooklyn Dodgers, Jackie Robinson was a star baseball, basketball, football, and track and field athlete at UCLA in the late 1930s and early 1940s. His collegiate career, however, began at Pasadena Junior College in California.
"There are great athletes, great competition, and great coaches who really work to make their programs top notch," Polk State College Athletics Director Stanley Cromartie said. "I've watched our coaches work tirelessly to make their teams and their players better. I encourage anyone nearby to come out to witness it firsthand. I'm sure you'll be impressed."
Over the years, Polk State student-athletes have gone on to play in the NBA, Major League Baseball, and for their country's senior national and Olympic teams in softball, soccer, and volleyball.
Full Circle
The athletics director at Polk State since 2019, Cromartie has experienced junior college at three different levels. Cromartie played basketball at State College of Florida-Manatee before going on to serve as head men's basketball coach at Valencia College and Seminole State College.
"Junior college has given me a lot of opportunities," Cromartie reflected. "It allowed me to stay home and play college basketball."
During his JUCO playing career, Cromartie played on a pair of 29-win teams. After reaching the FCSAA state final as a freshman at State College of Florida, Cromartie helped his team reach the semifinals the following season.
"To be able to play and then to be a coach at two different schools, JUCO athletics is part of my history," Cromartie said. "It's who I am. The relationships I've made with coaches and administrators and former players of mine, seeing them go to four-year schools and seeing them succeed – those are the most rewarding things for me."
For Polk State Baseball Head Coach Al Corbeil and Dayanna Barbosa, an assistant coach for Polk State Volleyball, things have also come full circle. Both were part of very accomplished programs as players.
A former player under Polk State Head Coach German Del Valle, Barbosa was an All-State performer who helped the Eagles reach the national NJCAA Tournament for the first time during Del Valle's tenure. She is in her fourth season as an assistant.
"A lot of people might think it's low-level volleyball, but it's not," Barbosa said. "The quality of competition here is great. I had a great experience as a player here and I wanted to give them that same type of experience."
The longest tenured head coach at Polk State, Corbeil is entering his 13th season over the baseball program. His college playing career, however, began at what is now State College of Florida.
During a record-breaking career, Corbeil helped the Manatees win an FCSAA record 59 games in 1999 before a third-place finish at the JUCO World Series. He went on to have a stellar career at Florida International University before playing in the minor leagues.
"Junior college baseball, especially in Florida, is just such a high level of competitive athletes and talent," Corbeil said. "You have a number of JUCO kids who get drafted every year and make it to the highest level of baseball. I loved it as a player. I had a great experience and I've had a great experience as a coach."
During his tenure, Corbeil has led the Eagles to six conference titles. In 2012, Polk State won just its second FCSAA state championship and reached the NJCAA World Series for the first time. Under Corbeil, more than 100 Polk State players have gone on to four-year schools or to be selected in the Major League Baseball Draft.
"It's a great age group to work with and try to develop," Corbeil said. "It's exciting to see the progress and the jumps they make and how they get better during their time here."
JUCO for Generations
For Polk State Head Basketball Coach Brandon Giles, junior college athletics has generational significance. Giles' late father, Josh Giles, coached for then Polk Community College from 1987 to 2000 and led the program to its only three FCSAA titles.
"As I get older, being able to see the impact that not just my father, but also junior college coaches can have on people's lives is what made me realize that this is where I'm supposed to be," Giles said. "It took me a while and some help from the man upstairs to realize it, but why would I not want to do this?"
With Polk State's appearance in last season's FCSAA tournament, Giles and his late father became the first father-son duo in FCSAA history to lead teams to the state tournament. Like his father, the younger Giles hopes to one day hang a banner on the wall in the Winter Haven Campus Health Center, where the Eagles play their home games.
"Entering my sixth year, I haven't won a championship yet, but that hasn't stopped people from supporting me or believing in me," Giles said. "It's humbling the way that the community has stepped up and believed in my vision for this program."
Giles noted that in junior college athletics, where players don't spend more than two years at a school, establishing a culture can be difficult. Giles has made it a priority to help mold players into not only better basketball players but also better people.
The Polk State head coach noted that what separates junior college from other levels of basketball is the toughness. For many players, Giles said, this is their last chance to continue their basketball careers. Despite playing four seasons at NCAA Division I Western Carolina University and being named All-Southern Conference three times, Giles acknowledged he wasn't the toughest player.
"I try to get the toughness out of my guys that I didn't always have as a player," Giles said. "To get these young men to compete against other young men, who are on their last chance, to match their hunger and their passion, that's fun to me."
An International Game
Former Polk State Softball pitcher Greta Cecchetti is a native of Italy. Unlike U.S.-born players who can play year-round with travel ball and the Amateur Athletic Union, Cecchetti said her time at Polk played a significant role in helping her adjust to a career in softball.
"People didn't know that we even played softball in Italy," she said. "I really wanted to go somewhere warm. Any state that was too cold to play in the winter was out because I wanted to play year-round.
"It was a huge adjustment at first. I was here by myself," Cecchetti added. "I didn't speak English very well. Being thrown into the JUCO system was so difficult to me. I was lucky to have (former Head) Coach Jeff Ellis. Once I understood what my coaches and teammates were saying, things got better."
A star in the circle for then Polk Community College in 2009 and 2010, Cecchetti was a two-time All-State performer and a second-team All-American. She left as the program's all-time leader in wins, strikeouts, and earned run average before going on to play at NCAA Division I Texas A&M-Corpus Christi and later for the Italian National Team.
"When you play internationally, there is a wide age range. At junior college, everyone is about the same age and the competition is pretty even," Cecchetti said. "There were a lot of great teams. I don't think people realize how quality it is. There are a couple of Italian players in Region 8 now who I follow. The competition level is only getting better."
In 2022, the Polk State Volleyball team is made up almost exclusively of international players. Barbosa, a native of Brazil, said that is commonplace throughout the country when it comes to NJCAA Volleyball. This season, the Eagles have competed against other international players who play for their senior national teams.
"Junior college is a different level of volleyball," Barbosa said. "You have chances to compete with and against players from all around the globe. There are so many great international players at this level. JUCO volleyball is international volleyball."
For international players, Barbosa said, junior college is a chance to be discovered. During her first year as an assistant, Barbosa coached Manuela Ibarguen, who went on to play NCAA Division I volleyball at Missouri State University.
"It's hard for international players to go straight to D-I," Barbosa said. "This is an opportunity to get there. To see your players go on and accomplish great things is just so rewarding."
For Italian-born softball players, Cecchetti has been a trailblazer. A member of Team Italy during the 2020 Tokyo Olympics (played in 2021), she was the first Italian-native to play NCAA Division I softball and first to play professionally in Japan. This past summer when she played on the Athletes Unlimited circuit, Cecchetti became the first Italian-born player to play professionally in the U.S. Her time at Polk State, she said, helped her learn to be responsible, accountable, and to keep up her grades.
"It really helped me being at a small school where everyone knew each other," she said. "I'm really glad I picked a small school to start with. That carried me into my D-I career and into my professional career. I would recommend it, especially for international players. It's a great way to get your feet wet."