Polk State celebrates fall 2020 graduating class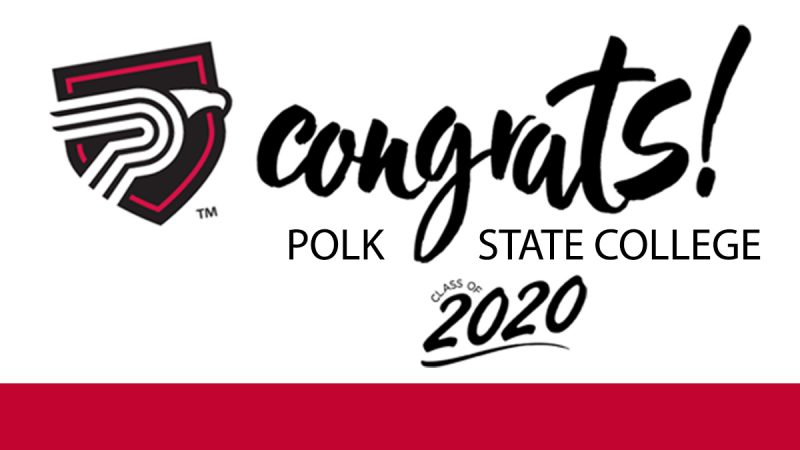 Polk State College is celebrating more than 1,300 graduating students this semester with a variety of opportunities for graduates to participate in, including drive-thru diploma cover pickups, a virtual graduation celebration, and the creation of lifelong keepsakes for them and their families.
All 2020 graduates are invited to participate in commencement ceremonies in May 2021.
Drive-thru diploma cover pickups will be held at the following times and locations.
December 2, 9 a.m. – 11 a.m. | Lakeland Campus, 3425 Winter Lake Road
December 4, 3 p.m. – 5 p.m. | JD Alexander Center in Lake Wales, 152 E. Central Ave.
December 7, 9 a.m. – 11 a.m. | Winter Haven Campus, 999 Ave. H N.E.
A virtual event will take place Thursday, December 10, at 6:30 p.m. on Facebook, Instagram, Twitter, and www.polk.edu/academics/graduation. Fall 2020 graduates are encouraged to email their photos to news@polk.edu to be included in the virtual graduation celebration event, virtual yearbook, and the College's graduation billboards. They should also continue to monitor their Polk State emails for details and updates regarding graduation events and materials.
The names of the fall 2020 graduating class will also be featured in HAVEN and LKLD magazines similar to a traditional bulletin provided at commencement ceremonies. The magazines are being mailed to graduates' homes and will be available on newsstands across Polk County starting December 1.
Of Polk State's 1,317 fall 2020 graduates:
87 percent are Polk County residents, with graduates also residing in Georgia, South Carolina, North Carolina, Illinois, Maine, Nevada, and Michigan.
268 will receive Polk State baccalaureate degrees.

148 will receive the Bachelor of Applied Science in Supervision and Management
9 will receive the Bachelor of Science in Aerospace Sciences
67 will receive the Bachelor of Science in Nursing
28 will receive the Bachelor of Science in Criminal Justice
13 will receive the Bachelor of Science in Elementary Education
3 will receive the Bachelor of Science in Early Childhood Education

759 will receive the Associate in Arts degree, which is fully transferable to any institution within the State University System.
290 will receive Associate in Science degrees, which prepare students to transition directly into the workforce in fields including health sciences and engineering technology.
36 will graduate Summa Cum Laude with grade-point averages (GPAs) of 3.9 or greater; 83 will graduate Magna Cum Laude with GPAs between 3.75 and 3.89; and 188 will graduate Cum Laude with GPAs between 3.5 and 3.74.
13 will graduate with 4.0 GPAs.
The youngest graduating student is 16 and the oldest graduating student is 65.
"Polk State's fall 2020 class has demonstrated distinct dedication and incredible resiliency," Polk State President Angela Garcia Falconetti said. "We are thrilled to celebrate our graduates in a variety of unique ways that we hope will make this unprecedented graduation season special for them and their families. We look forward to celebrating them further in May 2021."