Polk State "Capturing Cultures" Winners Announced; Exhibit on Display Until Dec. 15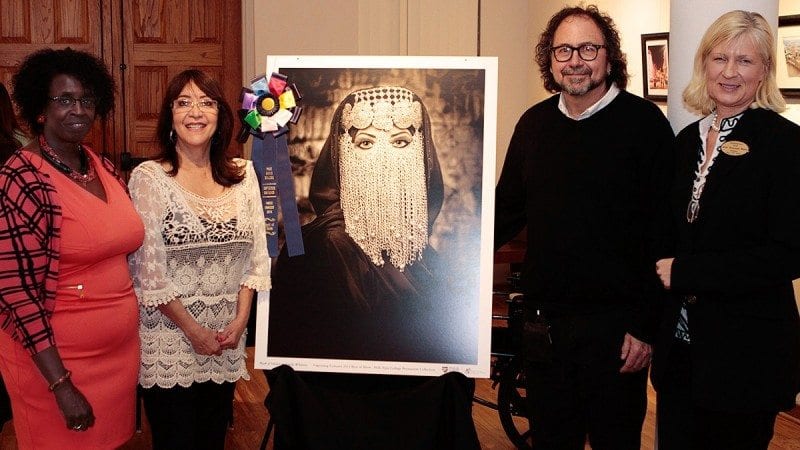 Polk State College announced the winners of its first-ever International Education Week Photography Contest during a reception Thursday at the Polk State Lake Wales Arts Center.
The winners, along with the titles of their work, include:
Best of Show: Lynda Whitney, "Mask of Silence"
Judge's Choice: Annalisa Harris, "Back to Earth"
First Place: Michelle Manzi, "Live and Love Beautifully"
Second Place: Lynda Whitney, "Call to Prayer"
Third Place: Tracy Stahla, "Blue Beauty"
Awards of Excellence: Stephen Packard, "Execution and Torture Posts"; Ron Whitney, "Docking for Dinner"; Mary Ann Murdoch, "The Light of Allah"; Annette Hutcherson, "Penguins and the Lighthouse"
Honorable Mentions: Maria Boyer, "Clothing Line Facing the Atlantic Ocean"; Rosemary Gorman, "Eye on Parliament"; Annette Hutcherson, "Field of Flowers"
Certificates of Appreciation: Lorraine Goldberg, "Hoop Dancer A"; Mary Ann Murdoch, "Tribal Dance"
Certificates of Participation: Laura Adams, Omarr Otero
A total of 99 images were submitted to the contest, including the works of Polk State students, faculty and staff members, as well as photographers from Polk County and as far away as Washington, D.C. In response to the theme "Capturing Cultures," entrants submitted both from foreign lands, as well images depicting unique perspectives of more familiar subjects.
Polk State Professor of Art David Woods, an accomplished photographer, judged the entries.
The "Capturing Cultures" exhibit will be on display through Dec. 15 at the Polk State Lake Wales Arts Center, 1099 State Road 60 East. Hours are 8 a.m. to 6 p.m. Monday-Thursday, and 8 a.m. to 5 p.m. Friday. The exhibit is free and open to the public.
"Capturing Cultures" is just one of several activities at the College to recognize of International Education Week, joint initiative of the U.S. Department of State and U.S. Department of Education to promote programs that prepare Americans for a global environment. Other events include Study Abroad Fairs, where students can apply for their passports and learn about upcoming trips, lectures, and special performances.
Polk State College's international initiatives include a growing selection of study-abroad and internship opportunities.