Polk State Basketball Players Win Heart of Young Fan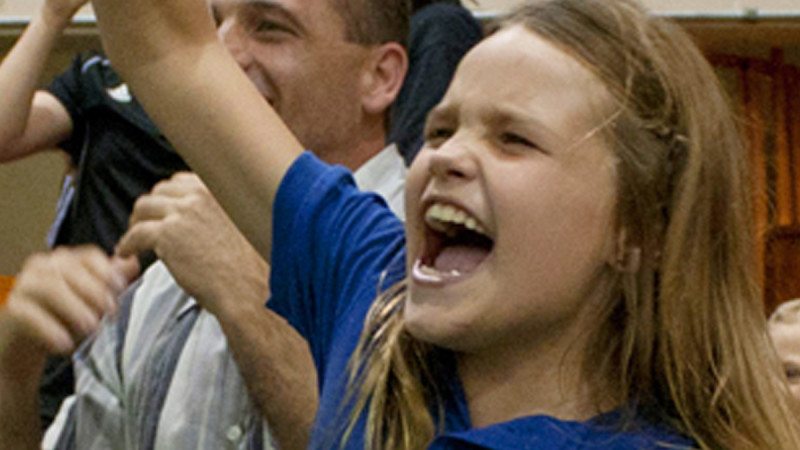 The Polk State College basketball players have reached celebrity status.
The Eagles were recently a part of show and tell at Jewett School of the Arts.
Andrea Guy, 10, of Winter Haven had not forgotten about the team that visited her school in 2011 as part of a school appreciation day.
The Eagles showed the students what they did. They invited the students to do drills with them. Quickly, Andrea became hooked.
"I have a passion for them," she said.
She was shooting basketballs in the game room at CiCi's Pizza in Winter Haven when her mother, Allison, told her the team was in the restaurant.
"Her whole face turned red," Allison said. "She was so excited. It was so genuine."
Andrea asked the players to autograph a napkin.
"They were so nice to her when they saw her," Allison said.
Allison took the precious napkin to school the next day in a plastic bag.
"We bring special things in all the time," she said.
Andrea, who is the youngest of three siblings, is a fan of many sports. She plays Upward soccer and watches NFL football and professional basketball on television.
She loves the Miami Dolphins, Orlando Magic and Miami Heat. Dolphins running back Reggie Bush is one of her favorites.
"She wants to be a football player," her father, Dean said.
"I want to be a wide receiver," Andrea said.
She got warmed up for her first Polk State College men's basketball game by shooting hoops down the street from her Winter Haven home.
"I got excited," she said.
Andrea was screaming her lungs out as she watched the Eagles edge Daytona State 54-52 on a three-pointer with three seconds remaining in the game on Dec. 5 at the Winter Haven Health Center.
Her parents, Allison and Dean Guy, brought their daughter to the game. It was also a rare night out for Andrea and her father, who works long hours at Florida's Natural.
Andrea meant a lot to the team too, in its thrilling victory.
"I credited her energy for keeping our team going. She was so excited with the win," said assistant coach Steve Perkins. "It was her last big hurrah that pushed that ball into the basket. It's nice to see our guys having an impact in the community."
Andrea is sold on the team.
"I'll come back any time I can," she said. "I had a lot of fun with my dad."