Polk State Baseball's Corbeil hits 400-win milestone, but focus remains on team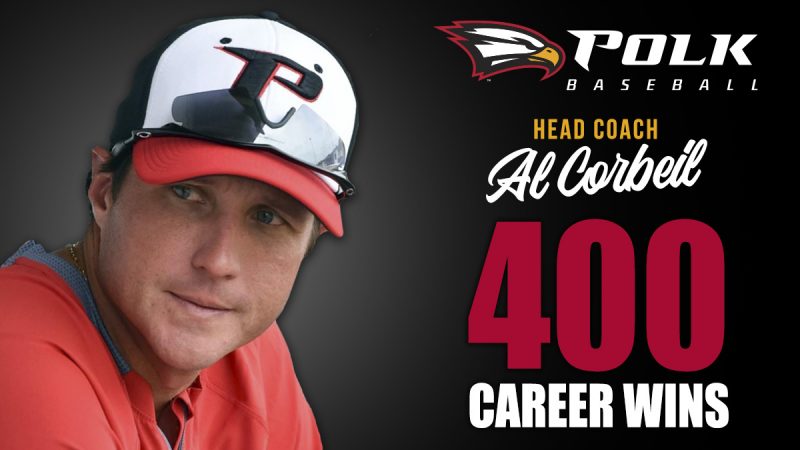 Al Corbeil put himself in elite company last month, becoming just the second baseball coach in Polk State College history to reach 400 wins. For Corbeil however, the program has never been about him.
Corbeil and his players see the Polk State program the same way – as blue-collar winners. Now in his 12th season, Corbeil has watched players become better hitters, fielders, and pitchers, but he's also seen them grow as individuals.
"I think (the most rewarding thing is) watching the players develop, seeing where they came in at as freshmen…and watching them mature as players and then as people and watching how the game correlates to life and the confidence they build as they have success," Corbeil said. "Obviously, it's rewarding to watch that pay off as they win a championship or move forward to four-year schools or professional baseball."
Magic No. 400
The milestone victory came on March 28 as the Eagles held off Southwestern Florida State College, 9-8. With the win, Corbeil joined Bing Tyus as the only coaches in program history to get to 400 wins.
"Being a part of Coach's 400th win, that's a great experience, knowing the history behind Polk State and how hard he's worked to put us in this situation," third baseman Rohsean Riley said. "I'm very grateful to have been a part of the success."
During his tenure, Corbeil has been named Suncoast Conference Coach of the Year several times, and the team has won numerous conference titles and the state championship in 2012. Corbeil was quick to credit others for his success.
"I think it's being able to get quality athletes and players that buy in to a team concept," Corbeil said. "I've had outstanding assistant coaches that have really helped them develop along the way."
Bigger than baseball
Rohsean Riley, a third-year sophomore, didn't have to go far to play college baseball. A native of Winter Haven, Riley knew how prestigious Polk State Baseball is, but the firsthand experience has been more beneficial than he could have imagined.
"Being part of this program, I've grown a lot as a player and as a person," Riley said. "I've learned a lot about myself that I didn't know before that I found here. I'll take that to the next level as well."
Jacob Heath, a right-handed relief pitcher, has been playing baseball since he was 7 years old. Heath said that he's had many great coaches along the way. With Corbeil, it's truly a team-first environment.
"This is really what he loves to do," Heath said. "He loves developing people. He loves developing young men into professional-style ballplayers who go about their business the right way. I'm really grateful to be able to grow here and develop here – on and off the field."
Major Posey, a right-handed pitcher in his second year with the program, started his collegiate career playing Division I baseball at UCF. When he looked to transfer, Posey said Corbeil made it an easy sell.
"'Corbs' told me we were pretty blue collar, and we win," Posey said. "I wanted to be a winner, so I came here."
Polk State Baseball all about hard work
Under Corbeil, about 100 Polk State players have gone on to play at four-year schools and more than 20 have been selected in the Major League Baseball Draft. Corbeil said he wants Polk State to be synonymous with hard work.
"I hope the first thought is a blue-collar work ethic," he said. "I hope that's the first thing that comes to mind. These guys are young; they're young athletes. They know they need to put the work in on the field and they need to put the time in in the weight room."
As big as his impact has been, Corbeil can show a lighter side and a sense of humor. On April Fool's Day in 2021, Corbeil convinced first baseman Nick Collins, a big wrestling fan, that his wife was a contractor for WWE. Collins was convinced that he would be given a WWE tryout following a road game in St. Petersburg. Collins said his mother was even in on the joke.
"It turned out to be a joke, sadly," Collins said. "I did end up with a ticket to WrestleMania out of it."
Corbeil shrugs off the 400 wins with his focus being on the remainder of the season. Entering Friday's contest at Hillsborough Community College, Polk State is on a six-game winning streak and has a 29-15 record for the season. For all the program's accomplishments in recent years, Heath said the Eagles have even higher aspirations.
"The journey is not over yet. The goal has not been accomplished," Heath said. "What we want for ourselves and what we want for him and all the work he's put in over these last 12 years that he's been here is…winning that Junior College World Series and getting that championship just to go along with all the other milestones that he's accomplished already. He doesn't settle for anything less than the best."