Polk State Baseball pitcher gets love of sport from accomplished mom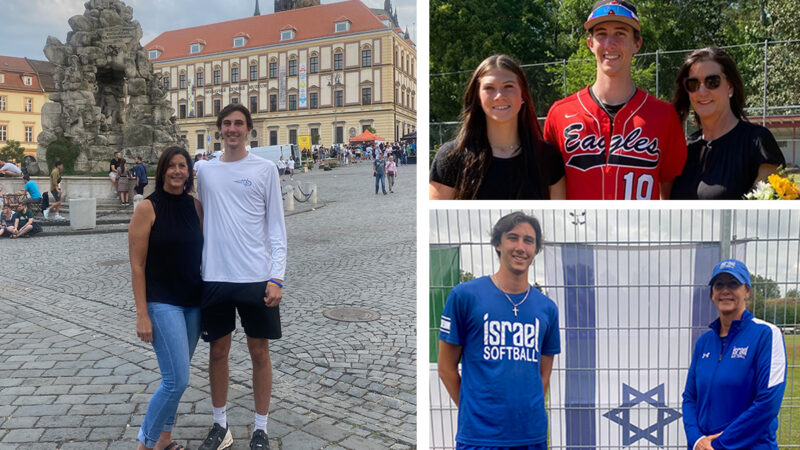 The father-son bond has long been synonymous with the game of baseball in the U.S. But with Mother's Day coming on Sunday, one Polk State Baseball freshman has his mom to thank for his love for the game.
As a youngster, pitcher Aiden Butler had no choice but to be around the diamond – but not the baseball diamond. His mother, Heather Compton-Butler, worked as an NCAA Division I softball coach after a very accomplished playing career.
"She had me around the game since I was born," Butler said. "Growing up, she was always right there."
Ballfields since birth
When Butler was just 4 months old, his father, Chris Butler, a member of the U.S. Armed Forces and an important figure in Butler's life, was deployed to Iraq. Then an assistant at the University of Florida, Compton-Butler took her son with her to practice, on planes to road games, and to the ballpark for home games.
"Aiden was with us all the time," Compton-Butler recalled. "He would pull bats out of our players' bags and have them pitch to him. He loved playing. That's all Aiden wanted to do when he was younger."
When Butler was just 18 months old, his presence with the team was the topic of a feature story in the local newspaper. Compton-Butler noted that during pregame warmups, the program's sports information director would sometimes serve as a babysitter. It wasn't uncommon for a portable crib to be set up near the field for road games.
"Growing up, I was always on the field doing either baseball or softball," Butler reflected. "We traveled a lot for games, but you get used to it after a while."
A long line of pitchers
A former collegiate pitcher, Compton-Butler earned All-American honors at the University of California-Los Angeles (UCLA). Compton-Butler helped UCLA reach the College World Series in each of her four years on campus, winning national championships in 1990 and 1992. She remains among the Bruins' all-time leaders in a number of categories, including wins, strikeouts, innings pitched, and earned run average.
Compton-Butler also represented the U.S. in the 1994 Pan American Games in Guatemala. Butler said he was about 7 or 8 years old when he realized how truly accomplished his mother was as an athlete.
"One day, we were looking through all of her stuff and you could see all the things she was a part of and all she accomplished," he said. "It's pretty cool what my family has done."
Butler's aunt and Compton-Butler's sister, Tracy Compton-Davis, pitched for UCLA from 1982 through 1985. She helped UCLA win three national championships, holds the career record for ERA, and was inducted into the school's Hall of Fame in 1999. Given their accomplishments, Compton-Butler is able to give constructive criticism to Butler and his sister, Charley, a softball player at Wakulla High School.
"I'm protective of him; I love him to death; I'm his No. 1 fan, but I'm tough on him," Compton-Butler said. "Our family expects great things. We have a family group chat and Aiden is always the first to tell us how he did when he pitches. He's always looking to us for guidance. It's not always an easy family to be a part of, but we're all really close."
Built for the big game
Although the mechanics of pitching are different in softball and baseball, Compton-Butler said the mental aspects can be similar. She has tried to express the importance of treating every game with the same importance and keeping his focus for every pitch.
"The one thing that Aiden has always been good at is pitching in pressure situations," Compton-Butler said. "Sometimes I felt like he put himself in those situations, just so he could pitch out of it. He always pitched in the big game. He always handled the pressure well."
Pitching in the big game has also become something of a family tradition. When Compton-Butler was a freshman at UCLA, she threw a one-hit shutout in the clinching game of the Women's College World Series. She noted that Butler played travel ball with several current NCAA Division I players and was often called upon to pitch with a championship on the line.
With Polk State's season on the line against Northwest Florida State College on Sunday, Head Coach Al Corbeil turned to Butler to start the decisive game of the FCSAA Tournament's Niceville Regional. In the opening game of the regional – a 5-3 win for Polk State — Butler was called on to pitch with the tying run at the plate in the seventh inning and came up with a key strikeout. The punchout not only got the Eagles out of a jam but broke the team single-season record for strikeouts.
"She always kept me prepared for moments like this," Butler said. "She prepared me on how to play the game mentally, how to approach it, and how you manage what your emotions tell you during the game."
Mother and son become colleagues
Compton-Butler has coached at both at the University of Florida and Florida State University. She's also played professionally in Italy and New Zealand. Last summer, however, she had a truly unique opportunity – to coach with her son.
A graduate of North Florida Christian School in Tallahassee, Butler's senior trip was canceled. Shortly after, Compton-Butler received a call from University of Arizona softball legend and three-time Olympic gold medalist Leah O'Brien Amico asking her to serve as an assistant for the Israeli National Team at the 2022 European Cup in the Czech Republic. As he had been since he was young, Butler found himself around the game of softball again – but in a new role – as Israel reached the event's final round robin.
"We actually put him on the coaching staff and had him coach first base," Compton-Butler explained. "The biggest issue was probably the language barrier. He had never been out of the country, but he did really well and was a big help for us."
Finding a home at Polk State
As a 2022 high school graduate, Butler had many options when it came to continuing his baseball career, including multiple NCAA Division I schools. After careful consideration, Butler decided that Polk State would be the best destination to begin his collegiate playing career.
"He's had to fight a lot of adversity to get where he is," the mother added. "I thought the smaller and more intimate atmosphere would be better given his personality. He has a very bright future in the game of baseball. He continues to impress me and I'm extremely proud of him."
Butler began the season for the Eagles as a reliever, but eventually worked his way into the starting rotation. In his first season at Polk State, Butler ranked in the top three on the team in appearances, innings pitched, strikeout-to-walk ratio, and saves.
"Polk State has definitely changed me as a person," Butler said. "I feel like I've matured. I've become a better leader on and off the field."
Although she's roughly four hours away, Compton-Butler still watches her son pitch when she can, thanks to live streams. Throughout her collegiate and professional career, Compton-Butler pitched on the grandest stages in softball. Watching as a mother, however, is the most nervous she's ever been when it comes to sports.
"It's so hard as a parent," she added. "You can feel like there's nothing you can do to help them when they're on the field. Sometimes, you just wish you could jump in their body and pitch for them."
Compton-Butler said other parents from Butler's high school team routinely ask how he's doing. The Player of the Game in the Florida State All-Star Game, Butler helped North Florida Christian reach the 2A state championship game while finishing as the runner-up for Florida State Pitcher of the Year as a senior. While he's missed in Tallahassee, Butler has adjusted well to the new setting at Polk State.
"Aiden is just such a good teammate and leader," Compton-Butler added. "He's just so positive and never has anything bad to say about anyone. He loves Coach Corbeil and the program. Polk has been a great place for him."