Polk State Baseball Coaches Share Powerful Chemistry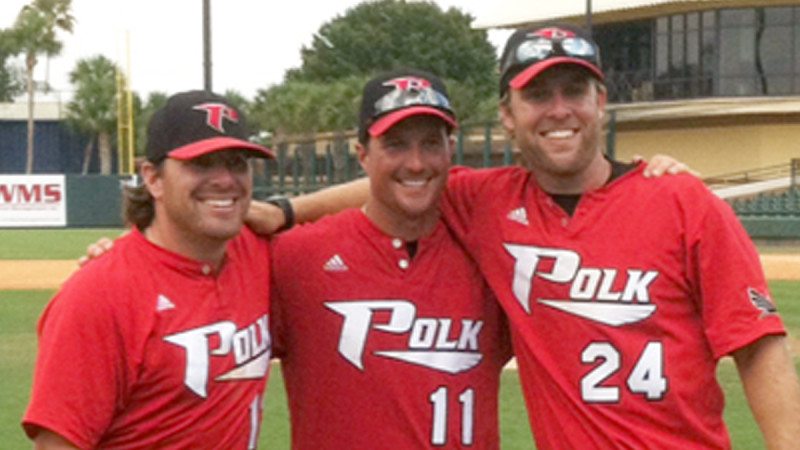 Polk State College will compete in its first NJCAA JUCO World Series when the tournament begins on May 26 in Grand Junction, Colo. The national championship berth comes after a record-breaking season and the team's second consecutive Suncoast Conference Championship. News@polk is chronicling this historic season with a series of stories, giving an inside glimpse to the personalities behind the uniforms and the hard work that has led the team to the national spotlight.

Under a gray sky on a boiling afternoon, Polk State Head Baseball Coach Al Corbeil sits behind home plate and explains the coaching philosophy behind the Eagles' record-breaking season and NJCAA Juco World Series berth.
Then, as if on cue, assistant coaches Brad Cook and Collin Martin join the conversation and echo all that Corbeil has just described. Yes, they concur, the coaching staff is a united front that takes a "blue-collar" approach — if the players work hard every day, it will all pay off.
The shared philosophy of the three coaches, combined with the consistency with which they deliver it, is surely an element in the team's phenomenal success this season — and it speaks to the powerful chemistry that exists within the coaching staff.
"We have the same goals and mindset. You can't just pick any coach and assume that they will be of a like mind," Corbeil said of his assistants.
"I definitely think there's some fate involved," Corbeil said.
Corbeil, Cook and Martin are all in their second year with the Eagles, but their resumes began to overlap prior to their arrival at Polk State. Corbeil worked for two years as a recruiting coordinator for Florida Southern College. While there, he worked with Cook, who put in two seasons as a pitching coach, and Martin, who was an assistant coach for one season.
While at Florida Southern, the three quickly gelled over their similar coaching styles. When Corbeil took the head coaching job at Polk State, Cook and Martin followed.
"I was very fortunate that they wanted to come over," Corbeil said. "Brad is definitely one of the premier pitching coaches in the state. He is extremely organized and very structured. Collin is a tireless worker who is here every morning before 7 a.m. He has free reign and works on tons of facets of the game."
At Polk State, the three have built on their natural compatibility, creating an all-inclusive coaching staff.
"Whether it's the turf around home plate, the team rules, the lineups — there's not one decision that we aren't all involved in," Martin said. "We each like to play devil's advocate, but very rarely, if ever, do we butt heads. We usually see things the same way."
Part of what makes this coaching staff so cohesive, they explain, is their similar backgrounds in baseball. All three began their playing careers at junior colleges then moved on to four-year schools before going pro.
"We've all worked hard, and we know what's on the other side," Corbeil said.
Because they've each put in the hours and worked their way through the ranks, they all know firsthand the importance of pure, old-fashioned hard work — a value that underlies every aspect of their coaching approach.
A prime example is conditioning. In early August, the coaches start their players on a rigorous routine that includes early-morning runs, stair climbing, weight training, tire flipping, and pulling weighted sleds. Each day of the week — for months before the season begins — involves some grueling activity that contributes to the transformation of players' bodies and the building of their mental toughness.
It's a time-consuming process that demands unwavering commitment not only from the players but also from the coaches who oversee their progress. But as Corbeil and crew wholeheartedly agree, it's also more than worth it.
Corbeil points to the final day of the recent FCSAA/NJCAA Division 1 Gulf District Baseball Tournament, when Polk State played a double-header to seal the deal on its state championship title. Going 18 innings against two of the strongest teams in the state is no small task — and winning is a byproduct of all those early-morning workouts when the state championship was still far down the line.
"We push them as hard as we can. We don't want them to look back and ask, 'What if I had worked hard?' We make them work hard," Cook said.
In always maintaining a united front, and working as a team themselves, the coaches serve as an example of the qualities they expect from their players.
Polk right-handed pitcher Alec Asher, in describing how the coaches set the tone for teamwork, used an example of one of those early-morning conditioning sessions. The players are often timed as they run the stairs at Winter Haven's Denison Stadium.
"If you didn't make your times, they would tell you to just keep fighting. They won't give up on you," Asher said.
"They're not your normal coaches. They care more than others about everything."
Polk State Athletic Director Bing Tyus, himself a former head baseball coach at the College, agrees that coaching chemistry like that of the current staff is not easy to come by. While the coaches themselves are quick to eschew any attention for the team's success, Tyus said the staff is definitely deserving.
"They're successful because of loyalty and trust. They all trust each other and they support to each other. Those boys don't have any doubt about one guy saying anything different than the other guy," Tyus said.
"They're serious when they need to be, fun-loving when they need to be. They just click. It's kind of like a married couple, the way they interact with each other. It's like in a family, when the kids know that everything is good at home, they're happier and more successful."