Polk State Associate Dean accepted to AACC Roueche Future Leaders Institute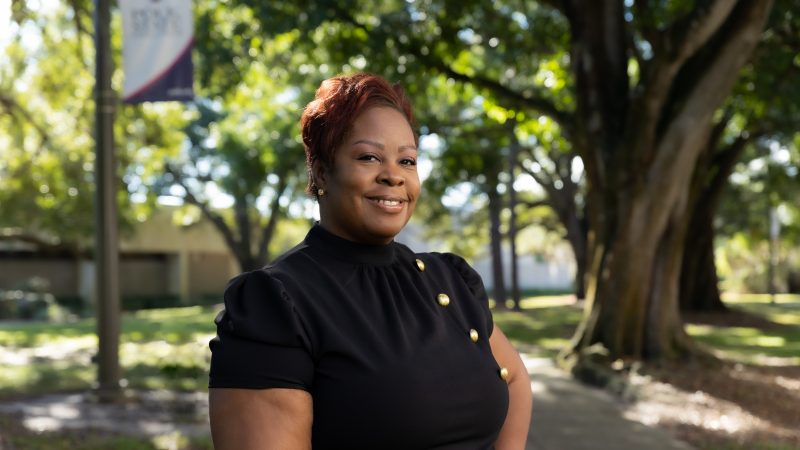 Yulonda Bell, Associate Dean of Student Services for Polk State College, will participate this month in the American Association of Community College's 2022 John E. Roueche Future Leaders Institute, a rigorous and invigorating program focused on leadership development.
Bell, who has served Polk State for more than 20 years in a variety of roles, will travel to Washington, D.C. next week to participate in the three-day institute. She will bring back a wealth of knowledge to the College as she hones her leadership skills and engages in dialogue with experienced community leaders from across the country.
"Being selected for the Roueche Future Leaders Institute presents me an opportunity to progress along the leadership continuum," Bell said. "The opportunity to gain knowledge and develop new and lasting relationships with other higher education professionals will enhance my abilities to successfully advocate for the needs of our students and institution."
Her acceptance to the AACC Roueche Future Leaders Institute comes on the cusp of another prestigious honor for Bell. In March, U.S. Congressman Darren Soto recognized Bell on the House of Representatives floor and read her biography into the Library of Congress in honor of Women's History Month.
Bell was born and raised in Bartow. She holds an associate degree from Polk Community College, a bachelor's degree from Warner University, and a master's degree from Webster University.
"While the John E. Roueche Future Leaders Institute calls on professionals to 'invest in you,' Yulonda invests in our students first. She is deserving of this opportunity to invest in herself personally and professionally because she is a servant leader," Polk State President Angela Garcia Falconetti said. "I am proud of Yulonda, and I am positive she will represent Polk State well."