Polk State announces Quality Enhancement Plan 'Explore to Complete'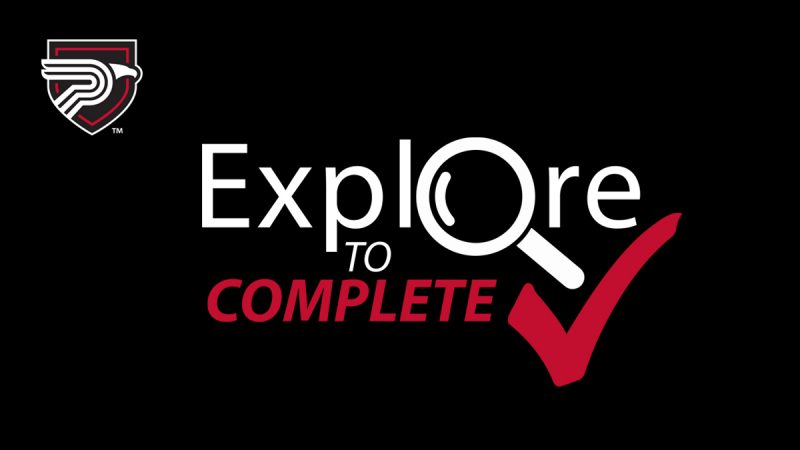 Polk State College students, faculty, and staff have a unique opportunity to participate in the College's Quality Enhancement Plan – or QEP – titled Explore to Complete focused on enhancing student learning and outcomes.
The QEP is a comprehensive five-year plan for institutional improvement that is part of the process for reaffirmation of accreditation by the Southern Association of Colleges and Schools Commission on Colleges (SACSCOC). In October, during a remote SACSCOC visit, members of the Polk State community will have the opportunity to support the College by sharing information about the QEP with members of SACSCOC, who will be eager to learn more about Explore to Complete.
"The Explore to Complete QEP engages students in career exploration, developing career goals, and selecting and persisting on academic pathways to complete their degrees," said Dr. Angela Garcia Falconetti, President of Polk State College. "Our institution is committed to continuous improvement for the purpose of helping all students succeed, and we know that students with career goals and clear academic pathways are better equipped to complete their degrees in an affordable and timely manner."
QEP participation across the College is critical for reaffirmation of accreditation, which is essential to maintaining Polk State's reputation as an institution that provides a quality educational experience and ability to award federal student aid, which is paramount as 44 percent of Polk State students rely on Pell grants to make obtaining their education possible.
As part of the Explore to Complete QEP, the College will:
Implement a career assessment during the student onboarding process
Develop an online career exploration and planning resource center
Redesign the career exploration and planning unit in the First Year Seminar Course for first-time-in-college students
Develop toolkits for faculty to incorporate career-based assignments into courses across the curriculum
Expand student clubs and organizations based on academic pathways and career fields
Create additional and enhance existing opportunities for experiential learning
Create a career readiness badging program that helps students build essential workforce skills and encourages them to demonstrate career competencies to achieve virtual badges
The Explore to Complete QEP will also bolster initiatives such as freshman pre-advising, in which students participate in a collaborative exchange with an academic advisor to develop meaningful educational and career goals that are consistent with personal interests, values, and abilities.
With the implementation of the American Association of Community Colleges' Guided Pathways Model in the Fall 2019 Semester, students also benefit from program maps that provide specific sequences of courses needed to complete their degrees, from a student's first term to graduation.
"Core pieces of the QEP are inescapable because they will be embedded into student processes and ingrained in the culture of our institution," said Dr. Mary Clark, Vice President for Institutional Effectiveness, Accreditation, and Research. "The Explore to Complete topic evolved from existing practices and implements new initiatives that will assist students in exploring, selecting, persevering toward, and completing their academic and career goals."
Polk State formed its QEP Committee in August 2018 with diverse representation from the College's various locations and departments, including faculty and staff from academic affairs, student services, library and learning resources, and business services.
"The QEP Committee continues to work diligently to develop Explore to Complete and I extend my sincerest thanks to all members of the committee for their dedication to supporting student learning and success," President Falconetti said. "The implementation of Explore to Complete will enhance the Polk State experience for our students and I encourage the entire College community to engage in and embrace the SACSCOC reaffirmation of accreditation process."
Polk State will host a remote SACSCOC committee visit from October 27 through October 29. SACSCOC will render a final decision regarding the College's reaffirmation of accreditation in June 2021.
Learn more information about Explore to Complete and how you can participate in the QEP at www.polk.edu/QEP.