Polk State and community members celebrate Lake Wales Campus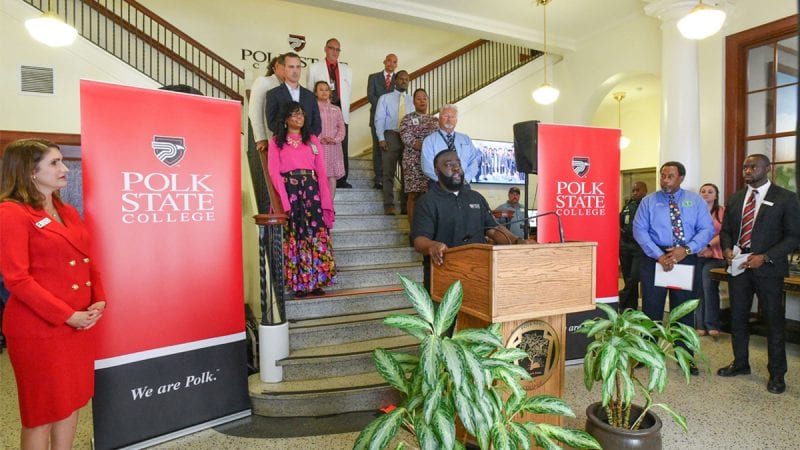 Members of Polk State College and the Polk County community gathered at the Polk State JD Alexander Center on Thursday to celebrate the importance of the Lake Wales Campus in improving the quality of life for students and contributing to the economic development of the region.
More than 70 individuals including Representative Sam Killebrew and representatives from U.S. Congressman Darren Soto, Senator Kelli Stargel, and Representative Mike La Rosa's offices heard from Polk State President Angela Garcia Falconetti, Lake Wales Mayor Eugene Fultz, and Lake Wales Campus student Marcus Walker.
"Preserving funds for this campus is crucial and your support is so significant for our students who would not be pursuing their higher education and career goals without the existence of Polk State's Lake Wales Campus," Falconetti said.
For the second time in three years, $2.5 million of Polk State's recurring operational budget is at risk of veto. The line item titled Polk State College Access to Academic and Workforce Programs includes funds to staff and operate the Lake Wales Campus, which serves approximately 1,100 students each year.
"At Polk State, we transform lives one student at a time," Falconetti said. "Without the Lake Wales Campus, there would be a thousand fewer students with access to life-transforming opportunities."
Andy Oguntola, Director of the Polk State JD Alexander Center, shared that Thursday's event served as an opportunity to highlight how the Lake Wales Campus and Polk State's mission align with Governor Ron DeSantis' goal for Florida as the state budget make its way to his desk.
Falconetti, who served on Governor DeSantis' Education and Workforce Transition Team, added that she is confident that DeSantis understands the pivotal role state colleges play in training a highly skilled workforce and promoting the economic development of their communities.
Mayor Fultz explained how the proximity of the Lake Wales Campus is critical for residents of rural southeast Polk County to attain their degrees and career advancement.
Lake Wales Campus students are transportation disadvantaged similar to 38 percent of Polk County residents; financially in need with 44 percent receiving Pell Grants; 53 percent ethnic minority with Hispanic students comprising the largest ethnic minority group at 28 percent; and 66 percent female with 20 percent of female students 18 to 24 living below poverty level.
"When you see students living below the poverty line and working hard to better their lives through education, you know our community is on the path to prosperity," said Fultz, who also pointed to the role the Lake Wales Campus plays in the city's downtown revitalization efforts. "We are counting on this campus, we are counting on these students, and we must rally around Polk State to continue to make Lake Wales and Polk County great."
Marcus Walker, who holds a Polk State Associate in Arts degree and is working on a Bachelor of Applied Science in Supervision and Management at the Lake Wales Campus, agreed that the impact of the Polk State JD Alexander extends beyond the students currently enrolled.
He has witnessed the life-transforming power of Polk State's presence in Lake Wales in more ways than one. His wife achieved a Polk State Bachelor of Applied Science in Supervision and Management, his daughter participated in dual enrollment when she was a high school student,  and now his second grader aspires to go to the University of Notre Dame.
"We've created a roadmap for him and that roadmap includes Polk State College," Walker said. "The presence of Polk State in our community gets our youth thinking about college. There are so many kids who have already decided they want to go to college and they think they are coming here."
Without Polk State's Lake Wales Campus, access to affordable, quality higher education and workforce training will become out of reach for residents of Lake Wales, Babson Park, Fort Meade, Frostproof, and beyond.
"Don't take away this campus," Walker said. "It would take away their motivation and opportunities in a place that once did not have these opportunities."