Polk State Alumnus Named Head of Walt Disney World Resort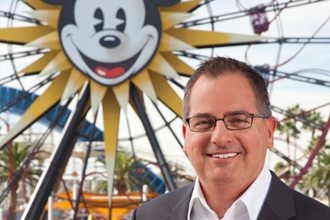 Polk State College alumnus George Kalogridis has been named president of Walt Disney World Resort, 42 years after he was hired as a busboy for the then-fledgling amusement park.
His ascent to the highest ranks of the Disney empire has humble beginnings here in Polk County. He is the grandson of a Greek immigrant and the son of Tony Kalogridis, a small-business owner who operated Tony's Pharmacy in Winter Haven for many years.
After he graduated from Winter Haven High School in 1971, Kalogridis enrolled in what was then Polk Junior College. To pay for his higher education, he landed a job bussing tables at Disney's Contemporary Resort, becoming one of the original employees hired for the opening of Walt Disney World Resort that same year.
Toeing the careful balance between work and education paid off for Kalogridis in 1973, when he earned an Associate in Arts degree from Polk. He went on to earn a bachelor's degree in Sociology from the University of Central Florida.
In 2010, Polk State College honored him with its Distinguished Alumnus Award.
As Disney grew into a global entertainment behemoth, Kalogridis climbed its corporate ladder. He has served as general manager of the Grand Floridian Beach Resort, vice president of EPCOT, senior vice president of operations at Disneyland Resort in Anaheim, Calif., chief operating officer at Disneyland Resort Paris, and most recently, president of the Disneyland Resort.
His dedication to Disney and the experience he has amassed in his 42-year career have all positioned him well for his new role. According to a Walt Disney World media release: "Throughout his career, Kalogridis has proven himself to be a leader in the travel and leisure industry, as well as a respected partner in the community."
Walt Disney Parks and Resorts Chairman Tom Staggs, in the same release, lauded Kalogridis' "operational expertise, leadership and passion."
Kalogridis begins his new position with Disney on Feb. 1.
Read more about Kalogridis' most recent promotion at Walt Disney World News.