Polk State Alumnus Makes Difference for Children Who Need It Most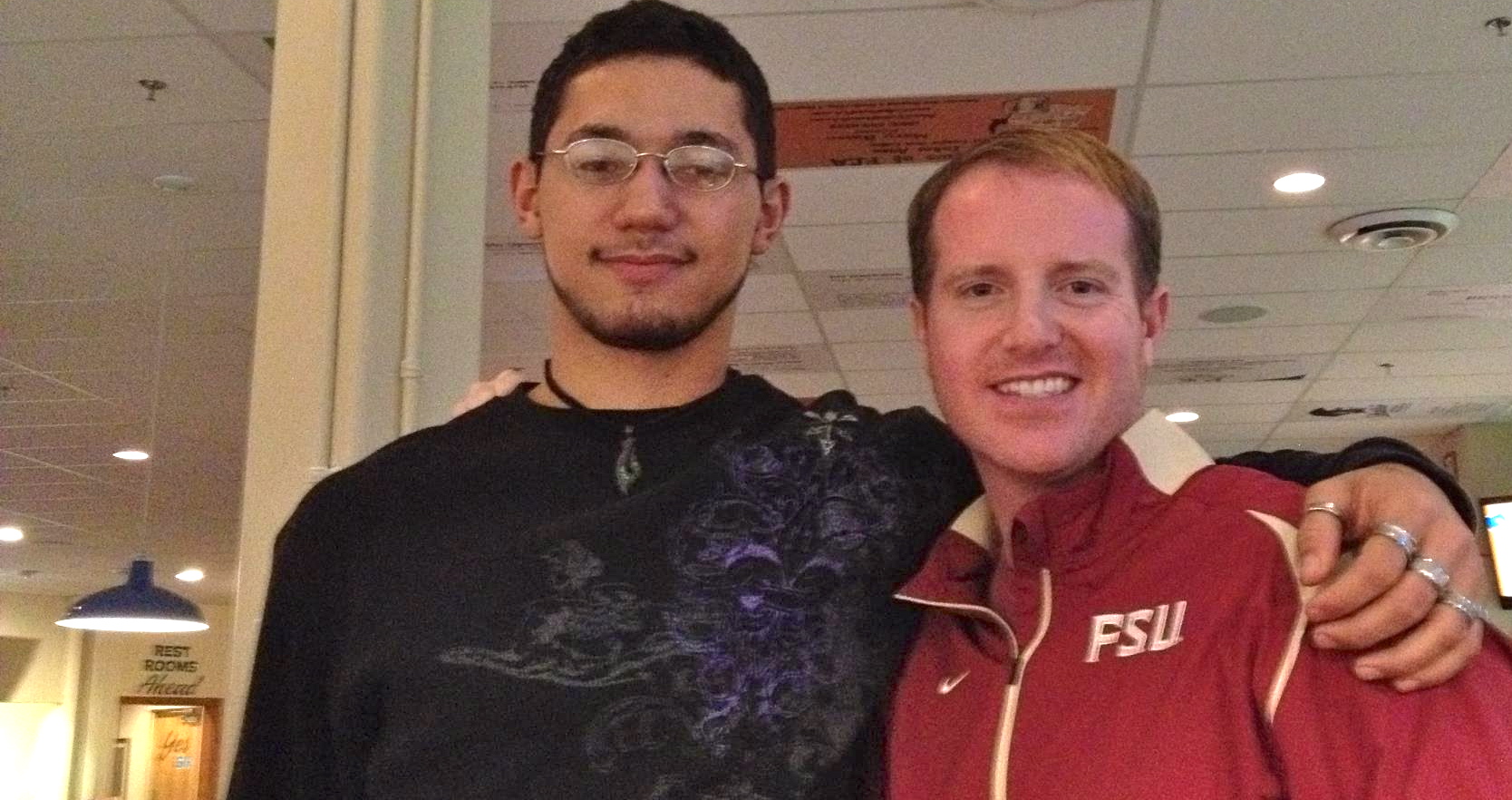 It's not unusual to find Polk State alumni in the headlines.
Elected office. Business success. National influence. Honors and awards.
Then there are alumni such as Robert Clark, whose work doesn't come with fame or fortune, but who makes a profound difference every day in the lives of children so many others choose to ignore.
"My job is fulfilling and rewarding. I'm very blessed," said Clark.
Clark, a native of Winter Haven, graduated from Polk State College in 2000 and went on to study at the University of Central Florida, earning a bachelor's degree in interpersonal communication.
After college he returned to Polk County. As the product of a family of teachers, he always knew his career would likely involve education, and soon he took a job teaching at a Lake Wales school for emotionally disturbed and disabled children.
"That first year was very challenging. I was in a classroom every day with students who have disabilities, and I was trying to teach them academics and social and communication skills — the things they needed to meet their goals and get back to a general education setting," Clark said.
During his first year in the classroom, Clark said, there were many times when he wanted to give up. The problems his students faced were huge and complicated — how could he possibly help them all?
Clark's mother encouraged him to stick with the job for the first year. He did, and by the last day of school, he knew he'd found his purpose in life.
"I could see a change in the students' attitude and behavior. They went from being defensive and negative to having a better sense of self-worth and a better outlook on interacting with others," Clark said.
One of the students Clark taught during his three years at the Lake Wales school was Chris Johnson, who as a child was diagnosed with Attention Deficit Hyperactivity Disorder.
Johnson, 20, is now serving in the Army in Fort Carson, Colo., and earlier this year he contacted Clark through Facebook to thank him for being a father figure at a time when he had few others interested in helping him.
"Mr. Clark was a very kind and great teacher. He provided so much attention to me, and he treated all his students kindly," Johnson said.
Prior to becoming Clark's student, Johnson said he often got into fights, and he had low self-esteem.
Now, he said, he is confident and excited about his future — and Clark had a big part in starting him in that direction.
"He helped form my personality," Johnson said. "He began the foundation of how my life would turn out."
Clark is still serving the children of Polk County who need help the most — albeit in a different capacity. In 2006 he went to work for Elbert Elementary School in Winter Haven as an ESE teacher. Then in 2008, he became the school's ESE program facilitator, overseeing other teachers and making sure students are meeting their goals. He is also a professional development instructor for the Polk County School District. In this role, he educates teachers and counselors throughout the county on Crisis Prevention Intervention, skills that can be used to prevent behavior issues in a school setting or to properly handle those situations when they do occur.
Clark's principal at Elbert, Bill Dawson, said it takes a special personality to be a teacher, and especially to work with ESE students — and Clark has been a perfect fit.
"He sees the big picture of educating children and that children need to see positive role models," he said. "Robert will go and play catch with a kid as a reward. He's just a very kind person. He knows all the kids by name. He can relate to a person who's 5 or 95 — he's like everyone's brother."
Clark, who also now holds a master's in educational leadership, said his career has much to do with his decision to study at Polk State. Here, he found a sense of community, and he had time to grow and learn about himself before going on to a university.
"Polk State helped me form the path that I'm on, and it helped me to think about my education and ways that I could give back," he said.
Because of the important role it has played in his life, Clark maintains close connections with the College. He is the immediate past-president of the Polk State College Alumni Association, and it's rare that you'll see him without his "Soar, Eagles!" bracelet.
"I love being an ambassador for Polk State. Any chance that I get to talk about the College, I do. I often talk to parents of high-school kids, and I tell them that Polk State is the way to go," he said.
Clark and his wife, fellow Polk State alum Erica Merritt Clark, recently welcomed their first child to the world — Keaton Lucas, who was born on June 8.
Little Keaton may not be walking or even crawling yet, but Robert already has plans for him to fly.
"He's a future Eagle," Robert said.