Polk State Aerospace Students Participating in Cutting-Edge Drone Research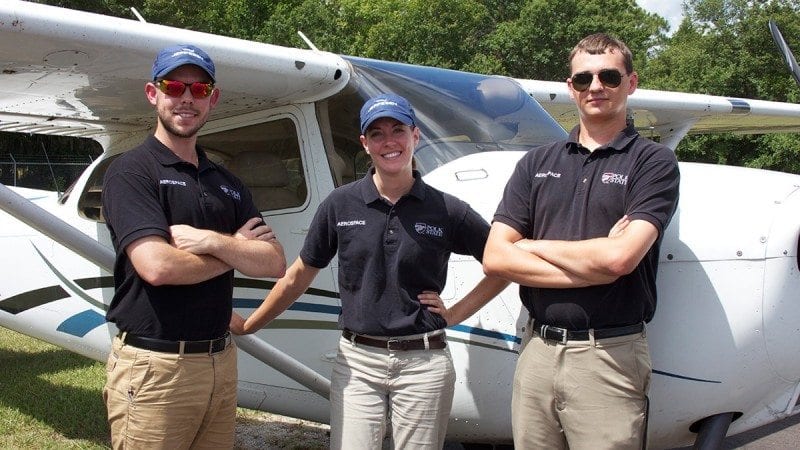 Polk State Aerospace students aren't just learning how to fly and how to manage airports. They're also participating in cutting-edge drone research.
As soon as the Federal Aviation Authority gives its approval, a handful of students from the program will conduct an experiment that aims to answer this question: At what distance is an unmanned aerial system (UAS) — or drone, for the layman — visible from cockpit of a plane?
It seems a simple question. So simple that surely someone out there must have answered it already. Not so. Even as unmanned aircraft find non-military applications — Google, Domino's, and Amazon are all testing them for delivery purposes — questions about visibility have gone unanswered.
"Unmanned aircraft systems are everywhere, and the market is growing at an unprecedented rate," said Polk State Aerospace Professor Ryan Wallace, one of the lead researchers in the experiment.
"The problem we are facing today is that it is affordable for almost anyone to purchase a small UAS craft. Unfortunately, many individuals are purchasing small, remotely controlled hobby platforms and using them without training or in violation of FAA rules. If not used properly and in compliance with the established regulations, unmanned platforms can create a serious collision hazard to manned aircraft. Near misses between aircraft and UAS craft are becoming more common. If the problem is not corrected soon, it is only a matter of time until we experience a serious or fatal collision."
The Polk State Aerospace students conducted a trial run of their experiment earlier this month. The three-student team includes Grant Guthrie, Aaron Poidevin and Karissa Strickland.
The experiment, developed by students in Polk State Aerospace's Applied Human Factors course, will take place in a 64-square-mile patch of airspace near Zephyrhills. During the trial run, the students programmed specific, predetermined GPS coordinates into the plane's navigation system and practiced flying through those points, making several passes through the 64-square-mile airspace while maintaining a consistent altitude and speed.
Once the FAA issues its permission to run the full-fledged experiment, the students will repeat these steps. The only difference: a UAS will also fly through the airspace. Poidevin and Strickland, riding in the passenger and rear seats of the aircraft, will radio crews on the ground when the UAS becomes visible; Guthrie will remain solely focused on operating the plane. By cross-referencing the GPS data of the plane and the UAS, researchers will be able to determine the exact distance at which a UAS becomes visible to the naked eye.
Polk State is conducting this research in partnership with Tampa-based Turin Aviation Group, a multidisciplinary firm whose services include UAS design, construction, operation; Pasco County; and Oklahoma State University.
Turin Aviation will fly the UAS during the experiment.
"The importance of this experiment cannot be understated. The results of this very type of experimentation will lead to technological development and advancement of aerial target recognition devices, see-and-avoid strategies, and a deeper understanding of the human factors affecting both the pilot and the unmanned aircraft system's ground control operator," said Ed Franco, CEO of Turin Aviation Group.
Franco added:
"The partnership between Polk State College, Turin Aviation Group, Oklahoma State and Pasco County exemplifies the commitment and collaboration between industry, academia and government in developing real-world strategies to improve flight safety in a very dynamic, technologically intense environment."
Jon Loffi, an assistant professor of aviation and space at Oklahoma State, also emphasized the precedent-setting nature of the research.
"Unmanned aircraft systems and unmanned aerial vehicles are on the threshold of being introduced into the National Airspace System. Research designed to determine the visibility of these vehicles to general aviation pilots is of paramount importance. This collaborative research effort with private industry and academia should provide groundbreaking data by which the FAA could be informed and assisted in promulgating new procedures for UAS/UAV to function safely within the national airspace," he said.
Wallace said he's not sure when the FAA will grant its approval for the full experiment, but he expects it will come in the next 60 days or so. For the Polk State students, the wait does not diminish their excitement at being involved in such industry-shaping research.
"It's awesome to be at the level we are and to be involved in something that could have such great impact," Poidevin said. "This is something that has the opportunity to affect the field we're going to be working in. It's cutting-edge stuff."
Polk State Aerospace offers the Associate of Science in Professional Pilot Science, the Associate of Science in Aerospace Administration, and the Bachelor of Science in Aerospace Sciences, which has concentrations in both Pilot Science and Administration.