Polk State Aerospace Student Spent Summer in Competitive JetBlue Internship Program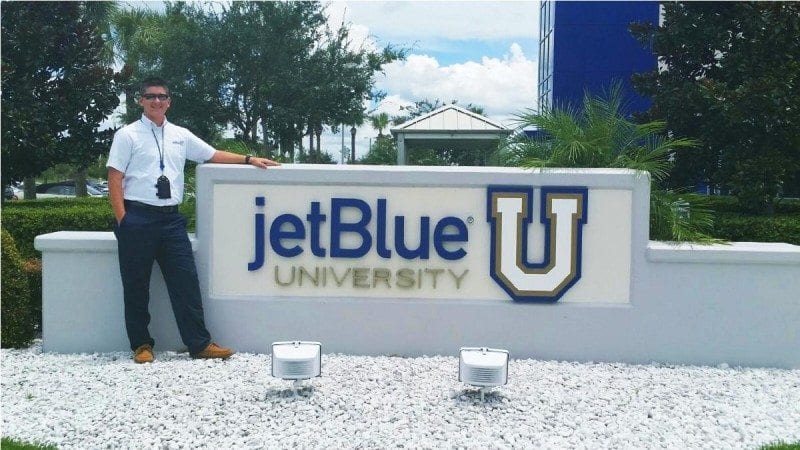 A Polk State Aerospace student will have to rewrite his resume after spending summer vacation as an intern with JetBlue Airways.
"I can put on my resume that I worked for one of the country's top airlines, that I learned firsthand about how an airline works," said Phillip Herrington, a Lakeland resident studying for his Associate of Science degree in Aerospace Administration.
"But the biggest bragging right is that thousands of people applied for this program and I was selected."
Herrington, who at 19 already works in aviation and holds two pilot licenses, was selected for JetBlue's highly competitive College Crew internship program. Only 27 students out more than 2,000 applicants were selected to participate in College Crew this summer.
Herrington's internship began in mid-June and wraps up Aug. 15.
During those 10 weeks, he's reported each weekday to Orlando International Airport. There, he's been learning about JetBlue's flight and technical operations. Primarily, he said, he's assisted an instructor teaching newly hired maintenance personnel about JetBlue procedures.
One of his major jobs has been to collect data from performance evaluations the employees complete after their training. That data is used to determine if employees need additional training on any of the procedures, and it also helps instructors to identify areas where they could improve.
"The employees have to go through a lot of scenarios. Like if there was an engine fire. JetBlue has a specific emergency procedure for shutting the airplane down and getting out," Herrington said.
"When you're there, looking at a million different switches, and there's an emergency like that, a lot of people are going to panic. The goal is to have them so well trained that they know the right switches to hit at the right time. During training, they run through those scenarios over and over, and the data I collect shows if they excelled in the situation or still need work."
The biggest takeaway of his experience, Herrington said, is the insider's perspective he's gained on airline operations.
"I've seen how an airline operates," Herrington said. "I've seen everything from how pilots get their duty slots, to how flight attendants get their assignments, to how airplanes are maintained and scheduled."
When he hands in his JetBlue badge, Herrington will turn his focus back on his studies at Polk State, his flight training, and his work as an airport operations specialist at Lakeland Linder Regional Airport.
Herrington decided on a career in aviation when he was just 5, after watching the movie "Top Gun."
"I said to my dad, 'That's what I want to do with my life,'" Herrington said. "He said that I would change my mind a million times before I made that decision. I remember telling him that I would prove him wrong."
At 16, Herrington completed his first solo flight. That same year, he was a passenger in a plane that crashed during takeoff from South Lakeland Airport. He has photos that show the burns to his face and upper body.
"A year later, I had recovered from that and I was solidifying my private pilot license," Herrington said, who also holds his sport pilot license.
Herrington has more than 300 flight hours and expects to earn his instrument and commercial pilot ratings by the end of August.
Herrington, who began at Polk as a dual-enrollment student from Central Florida Aerospace Academy, is pursuing his Associate in Science in Aerospace Administration. He expects to finish that degree by the end of the year. Then he plans to enroll in Polk's new Bachelor of Science in Aerospace Sciences degree program, which launches this month.
He's gaining professional experience all the while, too, working as an airport operations specialist at Lakeland Linder.
"I get to do a little bit of everything — badging, security, inspections, maintenance," he said. "As an airport operations specialist, I'm responsible for the overall well-being of the airport."
Ultimately, his goal is to work as an airport manager and spend his spare time as a performer in air shows.
There's a theme behind every pilot's performance," Herrington said. "Mine will be youth in aviation. I want to show kids that they can do anything they want in aviation, if they focus on school and work hard."
Polk State Aerospace has an ongoing partnership with JetBlue that allows students to tour the airline's facilities in Orlando and train on equipment donated by the company.
"Our partnership with JetBlue is a three-way win, in my opinion," said Eric Crump, director of Polk State Aerospace. "JetBlue gets to influence and shape a potential future workforce. Our students get practical, hands-on, face-to-face experience with a major air carrier. And our program benefits from the input of an international airline regarding what we need to be doing to train tomorrow's pilots and administrators. JetBlue is a forward-thinking company. We have benefited immensely from their knowledge and experience, and we look forward to a strong partnership long into the future."
Polk State Aerospace offers the Associate of Science in Professional Pilot Science, the Associate of Science in Aerospace Administration, and the Bachelor of Science in Aerospace Sciences, which has concentrations in both Pilot Science and Administration.