Polk State Aerospace student prepared for anything with education & training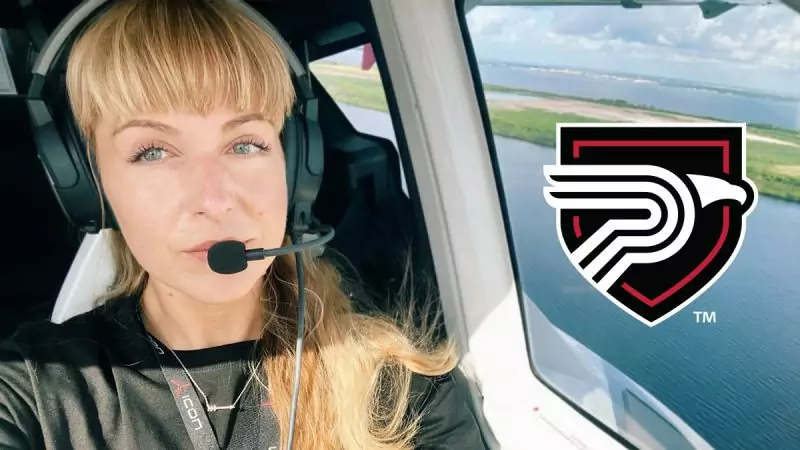 What does Polk State College have in common with Jay Leno, Navy submarines, and a plane crash rescue? Well, they're all part of Genesah Duffy's journey.
Duffy is a U.S. Navy veteran who was working in information technology when she decided on a whim to take a discovery flight out of St. Pete-Clearwater International Airport.
"In the Navy, I lived in Guam for four years and worked on submarines. Out of the Navy, I was sitting at a desk working in IT. I wasn't being challenged enough," Duffy reflected. "I didn't have any friends or family in aviation, but it piqued my interest. I randomly went on a discovery flight, and at the time, I was actually scared of heights. But it was a thrill and something that was going to challenge me. From that first flight, I was hooked."
She completed coursework in her hometown at Broward College before transferring to Polk State.
"The Aerospace Program at Polk is a great opportunity to not only get taught by the best but to also use your benefits to the fullest," she cited of the G.I. Bill she has utilized as a veteran which covers 100 percent tuition and fees at public schools. "Polk State was the first public aviation school in Florida to offer a bachelor's degree. And while it is the affordable option, you are not cut short when you go to Polk State."

In 2015, she achieved her Polk State Associate in Science in Professional Pilot degree and started working at an aircraft maintenance shop in Winter Haven near Jack Brown's Seaplane Base. She decided to add a seaplane rating to her private, commercial, instrument, and flight instructor ratings. She also holds a private helicopter rating.
She became a seaplane flight instructor and was featured in 2017 in Flying Magazine's #Live2Fly series. A director at ICON Aircraft Flight Center in Tampa saw Duffy's coverage and recruited her as a flight instructor before she was promoted to manager of flight operations, chief pilot, and ultimately senior director of flight operations.
ICON led Duffy to an episode of "Jay Leno's Garage" in 2019 titled Sky's the Limit in which Leno pays homage to vehicles influenced by the science of flight and spotlights the history of aviation.
Duffy herself flew Leno in a small ICON A5 seaplane from Long Beach Harbor, over Santa Monica, to Burbank where she landed on his property and pulled the aircraft straight into his garage.
"He was laid back and really cool. I demonstrated the airplane and let him fly a little bit," she shared.
"In the field of aviation, every day is a little bit different," she added.
Duffy made headlines again in November 2021 when she was conducting a return-to-service flight for an ICON A5 seaplane out of Peter O. Knight Airport in Tampa. She heard over the radio that a Moony aircraft had crashed into the water.

"A Moony is not a seaplane. I knew that it had just happened and that Tampa PD and the Marine unit were close, but it was still going to take a little bit so I wanted to see if I could help," she recalled. "When I spotted them in the water, I thought 'it's silly for me not to land and try to help them because I have the capability to do so.'"
Their plane was completely submerged. One individual had a life vest on, while the other did not, so Duffy went for the individual without a life vest and pulled him out of the water. She then helped transfer the pilot from the plane to a rescue boat.
"It was definitely a strange day," Duffy said, "not one day is like the other."
Her days are looking a bit different now too, with Duffy recently assuming a position with Envoy Air, the largest regional carrier for American Airlines.
She is also close to completing her Polk State Bachelor of Science in Pilot Science. The Aerospace Program's flexibility and online courses allow her to work toward her degree while working full-time. With her Polk State education, she feels prepared for anything the field may throw her way.
"Polk State Aerospace is a really great program with knowledgeable instructors who work inside the industry," Duffy said. "For anyone interested in flying, I would 100 percent recommend Polk State and I would tell them to stick it out."
"Everyone has their own timeline and path to the cockpit," she added. "But if you are dedicated, you can do it."