Polk State Aerospace Honored at Lakeland Mayor's Breakfast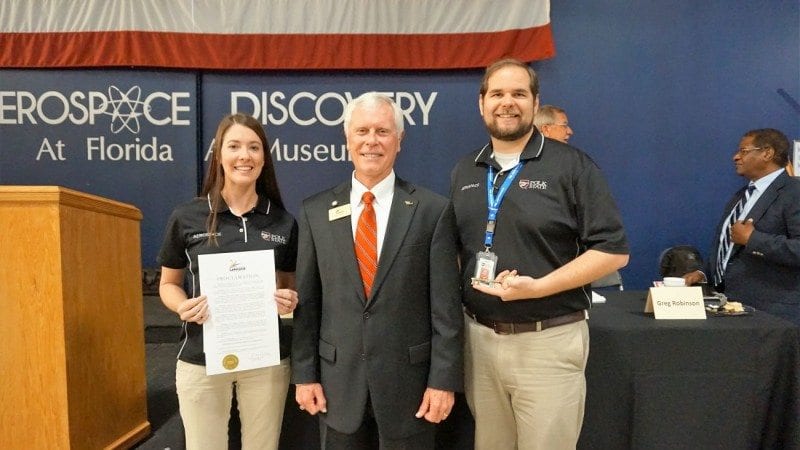 Polk State Aerospace was honored during Tuesday's 3rd Annual Lakeland Mayor's Breakfast at SUN 'n FUN for its contributions to aviation education and industry.
More than 200 attendees were on hand to hear Lakeland Mayor Howard Wiggs read a proclamation honoring a handful of organizations during the aviation-themed event. Also recognized were the Central Florida Aerospace Academy, Travis Career Center, and the Lakeland Aeroclub. All four of the organizations are partners in SUN 'n FUN's Aerospace Center for Excellence.
The proclamation began:
"Whereas the Aerospace Center for Excellence brings together four remarkable institutions in a collaborative effort to achieve the highest academic standards in molding the next generation of aerospace professionals."
In reference to Polk State Aerospace, the proclamation read:
"Whereas in spring 2013, Polk State College launched its innovate aerospace program, improving upon and effectively reinventing a decades-old pilot training model. Today the program the features three degree programs and the only bachelor's degree in aerospace science offered by a public institution in the state of Florida."
Wiggs went on to declare March 8, 2016, Aerospace Center for Excellence Day.
Polk State Aerospace student Karissa Strickland and Program Director Eric Crump accepted the proclamation and keys to the city.
In reflecting on the honor, Crump said he is proud of the program's ability to offer affordable degrees to aspiring pilots and aerospace administrators. The program is comprised of associate's degrees in Aerospace Administration and Professional Pilot Science, and a Bachelor of Science degree that offers specializations in both those areas. The program's innovative approach to pilot education includes the use of flight simulators to augment hands-on training, as well as industry partnerships with JetBlue and ExpressJet. 
Crump referenced a graduate who is now working as pilot in the Caribbean. 
"He had a dream and we helped him make it become his reality," Crump said. "That is extremely rewarding for us." 
Polk State's ability to serve aerospace students, however, Crump said, is dependent on the strength of its partnerships within the aviation community.
"A lot of times, people who work in education like to look inward and build programs the way they think they should be. Polk State philosophically disagrees with that. We work closely with the people who will hire our graduates," Crump said.
In addition to companies such as JetBlue and ExpressJet,  whose pilots mentor Polk State Aerospace students, Polk State Aerospace's most valued partner, Crump said, is its flight training provider, Ormond Beach-based Sunrise Aviation. Representatives from the company were on hand for Tuesday's breakfast.
Sunrise Chief Pilot William Walker said it's a pleasure to team with Polk State Aerospace, which takes a "true team" approach to educating students.
The City of Lakeland and Lakeland Linder Regional Airport are also vital to the program, Crump said. Earlier this year, the program moved into a newly renovated city-owned facility at the airport.
Lakeland Linder Regional Airport Director Gene Conrad said partnering with Polk State Aerospace is about assuring the future of aviation in Polk County because Polk State is producing the next generation of pilots and aerospace administrators.
And, of course, any list of Polk State Aerospace's partners would be incomplete without Tuesday's host. 
"Because of SUN 'n FUN we have access to another campus and outstanding learning resources that we wouldn't have anywhere else," Crump said. 
Polk State Aerospace offers the Associate of Science in Professional Pilot Science, the Associate of Science in Aerospace Administration, and the Bachelor of Science in Aerospace Sciences, which has concentrations in both Professional Pilot Science and Administration.