Polk PTA Alumnus: Don't Be Afraid to Make a Career Change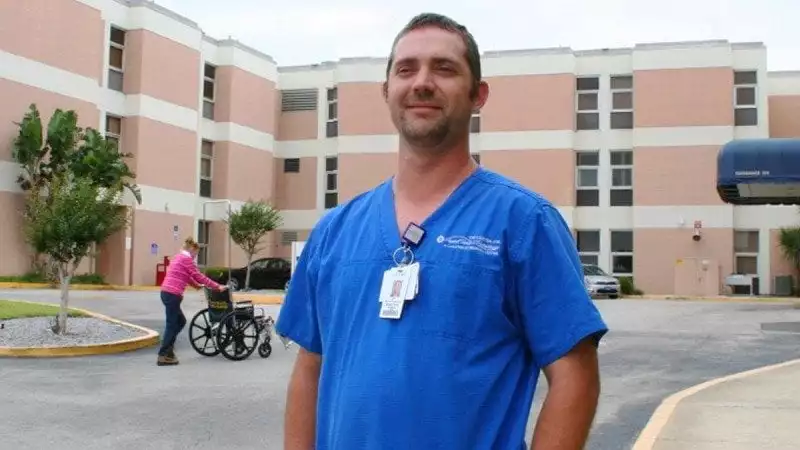 The scariest day of Paul Canady's life was the day he handed in his resignation, officially quitting his job as a bus mechanic.
His heart pounded. His palms were sweaty. But something inside him told him to hand the piece of paper to his boss and never look back — and that if he did, something great would happen.
That something great came in 2010, when he graduated from Polk State's renowned Physical Therapist Assistant program. 
"Now I have a career that I love," said Canady, 36, who works as a PTA at Lake Wales Medical Center. "Sometimes making a change is scary, but you have to do it."
When it came to making a change and facing his fears, Canady didn't do either halfway.   
After he graduated from Lakeland High School, enlisted in the Army, and served for four years in South Carolina, Alaska and Virginia. The Army trained him to be a mechanic. When his service ended, he took a couple detours into retail, but eventually returned to his wrenches and sockets.
It was hard work, exacerbating a chronic back injury left over from his military days.
"I knew I didn't want to be a mechanic forever," he said.
By this point, he'd enrolled at Polk State College, taking classes a couple nights a week with the idea that maybe he'd go into some form of law enforcement. The only problem was that line of work would be just as hard on his body as working under the hood of a bus.
"I still didn't know what I wanted to do when I grew up," he said.
He returned to the career drawing board, this time remembering the physical therapists who had taught him to manage his back condition. He also kept thinking about his dad, Rick Canady, who after a career in the automotive service industry, enrolled at Polk to become a PTA.
Since his graduation in 2004, Rick Canady has worked in both acute-care and home-health settings; currently he works for Northeast Georgia Medical Center, a 700-bed hospital.
"I told Paul to be careful, to make certain that PTA is what he wanted to do. It's hard work and it's not always clean work. I advised him to do a lot of observations and talk to the people who had mentored me," Rick Canady said. "But if he did all that and was willing to commit, he would have a career that would allow him to give back and take care of folks who can't help themselves."
After following his father's advice, Paul Canady was indeed ready to commit. The hardest part of doing that, he found, wasn't just giving up the financial security he had with his full-time job, but facing the self-doubt that comes with trying something new.
"I was worried that I wasn't really smart enough to do it," Canady said.
Canady almost gave up, in fact, after his first Anatomy & Physiology test, which he "completely failed."
"But (Biology Professor Jennifer Shaw) encouraged me to stay in class until the next test," he said.
"Around that time, my lab partner helped me to understand that the body isn't really that much different than a car — the heart is the pump, the veins and arteries are the hoses.
"I saw everything differently after that. I stayed in the class and did a little better on the next test, and kept getting better. I started to think that maybe I was smart enough after all."
Canady became even more confident in his future as a PTA during his clinical training.
"During clinicals, you are the PTA," he said. "You're put in situations where if you're timid and uncomfortable approaching people, you either get over it or you're not in the program anymore."
After clinicals, and as soon as he passed the PTA national licensure exam, Canady was hired at Winter Haven Hospital. Last year, he took the job with Lake Wales Medical Center. His quick graduation-to-employment transition was not unusual. Throughout the 20-year history of Polk's PTA Program, 100 percent of students who pass the national licensure exam are employed within six months of graduation.
Today, Canady spends his days helping patients regain physical strength and motion. He specializes in acute care, helping patients recovering from conditions such as strokes, pneumonia or congestive heart failure.
"I get to help people get better. I spend my day with people who are very sick," he said. "But then a few weeks or months later, I might see them around town, and they'll be walking and doing all their normal things. I get to say I had a part in that."
Canady's career switch — and overcoming all his fears to make it happen — has given him a new sense of fulfillment noticeable even to others.
"He's absolutely happier and more satisfied," said Rick Canady. "There are things we don't like in our jobs, but as a PTA, the good far outweighs the bad."
Looking back on all he overcame to earn his PTA degree, Paul Canady gave his advice to anyone contemplating a similar change:
"You're either going to fail or you're going to succeed. But if you want to make a change in your life, you have to take a chance."
 Physical therapist assistants work under the supervision of physical therapists, carrying out prescribed treatments to help injured patients relieve pain and restore function. In addition to the PTA Program, Polk State Health Sciences includes Cardiovascular Technology, Diagnostic Medical Sonography, Emergency Medical Services, Healthcare Administration, Medical Coding Specialist, Medical Records Transcriptionist, Nursing, Occupational Therapy Assistant, Radiography and Respiratory Care.
Polk State College's history is rich with stories of alumni who have gone on to make impacts, whether in the classrooms and laboratories of prestigious universities, the rough and tumble of commerce, or the halls of political power. Over the years, thousands of Polk State graduates have leveraged their education and experiences at Polk to transform their own lives and the lives of others. This transformation is the essence of what it means to "be Polk." Whether in big ways or small ways, Polk State alumni embrace the challenge of living lives that matter. News@polk regularly profiles these alumni. Their story is the story of Polk. They are The Pride of Polk.