Polk Professor Cliff Bennett Inspires Young Scientists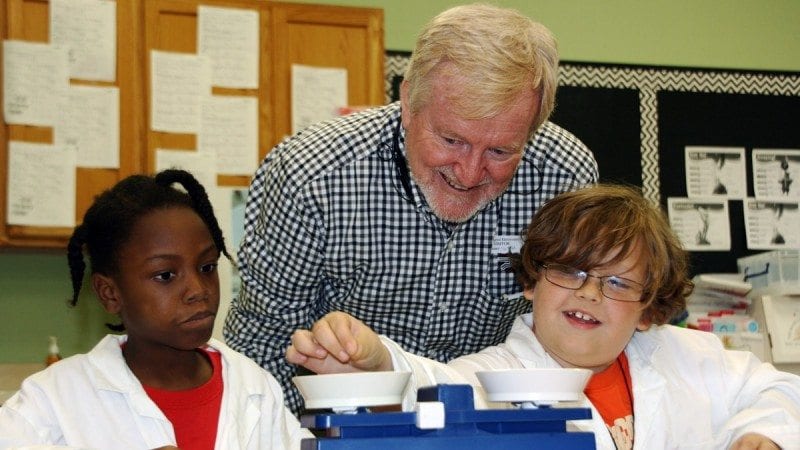 Polk State Professor Cliff Bennett got off campus and far from his usual subject matter when he spent a recent afternoon teaching a class of second-graders in Lake Wales.
"Teaching kids involves the whole community," said Bennett. "The schools want our involvement and the teachers need us."
Bennett, a professor of network systems engineering technology, teaches his Polk State students about cutting-edge things like cloud computing and malware, but on Friday, the topic was properties of matter.
Specifically, Bennett wanted the students at Hillcrest Elementary School to be able to answer this question: Do solid objects of the same size and shape have the same mass?
A former elementary school teacher, Bennett designed the entire lesson, and even visited a local machine shop to have cubes of plastic, steel, wood and aluminum cut to exactly the same dimensions.
During his afternoon teaching stint, he walked the class of 17 students through their experiment, which involved making observations about each cube and weighing them on table scales.
Drawing on his previous teaching experience, Bennett kept the students' attention with funny expressions and a booming voice. He also rewarded good behavior with tickets that the kids traded for candy at the end of the day.
By dismissal, the students could answer Bennett's question definitively: No, objects may be the same size and shape, but their mass will vary, with steel weighing more than aluminum, for example.
The lesson was a perfect complement to the students' current studies, but also so much more, said teacher Jadi Hargus. Early in his lesson, Bennett talked about college, and told the kids that many of them would likely study at Polk State College one day.
"It is good for them to hear that college is a possibility. It is possible and should be their goal," said Hargus, Bennett's daughter and a Polk State alumna.
Bennett plans to make return visits to Hillcrest, and encourages others to make time to volunteer in local classrooms as well.
In addition to Network Systems Engineering Technology Polk State's Technology programs include Computer Systems & Business Analysis and Digital Media Technology.