Polk Helps Division I Player Rekindle Love of Basketball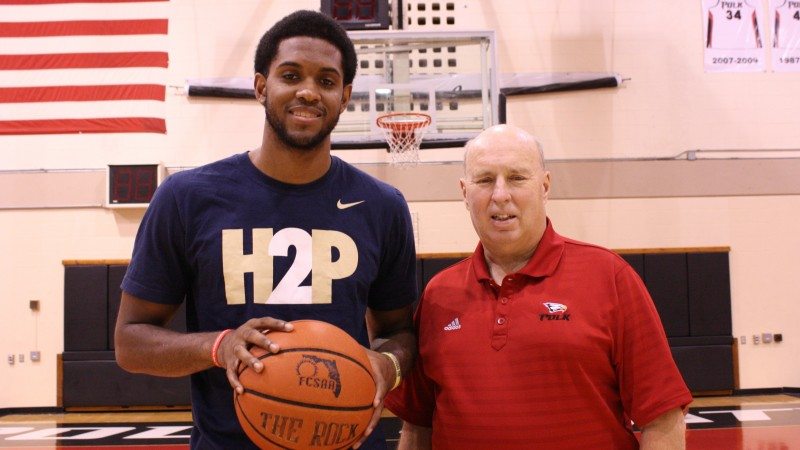 Basketball player Sheldon Jeter saw his passion for the game rekindled at Polk State College, and now he's off to play at the University of Pittsburgh.
Jeter, who began his college career at Vanderbilt University, signed with Pitt on Nov. 13.
The Beaver Falls (Pennsylvania) native credits Polk's Hall of Fame coach Matt Furjanic, a fellow Pennsylvanian, for his re-energized spirit, even though he didn't play a minute for the Eagles.
"Matt has definitely been helpful," said Jeter, 19. "We had only met once when he stopped by my house during the summer. I knew he was someone I could trust. He has my best interest at heart. He's also hard on me, not just on the court — he keeps up with my books too. He's rekindled my love."
Jeter was a nationally recognized, 6-foot-7 small forward at Beaver Falls High School who signed to play at NCAA Division I Vanderbilt in Tennessee.
But, for a player who wakes up every day to play basketball, Jeter's dream of big-time basketball soon fell by the wayside.
Jeter left the program after his freshman season for personal reasons.
After an emotional, tumultuous summer filled with rumors on basketball blogs and websites, and uncertainty about his future, Jeter signed a scholarship with the Pitt in November, lifting some of his burden.
Polk played a part in easing Jeter's pain during the storm.
It was Furjanic who suggested Jeter attend classes at Polk during the summer and work out with the Eagles for a season while Jeter was deciding what to do about his playing future.
Per NCAA Division I rules, Jeter would have to sit out a basketball season before he played with another NCAA Division I team.
It seemed like the perfect answer.
In Winter Haven, Jeter could live with his cousins — Polk sophomore guard Brock VanLier and assistant coach Ramone Shepard.
Furjanic also coached Jeter's cousin, Lance, in 2007-2009. Lance later went on to play at the University of Nebraska and is currently playing in the EuroLeague.
Furjanic remained close to the family, having recruited VanLier and having worked with Shepard on the sidelines last year.
Furjanic considers himself a friend of the family, remaining in contact with Jeter's father, Carliss.
"I knew about Sheldon coming up," said Furjanic. "In his senior year he was listed as one of the top recruits in the East."
The Pittsburgh Post Gazette and Pittsburgh Tribune Review both named Jeter Player of the Year. He was also the Beaver County Times Athlete of the Year.
In high school he averaged 22 points, 12 rebounds, five assists, two blocks and two steals as a senior.
With Vanderbilt, Jeter played in 33 games, starting in seven, which surpassed his goal of five. He averaged 17 minutes and 5.5 points per game.
However, Vanderbilt wasn't quite the right fit for the player who was a Rivals.com top-150 prospect. He was also recruited by South Carolina, Penn State and Wisconsin.
"It wasn't my environment," Jeter said. "I met a lot of great people. At Vanderbilt, they have a great fan base. But you can't replace your own family. It was a tough decision, but the one I felt had to be made at the time. I don't feel any regret toward Vanderbilt. It's one of the top institutions in the country."
Jeter stayed away from all the press surrounding his decision during the summer.
Instead, he set his sights on finding his next stop to play.
According to NCAA rules, players who wish to contact another Division I institution must submit a list to the coach of the institution they are leaving for approval.
One of the schools on the list Jeter gave to Vanderbilt was the University of Pittsburgh, which was the closest major college to his home — a 45-minute drive.
However, Vanderbilt head coach Kevin Stallings blocked him from contacting Pitt.
"There was always some reason I couldn't go there," Jeter said.
He considered other choices, but scholarships were not available.
He also listened to his father.
"Dad never steered me wrong," he said.
Carliss and Furjanic continued to talk.
During the summer Furjanic suggested Jeter come to Polk until recruiting opened up again.
Furjanic received 40 calls regarding Jeter the first week he was at Polk.
Six schools visited Jeter the first day they were allowed — one of those was Pittsburgh.
He signed the scholarship with Pittsburgh on Nov. 13.
His eyes are lighting up again — like he lights up the basket with a three-point shot.
"That's what friendships are about," said Furjanic. "It was almost a no-brainer for the family. He's gotten a lot of individual work in and he's on track to graduate in May."
Plus, his decision to attend Polk has indirectly helped Furjanic.
Furjanic believes Jeter's presence around his team did two things — motivate and teach.
"It was a good experience to have him here," said Furjanic. "He's played in the SEC and on national TV. Our players dream to get to that level. The experience he had at Vanderbilt — he relays that to our players here."