Polk County's Newest Eagles Have Hatched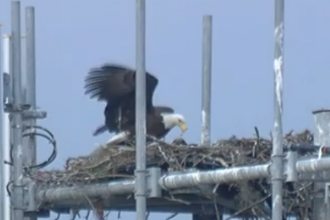 It's eagle-hatching time in Polk County.
The county's newest eagles emerged from their shells about four weeks ago, said Lake Region Audubon Society President Reinier Munguia.
Two of those eaglets were born in a nest atop a cell phone tower behind a business on Thornhill Road, near the intersection of Recker Highway in Auburndale.
On a recent weekday morning, Munguia took video of the eaglets. From what he could see from the ground, Munguia said it appears the Thornhill Road nest contains one female and one male — the typical annual offspring of mating eagles.
The Thornhill Road eaglets — which already stand about 12 inches tall — were observed wobbling around the nest. The mother eagle flew from the tower, returning a few moments later with her beak full of pine needles, which she used to refresh the nest. The father eagle then left the nest to fetch breakfast for his eaglets, probably from nearby Lake Ariana, Munguia said.  (Watch video of the Thornhill Road eagles here.)
Munguia said babies have also hatched at a nest in a pine tree just off the Polk Parkway near Old Dixie Highway. In all, eaglets have hatched in seven Polk County nests.
But the real baby boom is still to come, Munguia said.
"The warm weather stalled a few of the eggs, but they'll be hatching in the next three weeks or so," he said.
Munguia said about 65 nests have been identified as containing soon-to-hatch eggs in Polk County. That number could be even higher, however, because eggs are tucked into nests that are sometimes several feet deep, making them invisible from the ground.
Polk's newest eagles will take their first flights when they are about 72 days old. They will remain with their parents for about a year, perfecting their hunting skills.
Polk County has the densest population of eagles in the country, with 220 nests located within its lines. About half of those nests are active homes for mating eagle couples.
Munguia oversees the LRAS' EagleWatch program, which recruits and trains volunteers to monitor the county's eagle nests.
More information about the LRAS and EagleWatch, including a map of Polk County's eagle nest locations, is available at lakeregion.net.
Polk State College adopted the eagle as its mascot in 2011 to reflect its strong ties with the region it serves.