Peter Usinger wanted the best for Polk State College and colleagues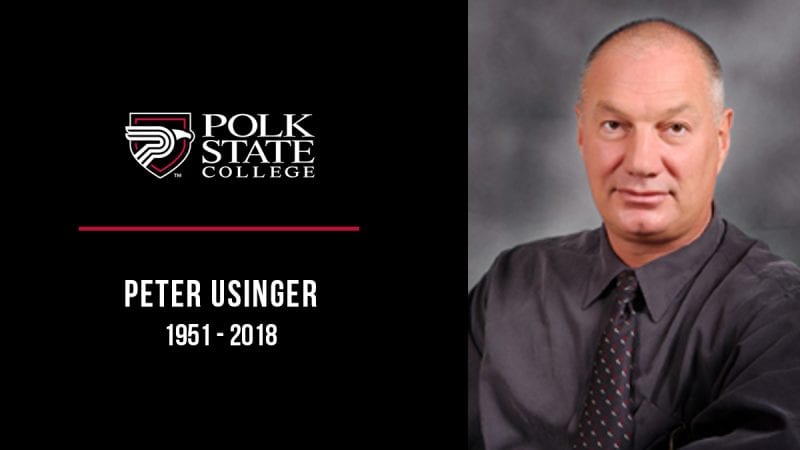 Peter Usinger was dedicated to his work in higher education and instilled in colleagues the value of being a lifelong learner.
He served as Polk State College's Director of Institutional Research, Effectiveness, and Planning from 2002 to 2015, leading the reaffirmation of accreditation by the Southern Association of Colleges and Schools Commission on Colleges (SACSCOC) and the development of the Quality Enhancement Plan (QEP).
Usinger passed away Nov. 28, 2018, at the age of 67. Those at Polk State who worked closely with him remember his infectious energy, diligent determination, desire to learn, and ability to solve any problem that came his way.
"If he wanted to do something, he would figure out how to do it and he would master it through persistence and determination," Research and Reports Coordinator Mary Beth Freeman said.
His work shifted the College's view of teaching and learning from a concentration on the material that is taught to a comprehensive understanding of how it is taught, enhancing the College experience for students, faculty, and staff.
He was also instrumental in Polk State's transition to Genesis, the College's student information system, which serves as the institution's backbone technology for academic and business functions.
"Peter was brilliant. I wish I had his brain," Research Support Specialist Lorraine Springer said. "He had high standards and we continue to do what he taught us here in our office."
Usinger was born on Nov. 18, 1951, in Frankfurt, Germany. He worked for the Max Planck Institute, a leading research organization, before moving to the U.S. to conduct research for the University of Rochester. During this time, he met his wife, Keating Gore, and they traveled the U.S. so Usinger could learn about the country.
He considered himself a "citizen of the world," Freeman recalled.
Freeman, Springer, and Assessment and Planning Specialist Lee Autrey shared fond memories of Usinger's quirkier traits: how he would drive like he was on the Autobahn, how he looked like Peanuts character Schroeder when he typed with two fingers, and how his dry sense of humor would leave them wondering, "was that a joke?"
They also noted his large stature, as Usinger reached almost 6'4. But he did not intimidate, and often revealed an affectionate side that made him approachable and a pleasure to work with.
"He made friends very easily," Autrey said. "He loved to meet and network with people."
Usinger's ability to connect and work collaboratively with others was highlighted when he became president of the Association of Florida Colleges (AFC) in 2013. He is the only Polk State employee who has ascended to the highest level of leadership within the AFC.
When he was sworn in, Usinger gave a motivating speech focused on collaboration and innovation.
"Our prime objective for the coming year is very clear: support measures that foster student success, that advance the vitality of our college system, and that empower our graduates to succeed in the 21st-century workplace," Usinger said. "We can do much more if we leverage each other's strengths, collaborate on new projects…, and replicate best practices that some of our colleges already have successfully engaged in. That's how we achieve success together!"
Courtlann Thomas, Director of the Lakeland Campus Library and Teaching, Learning, and Computing Center (TLCC), worked with Usinger on an article titled "Facilitating Innovation in College Environments: The Innov8 Academy."
"He loved Polk State College," she said. "He was dedicated to using research and data to bolster student success."
When she first met Usinger, they were teamed up for a professional development activity and took the Myers-Briggs Type Indicator test. They were complete opposites: Usinger scored higher in the areas of introversion, sensing, thinking, and judging, while Thomas scored higher in the areas of extraversion, intuition, feeling, and perceiving.
"It was interesting to see him work because of his close attention to the details," Thomas explained. "He worked really hard and was always very supportive of the team and the College."
Marta Clinger, Polk State Corporate College Senior Program Specialist who worked in the Institutional Research, Effectiveness, and Planning Department during Usinger's tenure, echoed a similar sentiment.
"He would never hold a grudge if you messed up – he would turn it into a learning experience for you, show you what you did wrong, and never bring it up again," she said. "He was extremely supportive of his employees and always wanted the best for us professionally."
His former coworkers agreed that Usinger was unique and an asset to the College.
"You can't just give one word about Peter," Autrey said. "He was off the charts in his brain – in a good way."
Usinger's wife said his work was the passion of his life.
"He was a lifelong learner and his work at Polk State hit the core of his capabilities and skills," she said.
His favorite quote was, "Only a life lived for others is a life worthwhile," by Albert Einstein.
"He was an impassioned, natural born leader," Gore said, "and Polk State was his community – not only professionally, but also in his heart."