Panama Adventure: Punctuality, Formality Just Some of the Differences Between Doing Business in Panama and the States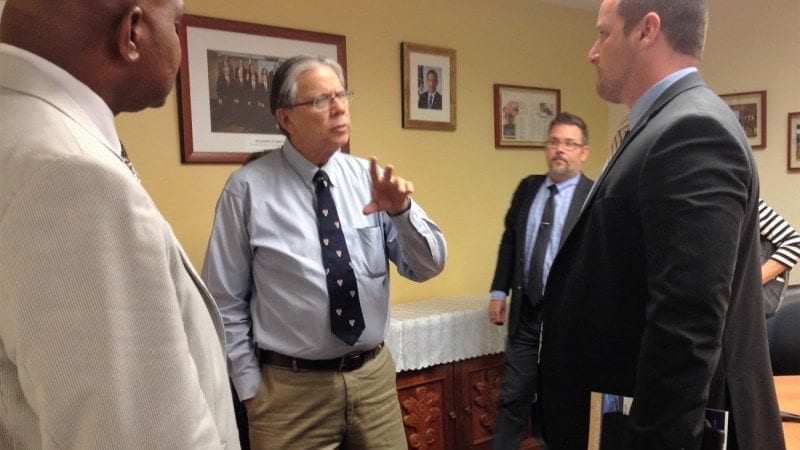 Polk State's students are in Panama to business — and they came prepared to do so.
During their stay in Panama, students are on a fact-finding mission to develop a presentation they'll give to the Central Florida Development Council in several weeks that recaps opportunities for Polk County businesses. They're also creating a business plan for Larry Madrid, president of Bartow-based Madrid Engineering Group, who is interested in expanding into Panama.
To accomplish their tasks, the students are taking important meetings while abroad, including with the American-Panamanian Chamber of Commerce and the Ministry of Economics and Finance.
Prior to departing for the trip, Business Professor Herb Nold and his students discussed Panamanian business customs and how they differ from those of America.
Why add this layer of preparation?
"I've seen the ugly American," said Nold, who spent 30 years working in the private sector before joining the Polk State faculty about four years ago.
Nold recalled working on a deal in the Netherlands. His colleague, a man from Texas, arrived late, spoke in slang, and put his booted feet on the table — all of which were highly offensive to their Dutch counterparts.
During their pre-departure meeting, Nold and his students, with help from a Panamanian contact of Nold's, discussed some of the ways deal-making in Panama is different than in America. For instance, punctuality. While Americans typically adhere to their schedules, Panamanians have a much more flexible relationship with time.
"We shouldn't be surprised if they're fashionably late," Nold explained during the group's tour of the Panama Canal on their first full day abroad.
On the other hand, while Americans might feel comfortable calling Nold, who holds a doctorate degree, by his first name, in Panama he is definitely Dr. Nold.
"They are very formal with titles," Nold said.
Relatedly, the structure of organizations in Panama is more rank-oriented than in the States.
"In Latin America, there is a high power distance, meaning it's very hierarchical. You don't challenge someone of a higher rank, whereas in America, there's a much lower power distance," Nold said.
"That means in Latin America, you need to make sure you're talking to the right person, but you also need to be prepared for decisions to take longer. You may have to go through numerous people and they're all going to be asking different questions to establish their dominance."
Knowing how to act and react in a business situation in a foreign country can make the difference between closing the deal and going home empty-handed.
"It can be huge. It can destroy your relationships," Nold said.
Casmore Shaw, a student pursuing his Bachelor of Applied Science in Supervision and Management degree with plans to continue at the University of Central Florida to earn a master's degree in education, said he's more confident going into Panamanian boardrooms thanks to the pre-departure preparation.
"You are always being evaluated," he said.