On-campus labyrinth to serve as stress reliever for Polk State students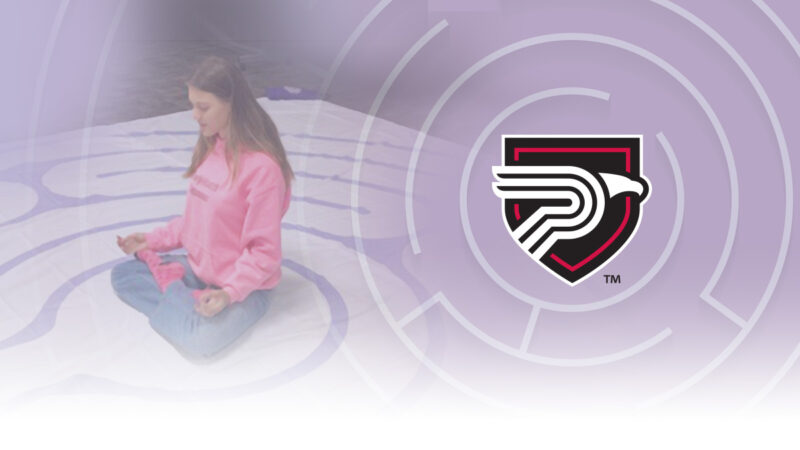 Final exam week can bring added stress for college students, but for Polk State College, a permanent stress relief tool is in the works.
Professor Mary Ann Murdoch is leading the charge to bring a permanent labyrinth to the Winter Haven Campus, which will be located between the WFA and WLR buildings. The 18-foot circular structure made of paving stone is partially funded through an Impact Polk grant from George W. Jenkins Fund within the GiveWell Community Foundation.
"The last two and a half years with COVID-19, people have been very stressed out and feeling like they're fractured," Murdoch said. "People spend so much time in stressed-out states that things start to multiply. Research shows that taking even a few minutes a day to sit quietly or refocus can have profound effects on people's health and wellbeing."
Labyrinths are maze-like structures, prominent throughout the world, including in South American, Native American, Hindu, and Asian cultures and in yoga. Murdoch noted that in Gothic cathedrals in the Middle Ages, labyrinths were usually located in the center and used by monks as a place to meditate or pray. Today, labyrinths are often found near green spaces on college campuses, gardens, or public parks.
"It sounds like a really cool idea," said Vivian Frabotta, a Polk State freshman. "We definitely need it right now."
Murdoch anticipates that construction will begin in the spring. In the meantime, she's been using a portable labyrinth made of canvas to expose students to its uses and purposes. During FallFest on the Winter Haven Campus in October, more than 100 patrons used the portable labyrinth.
"The response was great," Murdoch said. "Some people knew what a labyrinth was, but there were people who didn't. They were excited to walk in and learn about it."
Murdoch found inspiration for the labyrinth while looking over an alumni newsletter from Rollins College, from where she earned her master's degree. She read an excerpt about Rollins dedicating its on-campus labyrinth. The timing of the article, she noted, happened to coincide with her learning about the GiveWell grant.
"I've always been interested in bringing mindfulness to our campus," said Murdoch, who is also a certified yoga instructor. "I'm very pleased to see this idea come together. I'm really excited to be able to have some sort of legacy project here at Polk State and to bring something that could be used for years to come."
For college students, stress can come from taking on more responsibilities, learning to balance work and classes, and not having enough time for self-care. According to the American Institute of Stress, 80% of college students experience frequent stress.
"Money can be a big source of stress, especially if your parents aren't helping you," freshman Zaira Salas said. "I think (a labyrinth) would be great. It sounds like fun and would be a great addition."

Murdoch has been using the portable labyrinth for her Humanities classes but noted that it could be used by many different academic departments and would be open to students and staff at all times. An 18-foot labyrinth, she said, could easily accommodate 10 or 12 people at once. It could also be a place for on-campus events or inspire new ones.
"More events would be a great thing for the College," freshman Moises Aguirre said. "This sounds like a really great idea. With what we went through during COVID, we could really use it."
Murdoch noted that Kim Simpson, Polk State Interim Grants Specialist, and Grants Director Jennifer Fiorenza, were instrumental in obtaining the $7,500 GiveWell Community Foundation grant funding. Along with the labyrinth, Murdoch hopes to have benches and nice landscaping to create a more pristine setting.
"Not only are labyrinths beautiful to look at, but the space becomes special in itself," she explained. "It's a very personal experience. It's a physical place, but it's more reflective of one's state of mind. It will be a lasting permanent part of our campus.
The GiveWell Community Foundation fully funded the portable labyrinth, which will continue to be used, including by the Polk State Elementary Education Program. The portable labyrinth will also be used at local elementary schools and small groups of special needs students at the Doris Sanders Learning Center. The labyrinth will help serve Polk County Schools' recent emphasis on furthering education for social-emotional health and wellbeing.
"There are a lot of different learning opportunities for the labyrinth," Murdoch added. "What's great is there are no wrong turns and you can't get lost."