Oldest, Youngest Grads Separated by Decades but Share Mutual Affection for Polk State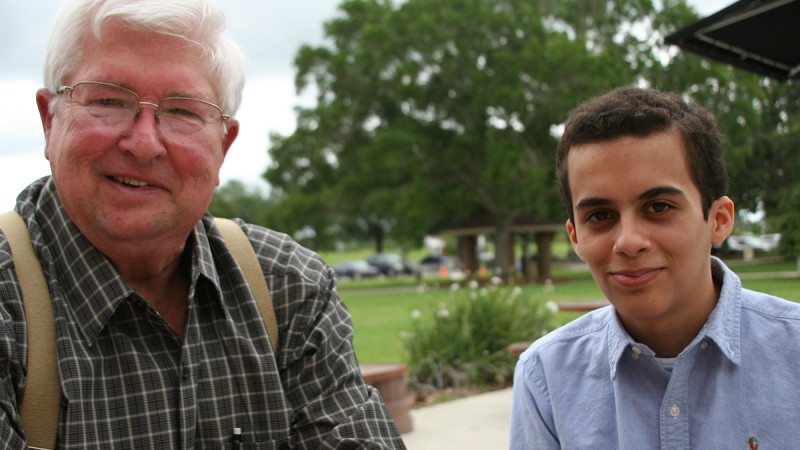 Seated in the sea of graduates at Polk State College's upcoming commencement this Tuesday will be Alexander Manjarres and Charles Walker, who, separated by more than 50 years, have known totally different worlds.
Walker, 69, was born almost a month before D-Day, a year before World War II ended, and a decade before segregation was ruled illegal in the United States. The Lakeland native still remembers vividly "white water fountains" and "black schools," he said.
Manjarres, 15, meanwhile, was barely in the double-digits when the country elected its first African-American president. Manjarres has never known a world without The Simpsons or cloned sheep or personal computers.
Yet, for vastly different reasons, they found exactly what they needed at Polk State College.
For Walker, a former Lakeland Electric plant operator who began his education at Polk State in 1975, starting and stopping over the years as he worked to support his family, Polk State is an educational institution whose doors have always been open — even when he went decades without ever stepping on its campus.
For Manjarres, who began as a student at Polk State Lakeland Collegiate High School when he was just 13, becoming the youngest student ever served by the College, Polk State is a place where he could be challenged, where he could have the kind of academic rigor he needed.
Both will soon leave Polk State, their Associate in Arts degrees in hand. Before doing so, they took the time to meet for the first time at Polk State Lakeland, where they talked about their differences — an especially telling moment came when Walker mentioned his cassette answering machine and Manjarres replied that he'd never seen one before — as well as their mutual appreciation for this institution.
Charles, what were you doing in 1998, when Alex was born?
CW: I was getting ready to retire in 1998. I had a daughter who was born in 1969, and granddaughters born in 1990 and 1995.
What is the first national news story you remember following?
CW: The Cuban missile crisis in 1962 and the Kennedy assassination in 1963. The 1960 Cuban embargo inspired me to join the Army because I knew I'd get drafted if I didn't join. During the missile crisis and the Kennedy assassination, I was 18 years old and stationed in Fort Devens, Mass.
AM: George W. Bush's re-election. I remember him debating with (now Secretary of State) John Kerry on TV.
What was the most difficult thing about being so much younger — and older — than your classmates?
AM: I didn't feel that much different than my classmates, but I remember in my Introduction to Computers class in 2011, the instructor was talking about Microsoft DOS. I couldn't participate at all in that conversation because the first operating system I remember is, like, Windows 98.
CW: I can't say I felt much different. The homework was the same — hard. The campus is the same as it was when I was here more than 30 years ago. The students do have their cell phones and computers with them all the time, that was something different. I just want an old rotary dial phone and to take pictures using a camera.
What was your favorite TV show when you were younger?
CW: Howdy Doody and Davie Crockett
AM: The Power Rangers. I liked the green one the best.
Charles, Alex loves playing video games. Have you ever played any?
CW: I played PacMan once.
What about your favorite movies?
CW: How the West Was Won (which premiered in 1962)
AM: Fight Club (which premiered in 1999)
You both plan to walk during the commencement ceremony. What do you think you'll be feeling during the ceremony?
CW: It's a right to walk and get your diploma. After 30-plus years, I started to just let the College mail me my diploma. But then I decided that this process, it's been hard. I decided I earned the right to get that degree. I'm going to walk and let them talk. It may have taken me more than 30 years to get this degree, but I've got as much degree as anybody else.
AM: I'll feel proud, but I'm going to be here over the summer to take another class.
What was your first car?
CW: A 1956 Chevy Bel Air
AM: I don't even have my permit yet.
What's the invention you couldn't live without?
AM: The iPhone
CW: The radio. The iPhone still seems like science fiction to me.
What are your post-Polk plans?
AM: I'm starting at Florida Southern College in the fall to get a bachelor's degree in Computer Science.
CW: I don't know. I don't intend to go back to work and I don't intend to continue in college. This was just unfinished business I wanted to take care of.
You two are separated by several decades, and you've known very different worlds. Yet you both found a place to belong in Polk State. What does this place mean to you and how will you remember it long after graduation?
CW: It's a place to come and get an education to better myself. It was always here for me, even though life didn't bring me back here for some time. This school was always here, waiting for me.
AM: It gave me an opportunity to get ahead It was here to get me where I wanted to be when regular high school couldn't.
Charles, what advice could you give Alex?
CW: Get your education. Get your bachelor's, get your master's, get all your degrees before you get tied down with other obligations or a family. Education will open the world up for whatever you want to do with your life.
Polk State will mark its 108th commencement at 6:30 p.m. on May 7 at The Lakeland Center. More than 930 students will graduate from the College this semester, having completed bachelor's or associate's degrees or a variety of workforce certificates.