No Tears Here: Polk State Theatre to Present Four Comedies in Upcoming Season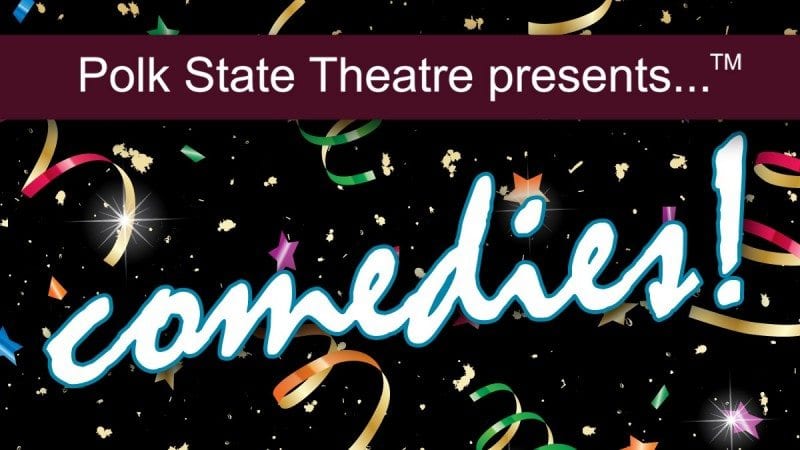 The difference between Polk State Theatre's last season and the season that begins this October is pretty simple:
"This season, you're going to laugh until you cry," said Paul Carbonell, Theatre Department coordinator. "Last season, you just cried. And then cried some more."
In 2013-14, Polk State Theatre took viewers on a tumultuous ride through all the emotions associated with love, culminating with the tragedy of William Shakespeare's "Romeo & Juliet."
This summer, when they sat down to plan the 2014-15 season, Carbonell and his fellow directors all brought their show selections to the table, and there wasn't a tragedy among them. Just the opposite.
"We all had chosen comedies. I don't know if we were still so emotionally exhausted or what exactly, but we all wanted to lighten it up. We didn't want to go deep and dark," Carbonell said. "So we said, 'Why not? Who says you can't do a whole season of comedy?;"
The season of funny kicks off with "Moon Over Buffalo," which premiered on Broadway in 1995 starring the incomparable Carol Burnett in the leading role of Charlotte. The play depicts husband-and-wife actors in the twilight of their careers, who hilariously try to keep their on-stage performances going even while behind the scenes their marriage is falling apart.
"It's high-paced and physical," Carbonell said, "and the characters are larger than life."
"Moon Over Buffalo" will be followed with "The Learned Ladies" in November. Penned by French playwright Molière in 1672 and translated into rhyming couplets by Pulitzer Prize-winning poet Richard Wilbur in 1977. The play explores the ridiculous pretensions of 17th-century French high society.
"So we go from a modern farce to classic French farce," Carbonell said. "Where 'Moon Over Buffalo' is physical, slapstick comedy, 'The Learned Ladies' is wit in its highest form."
Come early 2015, Polk State Theatre will take a turn back to more familiar comedic territory with "Moonchildren," a 1973 off-Broadway hit about eight college students living together in the mid-1960s. Amid their romantic interludes and friendly gags, the characters also protest the conflict in Vietnam and grapple with personal loss.
"It's about 20-year-olds at that time in their life when they really believe that they can change the world," Carbonell said. "They have all these big huge ideas about being the generation that 'brings down the man.'"
Carbonell pointed out that, purely by coincidence, "Moonchildren" takes place during the same time that Polk State opened its doors — and it will be staged during the College's 50th-anniversary year.
"I would say that our earliest alumni might be especially interested in coming to this show," he said. "It may remind them of how they were back in college, and what they dreamed of doing one day when they were in charge."
The season of comedy ends with a tried-and-true fan favorite, "Footloose," based on the 1984 movie starring Kevin Bacon.
"It's a musical. It's funsy fun. If you come in to that show with any blues, we're going to dance them away," Carbonell said.
Performance dates for the 2014-15 Polk State Theatre season include:
Oct 2-5 and 9-12
"Moon Over Buffalo"
Nov. 13-16, 20-23
"The Learned Ladies"
Feb. 5-8 and 12-14
"Moonchildren"
April 19 and 23-26
"Footloose"
All shows are at 7:30 p.m., except for Sunday matinees at 2:30 p.m. All shows take place at the Polk State Winter Haven Fine Arts Theatre, 999 Ave. H N.E. Tickets for all shows are free for Polk State College students and employees with College ID. Tickets for the general public are $8. The box office opens one hour prior to each show.
For more information, visit polk.edu/theatre.
In addition to Theatre, Polk State Fine arts includes Music and Visual Arts, all of which enjoy outstanding statewide reputations.