Night of Music, Poetry Will Benefit Polk State Upward Bound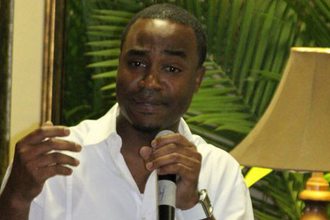 Polk State College will host local poet and spoken-word artist Jason Alexander at 7 p.m. on Jan. 12 at the Fine Arts Theatre on the campus of Polk State Winter Haven, 999 Ave. H N.E.
Advance tickets are $7 and can be purchased from Upward Bound participants and their parents, or by calling 863.292.3705. Tickets at the door will be $10. All proceeds will benefit Upward Bound Parent Advisory Council. Funds will benefit scholarships and other services provided by Upward Bound, a project at the College to prepare students in grades 9-12 to succeed in post-secondary education.
Alexander is a Polk County native who began writing poetry in 2009 after the death of a close family member. After a year of writing poetry, he was asked to perform his works for an audience.
"And I haven't stopped since," he said.
His show has expanded to incorporate other performers. For the Polk State show, he'll be joined by a five-piece band that performs everything from jazz to classical music, two comedians, two singers and a handful of fellow poets.
Although Alexander lives in Winter Haven, the Polk State show will be only his second performance in Polk County. He has performed a monthly show in Orlando for the last year.
"My show is everything you expect it isn't," Alexander said. "When you think of poetry readings, you might picture 10 people burning incense and snapping their fingers. That's not what this is. My show is very energetic, upbeat and uptempo. It's a solid two hours of everything you'd never expect."
Alexander said he was persuaded to bring his show to Polk State because of the cause this engagement will benefit.
"I love the Upward Bound cause. A lot of people have asked me to do things and I didn't think it would really benefit anything. But this show is a way for me to give back and come back home at the same time," he said.
Upward Bound is a U.S. Department of Education program that provides fundamental support to participants in their preparation for college entrance. It serves high school students from low-income families and high school students from families in which neither parent holds a bachelor's degree. The goal of Upward Bound is to increase the rate at which participants complete secondary education and enroll in and graduate from postsecondary institutions. Polk State Upward Bound assists Auburndale High, Haines City High, Lake Region High, Lake Wales High, Ridge Community High and Winter Haven High in their efforts to develop the academic and motivational potential of students who are interested in pursuing a college degree.
-30-