Nigerian National Team member Ottah excels early for Polk State Soccer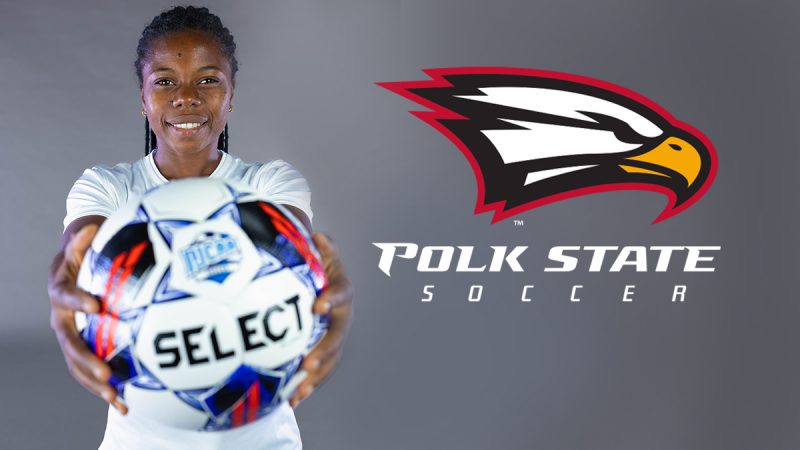 Undefeated at 7-0 and nationally ranked in the United Soccer Coaches Poll, newcomers have played a vital role for Polk State Soccer. Among those, perhaps no one's story is more unique than that of midfielder Celine Ottah.
A member of the senior Nigerian National Team since 2018, Ottah chose to further her academic career and attend Polk State College.
"My coaches and teammates gave me a warm welcome…making me feel at home," Ottah said. "Sometimes, I don't really miss home. They love me. My coaches have been incredible. They've believed in me from the beginning."
Ottah's presence on the field was felt immediately. Through seven matches, Ottah ranks second on the team in total points (18), goals (6), and assists (6). Her assist total is good for 16th in the entire country.
"Celine is a dynamic player," Head Coach Jess Belli said. "When she plays for a senior national team, she's more of a supporting player. Here, we need her to be a standout player."
Bigger than Soccer
Recruited by Randy Belli, a Polk State assistant coach, Ottah hopes to become a nurse. That opportunity is what ultimately prompted her to leave home.
"It was about going to school and having a degree, so I could have a future outside of soccer," she said. "I want to help people. I want to save lives, especially the children and the aged."
"When you get somebody like Celine, who understands what an incredible opportunity it is to get an education, she's so excited to bring this success from her education to her home and to her family," Belli said. "This really does change everything for these international players. Polk State is really lucky to have her. We're excited to be part of her career and her life."
Adjusting to the U.S.
The Eagles hoped to have Ottah in time for the 2021 season, but the Nigerian Embassy still had strict COVID-19 restrictions. For that reason, Ottah was unable to get her student visa.
"It was so hard to wait another year," she said. "I had to rearrange my plans."
When Ottah finally arrived at Polk State this summer, it did take some take time to adjust. Ottah admits that she was initially a little homesick.
"The hardest part of adjusting to a new school and a new country first was the food," she recalled. "I missed Nigeria and Nigerian food. The atmosphere here and there is much different. I missed my family so much."
As the 2022 season got underway, Ottah wasted little time in showcasing her skills. The Eagles opened the year in Georgia with contests against South Georgia State College and then nationally ranked Motlow State College.
"At first, it was difficult," Ottah said. "As time went on and we trained and we kept bonding, I felt like we became a team. Going to Georgia made us bond a little more. We had such flow and team spirit and desire to win."
Ottah registered six shots, including two on goal, in a season-opening 3-0 win over South Georgia State. The next night, Ottah scored her first two goals in a 6-4 victory over then No. 20 Motlow State.
"The first goal was amazing," Ottah reflected. "It cemented a lot of things and solidified my confidence. I felt like I could accomplish so many things."
Taking the Eagles to New Heights
In its first two seasons under Belli, Polk State won more than 73% of its matches. Playing in a region that includes reigning national champion Eastern Florida State College, Ottah will play a vital role in helping the Eagles reach new heights.
"With Celine's athleticism and technical ability on the ball, it really adds a special dynamic on the field," Belli said. "She's really challenging herself to develop areas of her game she hasn't had to work on. We are tremendously blessed by all that she brings to the field already and look forward to her developing even more."
Through seven matches this season, Polk State has been downright dominant. The Eagles have outscored opponents by a 46-6 margin and recorded their third straight shutout in Wednesday's 5-0 win over Florida National University. Ottah has registered either a goal or assist in six straight matches.
"My biggest strength is that I'm skillful," Ottah said. "I have a high football IQ. I can help my team in attacking as well as defending. I want to score goals. I want to assist my team to be better. As a team, we want to be national champions for the first time. It would be an honor to do that."
The numbers so far speak for themselves, but Ottah said that the team is a close-knit group. That's an important ingredient as Polk State aims to win its region and make the NJCAA Tournament for the first time since 2009.
"My teammates are amazing," she said. "They've made me feel at home. We are family now. I've really enjoyed everything about them."
Ottah also enjoys cooking and dancing. Soccer, however, is her biggest love. Ottah has played since she was a small child, but to her, it means more than just winning and losing.
"What I love about this game is it makes everyone come together regardless of the color, regardless of race, regardless of country," she said. "We all speak one language and that's football."