New Sand Volleyball Court to Benefit Polk State Players, Community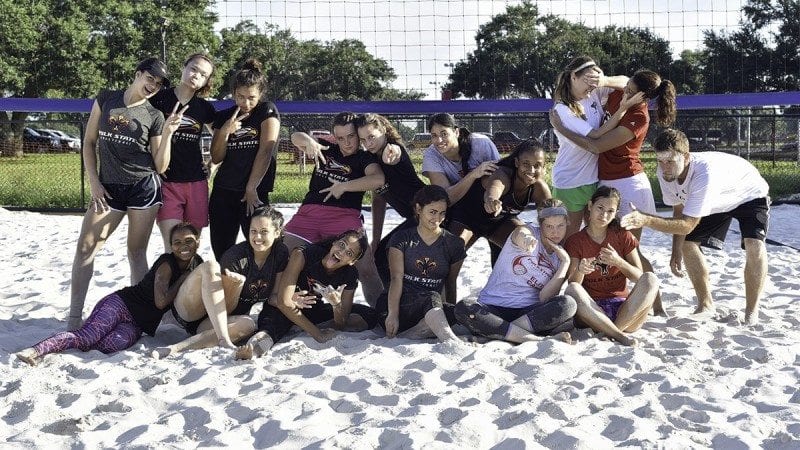 A new sand volleyball court on the Winter Haven campus will not only help Polk State volleyball players sharpen their skills but also provide an attractive venue for local tournaments.
Assistant Coach Ashley Hass says playing on sand provides different benefits than playing indoors.
"Sand volleyball is good for your all-around game," says Hass. "It's just you and partner, so it develops mental toughness. And there's much less impact on your knees than there is on a hard court floor."
Indoor volleyball is played with six players per side. Each person has a specialized position, and rotations and switches go on throughout games to ensure that each person remains in their designated position.
Sand volleyball, however, is typically played with doubles. With no specialized positions, a player must be able to perform every skill: passing, setting, hitting, serving, and playing defense. It forces players to develop their weaker skills.
"Moving in the sand and jumping in the sand is much more difficult than in indoors, so playing beach volleyball can help you develop a stronger jump and make you quicker on defense because you're under constant resistance in the sand," says Hass.
The new court will also be an asset to the community. Polk State plans to make the court available for local tournaments and special events. Polk State College and the Polk State College Foundation are grateful to the City of Winter Haven, the A.D. Morgan Corporation, CEMEX, and the Best Fence Co. for their vital and generous donations that made the sand volleyball court a reality.
Polk State volleyball started preseason practice Aug. 1 and begins its season Aug. 22 on the road against Indian River State College. The Eagles play their first home match Aug. 25 against Daytona State.