National Championship Bid Is Sweet Vindication for Members of 1992 Squad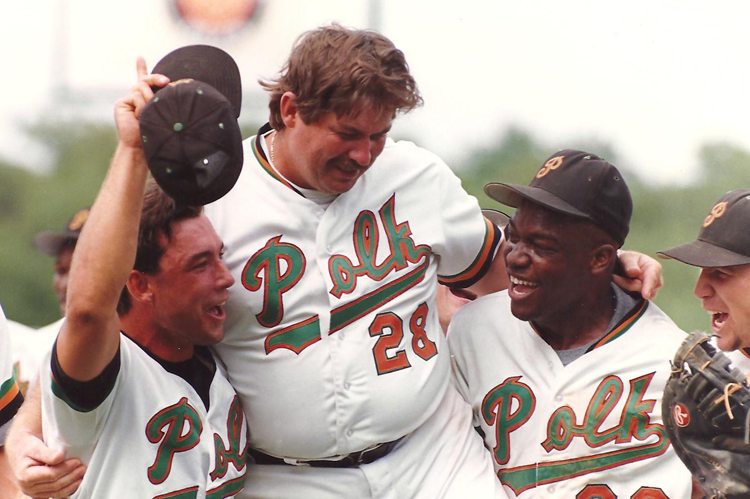 Polk State College will compete in its first NJCAA JUCO World Series when the tournament begins on May 26 in Grand Junction, Colo. The national championship berth comes after a record-breaking season and the team's second consecutive Suncoast Conference Championship. News@polk is chronicling this historic season with a series of stories, giving an inside glimpse to the personalities behind the uniforms and the hard work that has led the team to the national spotlight.
The story of Polk State Baseball's state title and national championship berth can be told in shattered records and thrilling victories — or, for those who remember the 1992 season, sickening déjà vu and vindication that's been a long time coming.
"The difference is that in 1992, there was no tomorrow," said Bing Tyus, Polk State athletic director.
In 1992, under the leadership of then-head-coach Tyus, the College's baseball program secured its only other state title and a spot in a regional tournament, which was at the time the next step before advancing to the NJCAA JuCo World Series.
In the final game in Macon, Ga., Polk State was leading, with just one strike standing between it and the national championship. On a swinging bunt, a Wallace Community College batter took first base. Then, the next batter hit down the first-base line. Umpires twice called the hit a foul, but in a devastating reversal, ruled it was fair. The call paved the way for the tying run and, ultimately, Polk State's loss.
It was a turn of events that has haunted Tyus and members of the 1992 squad ever since.
"It was an umpire debacle that ended up costing us the game. We got so close and then had it yanked from us," Tyus said. "We were crushed. Here we were, on our way to the national championship, and then all of a sudden we're not."
Former second-baseman Scott Harper still relives the loss, mentally replaying the controversial call at random moments.
"It was so bizarre," said Harper, who went on to coach under Tyus and is now a business owner in St. Petersburg. "Everything was falling into place and everything was going in our favor, and to have it end like that was just surreal."
With the heartbreak of 1992 still so palpable for those who lived it, imagine the sting when the 2012 Eagles experienced a similarly questionable call.
That call came during the second round of the FCSAA/NJCAA Gulf District State Baseball Tournament, as Polk State faced off against Palm Beach State. In the bottom of the ninth, the Eagles singled to left field, and second-baseman Conor Szczerba headed home to make what would have been the game-winning run.
Celebration ensued, but did not last long. Officials ruled that Szczerba had failed to touch home plate, and Palm Beach prevailed with a four-run burst in the 11th inning.
"It was the same thing. I thought, 'Here we go again," Tyus said.
Of course, the parallels between the 1992 and 2012 teams end there. In 1992, the team went home, their season brought to a sad end. In 2012, the Eagles went on to win four in a row, snagging the state championship and a bid in the NJCAA JuCo World Series.
"We had a really sorry situation, but they bounced back and laid it all on the line," said Head Coach Al Corbeil.
While two decades have passed, the 2012 national championship berth is vindication for those who came so close in 1992. They might not be the ones wearing the uniform, but in their hearts, they'll be right there with the Eagles in Grand Junction, Colo.; the Eagles' first game will be at 5 p.m. (EST) Saturday. All games can be seen live at http://www.ihigh.com/njcaatv/.
"It's a sense of pride," said Jonathan Spradlin, a utility player in 1992 who is now head baseball coach at Fort Meade Middle-Senior High School.
"To the players, go enjoy the experience. It's a great experience that you may never get to do again. Go enjoy it. Go play exactly like you've been playing."
Harper has a similar message for the Eagles.
"This is a privilege. I hope they savor every second of it," he said.
Tyus will travel with the team to Colorado, and you can bet he'll cherish every moment — after all, he's been waiting for this for 20 years.
"This is so important for a lot of people," he said.