Naomi Boyer Lives In Polk State's Future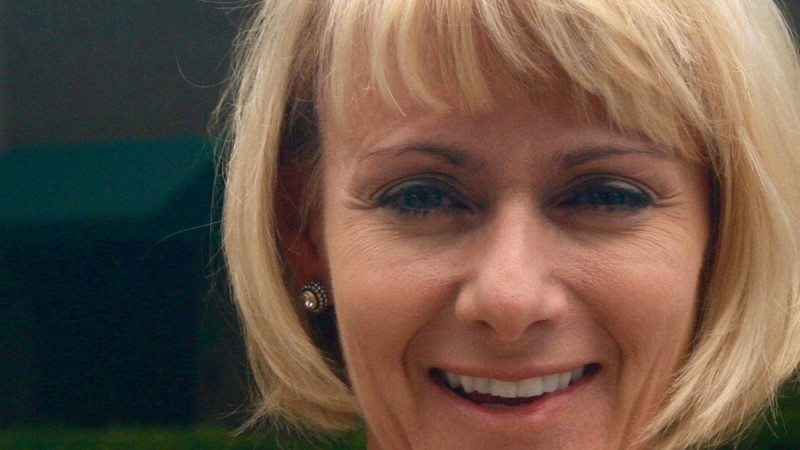 Polk State's Naomi Boyer is a bit of a mystery.
She has a hand in initiatives that impact not only the College itself, but also its education and industry partners. She is a player in decisions felt by students, faculty and staff.
Yet, by her title alone — associate vice president of strategic initiatives — and the fact that she is often a behind-the-scenes force in changes at the College, her impact may not be widely noticed.
Spend a few minutes with Boyer, however, and a surprising, totally intriguing picture of her job emerges: She is Polk State's fortuneteller.
Granted, she has no crystal ball and she reads research not palms, but it is her job to explore new programs and services that align with the College's mission and support its vision to promote excellence and student success through innovation, value and engagement.
"The really cool thing about working here is that I get to focus on what we do and doing it well, but also how we're going to take it to the next level," Boyer said.
Boyer came to Polk State in July 2011 after a nine-year run at the former University of South Florida Polytechnic, where she climbed the ranks, eventually becoming an assistant vice president.
It was through her work at USF Poly that she became acquainted with Polk State; USF Poly shared the College's Lakeland campus for many years.
"I had heard a lot of really good things about the culture of the College — all of which have turned out to be true," she said.
Boyer's resume at USF Poly, which included directing and developing distance-education programs, overseeing the popular Central Florida Gifted & Talented Institute, and establishing international partnerships, captured the attention of Polk State, too.
"I observed Naomi's results-oriented work ethic for several years and, when the opportunity presented itself, I asked her to join Polk State to assist me in implementing our new five-year strategic plan.  The programs and relationships she will develop in coming years will absolutely make Polk State a stronger, more effective institution. We've always been great — but we keep getting greater," said Polk State President Eileen Holden.
When she arrived at Polk State, Holden and Kenneth Ross, vice president for academic and student services, asked her to facilitate the development of the College's five-year strategic plan for distance learning, a plan that should be finalized in a few weeks. Capitalizing on its outstanding faculty, the College aims to become a leader in distance education by 2017 by increasing the number of students who successfully complete online courses and expanding its online offerings; totally online associate and bachelor's degrees are planned.
The strategic plan for distance learning is in many ways the perfect example of the kinds of projects Boyer handles. It sets long-term goals — in this case, totally online degrees by 2014 — and it is multifaceted, involving areas such as course development, faculty training, technology, quality control and, ultimately, student success.
Though she'll continue to play a role in the implementation of the strategic plan, her work is primarily on the front end — and with that done she is free to focus on the wildly varied, always exciting list of things in the works for the College.
Such as: exploration of four-year degrees in education and aerospace; establishing the College as a local leader in language studies; increasing the College's graduation rates; and developing international partnerships and student exchange programs — and that's only the very tip of the iceberg that is her to-do list.
"Anything that Dr. Holden is looking to do in the future falls to my plate. Working with the College's faculty and staff, I investigate ideas, develop plans, and help provide the infrastructure to make them happen," Boyer said.
In her year at Polk State, Boyer has teamed with faculty and staff on several new endeavors. The College's first group of exchange students recently traveled to France, where they studied alongside students from Polytech Marseille. The College has partnered with Florida Virtual School, becoming the first to offer Virtual School students dual-enrollment opportunities. The College launched its TALON Robotics program for area middle and high-school students. And a Technobotics Academy will launch at Polk State Chain of Lakes Collegiate High School this fall.
"When President Holden had the opportunity to add Dr. Boyer to our team, I was thrilled. At USF, she was widely respected as someone who could 'get things done' and do so with integrity and a level of quality that reflects well on the institution she represents," said Associate Vice President for Communications and Public Affairs David Steele, who worked for five years with Boyer when they were both administrators at USF's campus in Lakeland.
"She has the expertise of a specialist but a flexibility that is very unusual in academic settings.  Beyond that, she knows Polk County intimately; she knows higher education inside and out; and she is utterly committed to the mission of Polk State."
Boyer, a native of Miami, earned her bachelor's and master's from the University of Florida, and taught for three years in California and one year in South Florida.
She put her teaching career on hold to raise her two children — now ages 18 and 16. When her youngest child was 1, she longed to return to the professional world, but found herself at a crossroads.
After a bit of soul-searching, she enrolled at the University of South Florida, earning a doctorate in 2001 in Curriculum and Instruction with a concentration in Interdisciplinary Education.
She has lived in Polk County since 1995 and knows well its specific, unique education needs — needs that through her work at Polk State she is helping to meet.
"There is an attitude here that what is good for our students is good for us," she said. "We are here to meet community need, and that's exactly what I want to do."