Music Professor Passes On His Keys to Success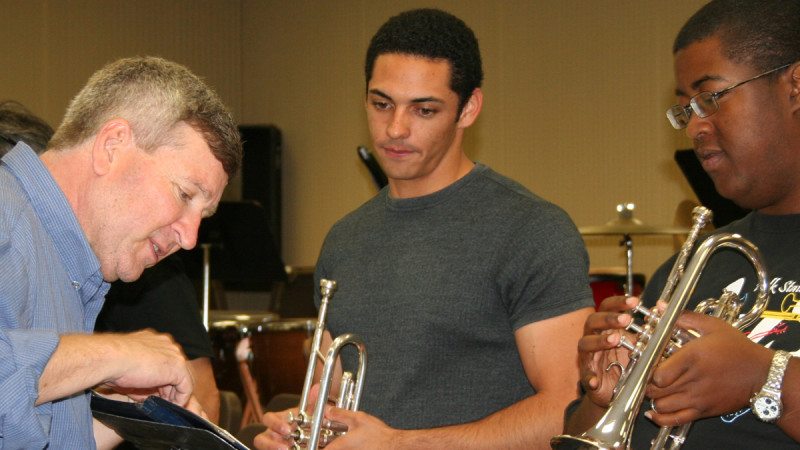 They say those who can't do, teach.
Obviously, they never met Chris Sharp.
Sharp, recently named the Polk State Music Department's director of bands, brings to the College a wealth of professional experience, including previous employment at Walt Disney World and a career that has included dozens of published compositions.
Having proved himself as a musician — supporting his family through his passion — he now aims to equip his students with the practical skills that will allow them to do the same.
Yes, it is possible to make a career of music, he says, and more than anything he wants to teach his students how to do just that.
"It's our obligation to teach our students what they need to support themselves," Sharp said.
Son of a Rocket Scientist
Sharp is a self-described "Space Coast Baby," having grown up in Cocoa Beach. His father worked as a rocket scientist for NASA.
With that background, one might have predicted Sharp would become a scientist himself, or maybe a mathematician or engineer. By the sixth grade, however, he started on a path that would take him in a completely different direction.
"I joined the school band when I was in sixth grade. I didn't know what instrument I wanted to play, so I asked the band director what he needed. He said he could use a trombone player. I said, 'what does that look like,'" Sharp explained.
With the band director's suggestion, Sharp took up the trombone. By his junior year of high school, he was taking private lessons, and he soon realized that he wanted to make a future out of music.
"I thought about training to be an engineer, but I thought, 'do I want to be solving math problems all my life,'" Sharp said.
"I decided to be a music major. My parents said, 'you're going to starve.'"
Success, Not Starvation
Sharp holds a bachelor's and doctorate in music from the University of Florida, and a master's from the University of Miami.
It was immediately after earning his master's degree that Sharp was hired as a trombone player at Walt Disney World.
"That's when my parents said, 'he's going to make it,'" Sharp said.
Sharp worked at Disney for the next 11 years, a stint that also allowed him to work as an arranger and orchestrator. Through the years, he contributed to parades, television broadcasts and special events.
After leaving Disney, he worked as a high school band director in Orange County, a job that let him teach while also writing and arranging for the scholastic level.
"My students were my guinea pigs. I was able to write for their concerts and then make changes when I saw what wasn't going to work," Sharp said. "Pretty soon, I started submitting material to publishers."
The jobs rolled in and he left teaching when he signed to work for a publisher as a composer and arranger.
Since then, Ringling Bros. and Barnum & Bailey, Universal Studios, colleges and service bands across the country have all sought his services — just to name a few. He estimates his published works now number more than 200.
The Path to Polk State
In 2005, Sharp returned to UF to earn his doctorate, and also worked as a graduate teaching assistant and wrote music for the Gator Band. Post-Ph.D., he sought a more steady way to make a living, and went to work as the band director at Santa Fe College.
Then he heard about Polk State's growing Music Department.
Led by Professor John Anderson, the number of Polk State music majors has more than quadrupled in the past eight years. While the program does not currently offer a bachelor's degree, in Spring 2011 — for the first time in program history — all 21 graduates were accepted to a university music program, no small feat considering acceptance is based on an audition. The Department recently added a Jazz Guitar Ensemble, and its students regularly perform across the county and state.
For Sharp, the possibilities offered at Polk were irresistible. He became a full-time adjunct professor in Jan. 2011 and has loved it ever since.
"The faculty here really cares about kids. They are very supportive and cooperative," Sharp said.
Polk State has been glad to have him, Anderson said. Sharp has made connections with band programs at local schools, and has brought in professional musicians to do workshops with Polk State's students.
"Let's face it, all of us learn by seeing the pros do it. If you can bring people in who are some of the best in the world and expose our students to them, that's quite a great advantage," Anderson said.
Bright Future
Sharp said Polk State has long been known for its strong band tradition, and it has all the parts in place to experience even more growth.
"This is a sleeping giant of a program. Everything you need is here. There is every reason for people to be beating down the doors of this program," Sharp said.
For his part, Sharp is determined to ready Polk State students for viable careers in the music business. He works with his students to determine their individual talents and starts them thinking about how to put those talents to work. With all his students, he impresses upon them that just like in any other field, professionalism and adaptability make the difference between struggling artist and paid musician.
"His whole philosophy of teaching music is that it doesn't do students any good just to teach them to sing well and play well. If they're going to major in music, that implies that they're going to be professional musicians and make a living," Anderson said.
Sharp encourages his students to take on any number of roles related to music. Whether it's writing, arranging, playing new styles of music or working as a DJ, there is money to be made — they just have to work for it.
"I tell the kids that they can't be the person who only does this," Sharp said. "They need to learn a little bit of everything."
"If you play the trombone, learn to play it for a band, an orchestra, a top-40 group, a Dixieland band, a brass quartet, a circus band. These are all opportunities to make a living."
As for his living, Sharp is content making it right where he is. He loves the interaction with the students and the support of the Polk State faculty, and he still has time to write music.
And if he keeps working at it, he said, one of these days he might just accomplish a long-held goal.
"I always wanted to be a film score writer. You have a captive audience," he said.