More than 3,600 Second-Graders Coming to Polk State for 'All Kids Read'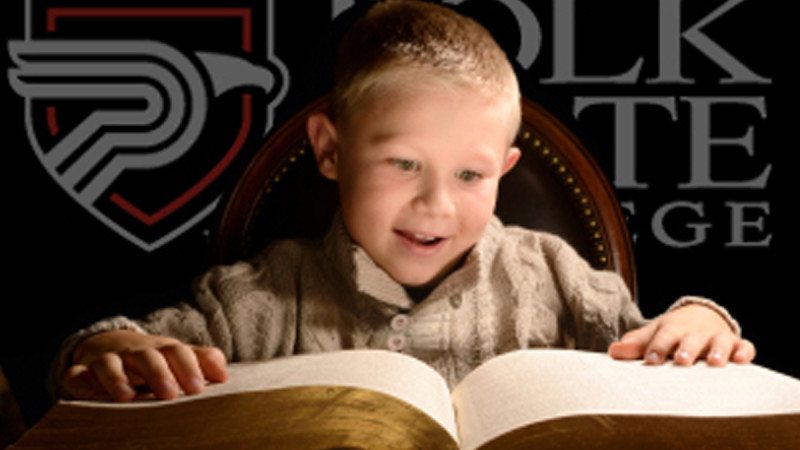 As it reads on the syllabus, the final exam for students in Polk State Professor Ilene Fins' Oral Interpretation class is to take a few children's books, turn them into stage performances, and act them out for area second-graders.
What the assignment is really about, however, even if it's difficult to convey in a course outline, is inspiring young children to read. It's about making a text come to life for children, sparking their imaginations, and empowering them to keep reading long after the performances end.
"It's surprising how many people don't know how to read and how many people don't enjoy reading or aren't good readers," Fins said.
"Theatre can make reading more fun. It engages the full imagination and all the senses. It's a great way to get people excited about reading and learning and imagining."
More than 3,600 second-graders from across Polk County will visit the Polk State Winter Haven Fine Arts Theatre on May 1, 2, and 3 for "All Kids Read with Polk State."
During the event, Fins' students will perform four children's books, including "The Sneetches," "The Day Dirk Yeller Came to Town," "One," and "Memoirs of a Goldfish." These titles were selected through collaboration between the College and Polk County Public Schools, and the second-graders will have already studied the books in class prior to visiting Polk State.
The Polk State students will perform the books in a style called activated narrative, which means they will act out every word of the stories.
"The children already have a connection to the material, and when they come to campus, they'll see that material come to life," Fins said.
"All Kids Read with Polk State" will target second-graders because educators and reading experts consider the summer between the second and third grades pivotal to students' ultimate success.
"Time is running out for kids in this age group. Before the third grade, you are learning to read, but after the third grade you are reading to learn," said Penny Borgia, chief operating officer of the United Way of Central Florida, which offers programs to increase childhood literacy.
"If you are struggling to read at grade-level in the third grade, you're going to have difficulty learning history, social studies, science, and all the other subjects in school."
Key to ensuring students are equipped to succeed in the third grade — and beyond — is avoiding the reading "summer slide," when children tend to lose reading proficiency during the unstructured summer months.
Borgia referenced research that showed low-income students on average lose two months of reading achievement during the summer months. Also, she added, research shows those losses are cumulative, so each summer those students fall further behind in their reading skills.
No matter their income level, however, it never hurts to encourage students to read, which is exactly what "All Kids Read with Polk State" will achieve, said Jacqueline Rose, senior coordinator of Library Media Services for Polk County Public Schools.
Fins previously worked at Lakeland's Lois Cowles Harrison Center for the Visual and Performing Arts, where she launched "All Kids Read" two years ago. Fins has collaborated with Rose since the project began.
"This is such an exciting opportunity for the students," Rose said. "If you watch them sitting in the audience, you can see they are so actively engaged with the stories. They are enthralled and attentive. You can see the storylines melting into their hearts. They sit on the edge of their seats with anticipation."
Rose said "All Kids Read with Polk State" will, as in previous years, inspire kids to go home, read a book, and act it out themselves. But having Polk State host the event may just inspire them in other ways, too.
"Students will be coming to this event from communities all over Polk County. They may have no idea where Polk State is or what it is. It's an added plus that 'All Kids Read' is now at the College, and that these children will have the opportunity to see a college campus," she said.
While the second-graders are the intended beneficiaries of "All Kids Read with Polk State," Fins said her own students are learning much along the way, too.
"This project is about artistic responsibility. You can touch and inspire others through performance. One person may go to a play and learn something and their whole life will be changed," Fins said.
Student Austin Thomas said he's sure the children who attend "All Kids Read with Polk State" will gain deeper knowledge of the texts — and he can't wait to make the books come to life for his young audiences.
"I remember when I was a kid, I loved reading plays because I could act them out and it helped me understand what was going on," he said. "The kids are actually going to get into these stories and feel the emotions. It's going to be great."
In addition to Polk State Theatre, Polk State Fine Arts includes the College's Music and Visual Arts departments, all of which enjoy outstanding statewide reputations.