MLK Luncheon Speaker: "I Am a Living Example that Dreams Do Begin at Polk State"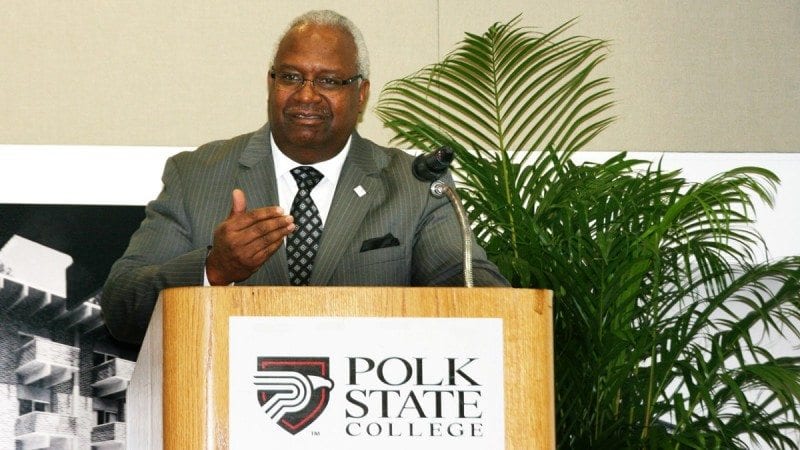 During his rousing address at Polk State's 11th annual Dr. Martin Luther King Jr. Celebration Luncheon, alumnus Anthony James extolled the power of higher education, mentorship — and, most of all, dreams.
"Never give up on your dreams," said James, a 1970 graduate of the College. "You may take wrong turns, but stay your course. You may run into obstacles, but stay your course. What is important is that you persevere and always do your best."
The more than 260 attendees of Wednesday's event at the Polk State Winter Haven Student Center listened in rapt attention as James recalled his journey from poverty to the boardroom of the Southern Company, one of the largest producers of electricity in the United States.
James grew up in Lake Alfred, which is "literally on the wrong side of the tracks," he said.
"We didn't have much, but we didn't realize it back then," he said.
When James was just 16, his father was badly injured. James offered to quit school and work to support his family — but his parents refused.
So, James did both. He kept going to school, but he also worked weekends and during summer vacation. One of the jobs he had during that time was at a restaurant.
"I bussed tables and mopped the floor," he said. "That restaurant never served a black person in all the time I worked there."
James enrolled at Winter Haven High School, just as the public schools were being desegregated.
After "surviving" that tumultuous time at WHHS, James said, he enrolled at Polk.
"I was fortunate to have a wonderful college right here in Winter Haven," he said, adding that he chose Polk in large part because he could still live at home and help provide for his family.
James graduated with his Associate in Arts degree in 1970, and moved on to the University of South Florida, where he earned his bachelor's degree in engineering.
He is forever thankful for Polk State and the foundation it gave him.
"The teachers and administrators at this school didn't know I would be president of a utility one day. The nurturing and education I received is a tribute to this institution," he said.
Yet, his story is so typical of Polk State's alumni.
"For so many, the academic preparation and life experience they received at Polk became the stepping stones to their success," he said.
After graduating from USF, James embarked on what would become an illustrious career in the energy sector.
He served as executive vice president of Atlanta-based Southern Company, which has operations across the Southeast, as well as president of Shared Services Group, which provided support services to Southern Company's four electric utilities. James was also president and CEO of Savannah Electric and Power Company.
His professional accolades include being named "Black Engineer of the Year" by U.S. Black Engineer magazine and Career Communication group. He was recognized by the same organizations as one of the "100 Most Important Blacks in Technology" in 2005, 2006, 2007 and 2008.
He also is co-author of the 2005 book, "The Shoulders of Giants," and a Polk State Distinguished Alumnus.
James retired in 2008 and now lives outside Atlanta.
In addition to encouraging students to continue pursuing their dreams, James implored other attendees to make the time to serve as mentors.
"The best way we can honor Polk and the people who have helped us is to give back through mentoring," he said. "When you mentor someone, you have no idea where they might end up. They might become president of a utility. They might become president of the United States."
The theme of Wednesday's event was "Dreams Begin Here."
"I am a living example that dreams do begin here at Polk State," James said.
In her remarks to attendees, Polk State President Eileen Holden described King as a man of both dreams and action.
"He not only had a dream, but he actually did something about it," Holden said. "That's what we do at Polk State. You come to us with a dream, and we help you do something about it."
The College will be closed Jan. 19 in recognition of Dr. Martin Luther King Jr. Day.