Local Theatre Professionals Lending Expertise to "Richard III"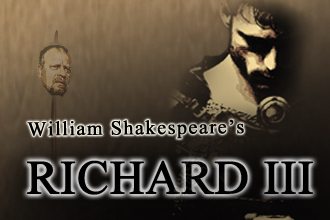 Polk State Theatre's upcoming production of "Richard III" is the biggest and most elaborate in its history, and local set and lighting experts are lending their expertise to ensure it's one audiences will remember long after the final curtain.
For the first time, scenic designer Kirk Stalnaker and lighting technician Brian Macke, both well known in Polk County's theater circles, are collaborating on a Polk State show. Their talents will make for a much different audience experience than previous performances, said Professor of Speech and Theatre Paul Carbonell.
"If you go for a ride in a Yugo, it's a certain experience. If you go for a ride in a Bentley, it's something else entirely," he said. "That's the difference we're talking about here. We have professional-level lighting, set design and costuming, and even if they don't understand why, our audiences are going to enjoy this show a heck of a lot more than they would otherwise."
Stalnaker is fresh off stints as scenic designer for Theatre Winter Haven's productions of "Rumors" and "Buddy." He has a Master of Fine Arts in Technical Direction from Florida State University and has worked for theatre festivals, playhouses and other venues up and down the eastern seaboard.
Macke has his bachelor's with an emphasis in Technical Theater from the University of Missouri-Columbia and has more than 15 years of experience, including work here in Polk County at Harrison Center for the Visual and Performing Arts, Fantasy of Flight and the Polk Theatre.
Both said they were excited by the opportunity to be involved in an ambitious performance by Polk State's growing Theatre department.
"A lot of people might have a certain perception of theatre at a community college, that it has no production value. But we're going to blow their minds," Stalnaker said.
The play follows Richard's pursuit of England's throne, a prize he's determined to win no matter how many lies he must tell or people he must kill along the way.
It's a bloody and cutthroat tale, which is why Stalnaker designed an ominous tower for execution scenes and why he recently carefully dabbed red paint over one of the set's concrete pillars. It's also why Macke will use light to isolate small sections of the stage, making use of the dramatic effect of darkness, and will use plenty of red filters in his lighting arrangement.
"We want it to be creepy, not quite as bright as other shows, more sinister," Macke said.
Theatre Technical Supervisor James Sharp, who handled sets and lighting for the past 25 years, said that as Polk State Theatre has grown, adding more shows of increasing complexity to its production schedule, he welcomes outside expertise.
"We're going to see some top-notch stuff," he said.
Having Macke and Stalnaker involved won't just make a difference for audiences, Carbonell said. Students are also benefitting.
For one, Stalnaker is teaching a new class for the College this semester in Scenic Painting, introducing students on techniques that make a set pop — for instance, using paint strokes to create the look of wood grain rather than just painting flat brown.  Students in the class have learned on the job, so to speak, practicing what they've learned on the "Richard" set. (Casual observation proves that scene painting is a tricky art, as Stalnaker repeatedly reminds a student, "Too much blue…lay off the blue.")
All in all, about 100 people are involved in bringing "Richard" to Polk State's stage, including 30 performers and about 50 working on the set. Even for students not in Stalnaker's class, Carbonell said the experience of working with professionals is invaluable, and it marks an important turning point for Polk State Theatre.
"We're pushing toward professionalism. We want to be just this side of a professional show," he said. "It will take years for our students to get to a professional level as performers. But when you can walk on a professional set, with professional lighting and professional costumes, the performance elevates. You just feel better."
"Richard III" will be performed from Nov. 7-11 and 15-18 at the Fine Arts Theatre on the Winter Haven campus, 999 Ave. H N.E. All shows are at 7:30 p.m. except for Sunday matinees, which are at 2:30 p.m. The Nov. 7 show is a free preview. All shows are free for Polk State students and employees, as well as high school students with school IDs. Tickets for the general public are $5. The box office opens 30 minutes prior to each show. There are no advance ticket sales.
A free shuttle service will be available on Nov. 8 for College students and employees at Polk State Lakeland. The bus will pick riders up at 6 p.m., and return them to the campus after the show. Riders need their College-issued ID.
In addition to Polk State Theatre, Polk State Fine Arts includes the College's Music and Visual Arts departments, all of which enjoy outstanding statewide reputations.