International Sisterhood: Polk Volleyball Players Bond During Historic Season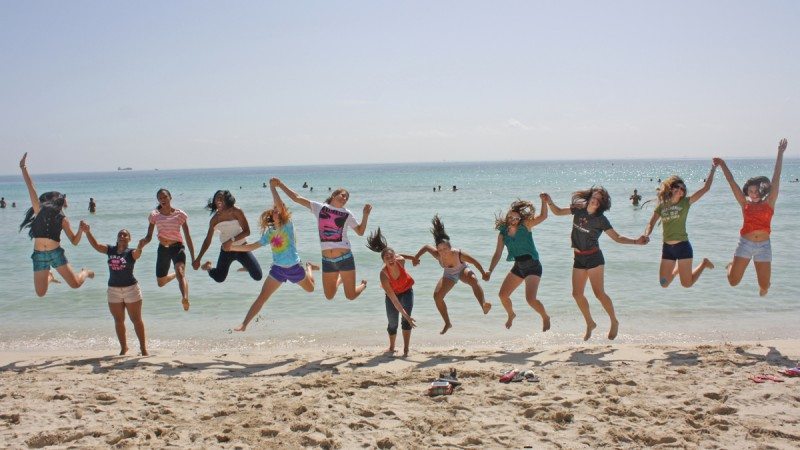 The international sisterhood of the Polk State College volleyball team has given the Eagles a winning chemistry that few teams ever experience.
The bond has resulted in wins over nationally ranked programs, a national ranking for only the second time in the program's history and happy memories that will last a lifetime.
The storybook season comes on the heels of a 2012 campaign the coaches and players would like to forget for its lack of chemistry.
"We looked so hard for the season to be over," said head coach German Del Valle of 2012. "We were athletic, tall and had experience, but no character. Character is a big word. It can be defined many ways. Last year, we had no togetherness. We had no people willing to do stuff for others."
So Del Valle and assistant Line Oliveira changed their philosophy when it came time to recruit.
They looked for character and talent, but also chose character over talent.
"We did it by attitude toward other teammates," Oliveira said. "We looked at how they reacted toward positive and negative situations and how they talk to you with 'Yes, sir' and 'Yes, ma'am.'"
The result has shown in many ways.
"It's super different," said red-shirt sophomore/team captain Diannmarie Rivera-Romero, who is in her third season with Polk. "My first year — that team was together on the court, but outside the court they went different ways. Last year was the opposite. This year we are together on both sides."
Despite having players who speak three languages and represent four countries, a spirit of sisterhood pervades the team, thanks in part to time spent commiserating over missing their families and home countries.
They come together through the universal language of volleyball and the sportsmanship of the game, open- mindedness, trust, respect and a desire to understand cultural differences.
This year's squad can often be seen holding hands, laughing on long bus rides, singing songs in English, Spanish and Portuguese and congratulating each other with genuine care, even as one player leaves the court and another goes on the floor in the same position.
Players have bonded over cooking foods of their home countries as well as experiencing new foods, like Slurpees and waffles.
They are also trying to learn each other's languages.
"We have really good communication, said freshman Isabella Rodrigues. "It's not important where we come from."
In short, it's been special, especially for female athletes in a team sport.
"I played on a team like this, but this team is different," said Oliveira. "It's different because of the attitude. It feels like their desire is on the same page. Everyone wants to work. They are all responsible.  We don't have to chaperone them. They are very disciplined."
The coaches help with the language barrier.
Oliveira speaks Portuguese, as do the Brazilian players.
Del Valle, who is from Puerto Rico, speaks Spanish. Four  players are from Puerto Rico.
Oliveira knows how female athletes behave. She has played and coached college and club volleyball. She's seen plenty of teams and how chemistry or lack thereof, plays a part in the success or downfall of a unit.
"I think for girls to be able to play and win — they have to bond first," she said. "Guys win and bond after. I think it's natural for girls to be territorial when they want their space. I think women in general are more possessive. Last year, I could tell we had some who were possessive."
She cited a case of a friendship gone awry that was uncomfortable for the team in 2012.
"I think that behavior is typical," she said. "This year, everyone is really amazing. The whole entire team is together."
Togetherness can be challenging with two players who speak Portuguese, four who speak Spanish and five who speak English. One can only speak in her native language. The dynamic is ripe for small groups to form and remain in place.
In fact, DeValle expected it to happen.
"That's OK," he said. "That happens everywhere."
But, not with this bunch.
The players are learning each other's languages.
Regularly, once something is said to the team in English, it's translated by another player in Spanish,  sometimes twice.
The players welcome the opportunity to learn and all feel included.
"They Googled," said Oliveira of the players' desire to learn languages of others and connect. "They searched on YouTube. They learned from us."
They practice by singing Happy Birthday three times, in three languages.
"It's cool to learn about this stuff," said sophomore/ team captain Ashley Hass.
The two coaches saw examples of the unique cohesiveness early on.
In one example, two players were hurt in the pre-season. They weren't supposed to run. But, they did anyway.
"They said, 'If the team is running, we are running,'" Del Valle said.
Although Del Valle appreciated the effort, he asked them to do abdominal work instead.
The players didn't pick the easy abdominal exercises, they performed the difficult ones.
In another comparison, last year's squad refused to do team building exercises.
This year the players participated in the "Red Neck Games," doing exercises like chasing and catching chickens and tossing eggs to each other.
"Even if they were scared, they did that," said Del Valle.
"That day I understood. They were trying to do it for each other."
On the court, the team was preparing for a big match. Rivera-Romero told Del Valle to "go tall," meaning he should take her out of the lineup and put in a taller player so the team could have a better chance of winning.
It's not just Rivera-Romero who is respectful, humble and unselfish.
Once, Hass came off the court and her replacement, Ana Karine-Cavalcante told Hass she played well.
"Who does that?" said Hass. "It's so nice. If you can like each other off the court, you can cheer each other on the court."
The attitude has spread.
"It's all of them," said Del Valle.
"I can talk about this team forever," said Oliveira. "They inspire me to do things harder. I want to play with this team."
"Every team I've been on, we've been separated," said freshman Elizabeth Garcia, who is half Mexican. She often translates Spanish to English and vice versa.  "We're not just a team, we're a family," she said. "When we speak to each other, we are respectful. We always had each other's backs – even from the beginning. Our coaches picked us for the right reason."
According to Garcia, the girls have had their share of homesick tears, creating a closeness.
"We hold each other," she said.
They've had disagreements that could have torn them apart. But they've only made them stronger.
"We've definitely had issues," said Garcia. "We're girls. We pull our bra straps up and we handle it."
They handle it by letting the coaching staff know there's an issue. The coaching staff discusses the issue with the team captains. They talk to the players involved, get the issue in the open and resolve it.
"As soon as it's over, it's done," said Garcia. "If you hold feelings in, you bottle them up and they explode."
Each culture brings a different intangible to the court. The game of volleyball in Puerto Rico and Brazil is as big as baseball is here.
"The Puerto Ricans have such a fire," Garcia said. "The Brazilians bring game smarts and how they handle themselves in tough situations. The Americans bring the competitiveness."
After the wins and losses, the sisterhood will remain forever.
One clear statement of the international sisterhood bond came following a loss to Miami-Dade, where the Eagles were looking to bolster their national ranking with a victory.
Hass was heard saying, 'That's OK. They don't have what we have."