Injured NFL prospect gets fresh start at Polk State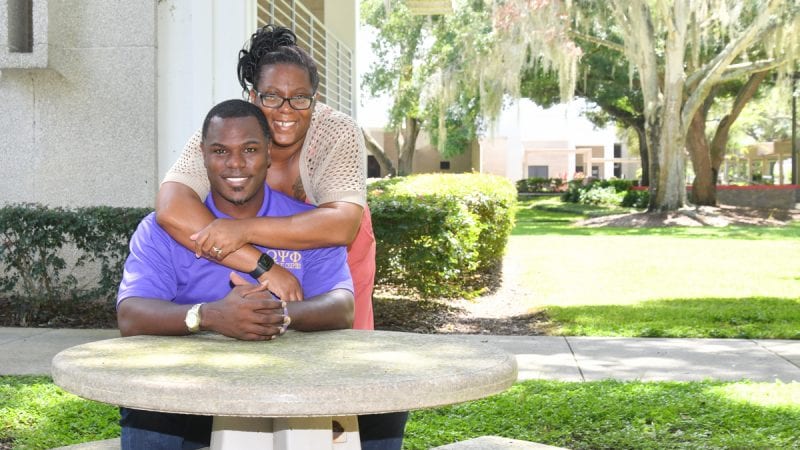 George Williams knew from a young age what he wanted to do in life — he wanted to play football.
Williams attended college on an athletics scholarship and became an NFL prospect. He was a free agent who had a brief stint with the Buffalo Bills. He was playing football professionally in the Arena Football 2 (AF2) League when a wrist injury ended his football career.
He had to start over at 28 years old – not only for himself but also for his daughter who motivated him to find a new purpose in life so that he could provide for her.
"The issue was that I didn't know anything other than football – I didn't have the skills to get a good job," Williams explained. "I knew I had to go back to school… and Polk State College has given me more than I could have ever imagined."
Williams has an Associate in Arts and a Bachelor of Applied Science in Supervision and Management with a concentration in Business Information Technology from Polk State. He is successfully employed with Polk County Public Schools as a teacher at Fort Meade Middle-Senior High School and serves as a tutor in Polk State's Teaching Learning Computing Center (TLCC).
He is a shining example of student success and the opportunities available at Polk State, Career Development Services Coordinator Rosebud Leslie said. Although Leslie was an administrative assistant for Student Services during Williams' time at Polk State, she assisted him as an advisor would – a role she would later transition to at the College.
"Even though George was older, I'm a mother before anything else and my instincts kicked in," Leslie said.
They quickly bonded over football, which Leslie's son played in college. Williams was also able to relate to Leslie, who pursued her higher education while she balanced two jobs and raising her children. At Polk State, the average student age is 25 and 74 percent of students attend part-time, with many balancing full-time jobs and raising families with their studies.
The student-advisor relationship between Williams and Leslie illustrates the personal attention and care Polk State staff and faculty provide students to ensure they receive the support and guidance they need to persevere on their paths to degrees.
When USF Polytechnic closed in 2012, Williams was faced with the decision to commute to Tampa to continue classes with USF or to enroll at Polk State closer to home. The self-proclaimed "old-school learner" wanted to take classes in person rather than online, meaning Polk State was a good option for Williams, who was also juggling a job as a school custodian and providing for his daughter.
"A lot of times I felt like I couldn't do it, but Ms. Leslie explained that Polk State is an affordable and flexible option, and she gave me a sense of reassurance by helping me focus on the things that I can do rather than on the fear of what I couldn't," Williams said.
In addition to completing his degrees, Williams started a mentoring club on campus that allowed him and his peers to guide and motivate younger students who felt uncertain like he once did.
"If they see someone like them, they will realize that they can do it too," he said.
His advice for students: develop relationships with advisors, faculty, and staff.
"That relationship is imperative," Williams said. "If it wasn't for Ms. Leslie connecting me to resources, helping me get into the classes I needed, and just being there to reassure me that I could succeed when I was having a bad day, I wouldn't have graduated."
"At Polk State, that support system is in place for students to make sure they are successful. Thanks to Ms. Leslie and others I encountered during my journey at Polk State, I am now able to live a life I enjoy and provide for my daughter."

— George Williams
Polk State alum and tutor
Polk County Public Schools teacher
Leslie echoed a similar sentiment.
"Networking is the foundation to success," she said. "Make sure your advisors know who you are and go see them before each semester starts – they will have a transformational impact on your college journey."
Polk State continues to advocate at the state level for additional operational funds to hire more advisors. The College secured $500,000 in recurring operational support in 2018, allowing Polk State to hire several new Student Success Advisors, which has reduced the wait time for students meeting with advisors on the Winter Haven and Lakeland campuses, as well as for those who utilize online advising.
Also, for the first time in the College's history, all incoming first-time-in-college students are assigned their own advisor. Additionally, every Polk County public high school has an assigned Polk State advisor and advisors now have more time to visit classrooms both within the College and in the community.
"At Polk State, that support system is in place for students to make sure they are successful," Williams said. "Thanks to Ms. Leslie and others I encountered during my journey at Polk State, I am now able to live a life I enjoy and provide for my daughter."