Injured College Football Star Inspires Polk State Students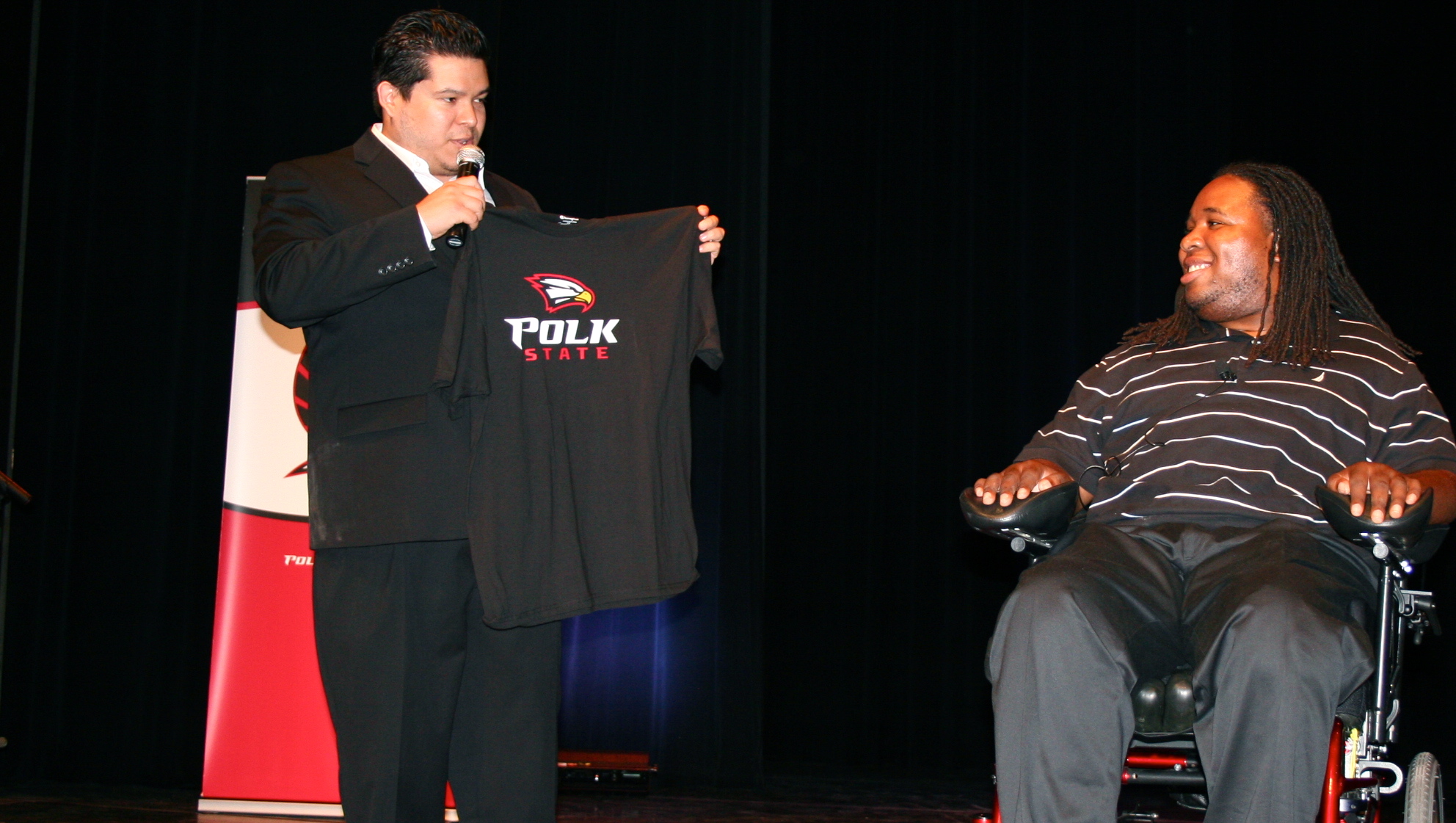 Eric LeGrand, a once-rising football star who is now paralyzed from the neck down, visited Polk State's Winter Haven campus on Monday, inspiring students who turned out to hear him speak.
In the hour-long event attended by about 200, including members of all of Polk State's athletic teams, LeGrand described the day in 2010 when he sustained a spinal-cord injury while making a special-teams play.
As was his custom before a big game, he loaded up on lasagna and rice and listened to his favorite recording artist, Lil Wayne.
"It was just a normal day," he said.
Late in the game against Army, of course, that "normal day" turned into the day that changed his entire life. LeGrand described feeling the impact as he tackled Army's Malcolm Brown — whom he's since befriended — and the minutes that passed as he lied on the field, unable to move. As medical professionals swarmed over him, he blacked out and later awoke in the hospital.
The news he received in those first days could have easily crushed LeGrand's spirits.
"(Doctors) didn't think I would ever get off the ventilator," he said, adding that it was most difficult to lose the independence of simply getting dressed or scratching his own face.
LeGrand, refusing to give up and committing himself to his rehabilitation, no longer needs a ventilator, and he's parlayed his injury into a foundation to help others with spinal cord injuries. He's also launched a sports broadcasting career, continues to pursue his degree in legal studies from Rutgers and now travels the country to offer his story as motivation for others.
His ultimate dream, he said in a video preceding his appearance on the Winter Haven Fine Arts Theatre stage, is to walk again, return to the spot on the MetLife Stadium field where he sustained his injury, lie on the turf, and then rise and say, "I finished that play."
After Orlando-based radio host "Lil Shawn," of Power 95.3's "The Obie and Lil Shawn Morning Show," asked LeGrand a series of prepared questions, students had the opportunity to ask their own.
Polk State Soccer's Breanna Vidal asked for LeGrand's advice as she works her way back from a back injury that has kept her sidelined for the season.
"Take your rehab seriously," LeGrand said, adding that injured players should always have a support system in place, people they can talk to about their physical challenges and the range of emotions that come with them.
"Hearing that from him meant a lot. It made me more confident and helped me put things into perspective," Vidal said after the event.
Polk State student Josh Austin asked what LeGrand would say to Devon Walker, a safety for Tulane University who fractured his spine in a game against Tulsa over the weekend.
"Be positive," LeGrand replied. "(Walker) went down nearly the same as me. The first few weeks will be the scariest. He has to give his body time to rest and be as positive as he can be. Don't push anyone away."
Another Polk State Soccer student asked LeGrand for a pep talk as the team heads into Wednesday's match against Webber.
"Be the best you can be and go do your thing," he said.
Polk State Winter Haven SALO Director Carlos Parra replied, "Webber's done for now. I can tell you right now."
Responding to a student's question about what he might go back and change in light of his injury, LeGrand said, "I really have no regrets…maybe to not be in this chair right now, but I believe that I was put in this chair to do great things."
Among the audience members were nearly 50 players from the Winter Haven High School football squad. Head Coach Charlie Tate said he appreciated the opportunity the College afforded him to share LeGrand's message with his team.
"After what's happened to him, he's still as positive as you can get. That's something special that maybe will rub off on us," Tate said. LeGrand was a teammate of former Winter Haven High football player D.C. Jefferson, making the event all the more relevant for Tate's players.
"This was a great chance to enrich their lives," Tate said.