In Serbia, Polk State Basketball Player a Role Model On and Off the Court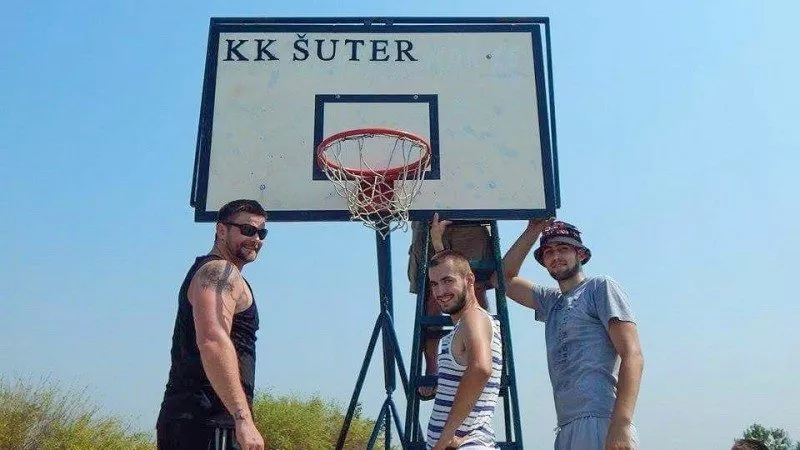 As a kid, Djuro Pantos learned to play basketball on an outdoor court in his native Belgrade, Serbia. This summer, the Polk State student-athlete returned to his homeland to give back to the community.
The court, at a middle school in the Sremcica area of Belgrade, had fallen on hard times. The warped wooden backboards held bent rims with no nets. Trash littered the surrounding area. Because the court holds special memories for him, Pantos wanted to improve it for others.  
"Starting at about age three or four, I would get up at 6 a.m. and practice on that court with my dad, and I'd watch him play on it at night," said Pantos. "The first time I palmed a basketball was on that court."
Pantos wanted to help fix the court after enjoying the facilities at Polk State.
"I believe kids in Belgrade would improve if they had the same conditions as we have at Polk State," he said.
So he partnered with Milan Vujicic, a former assistant basketball coach at Miami Dade College who now runs a fitness center and basketball club in Belgrade.
Together, Pantos and Vujick got the necessary upgrades. They bought and installed new rims, new nets, and new backboards. They picked up trash, cut grass, and pulled weeds. They also added light to facilitate night games. Players can now use the court until 2 a.m.
"The first night we turned on the lights we had about 50 people show up to play," said Pantos.
The renovated playground typically has a game of three-on-three taking place at each end of the court.
Having gone to the United States to study and play basketball, Pantos has become a celebrity in his hometown.
Because local kids often ask him for advice, he conducts informal clinics where he helps the younger players learn the finer points of passing and shooting.
Pantos takes his status seriously.
"I feel like I should be a role model for the kids," he said. "I can't get nervous when I miss a shot. I can't get mad at another player. I have to act like a professional. I have to show fair play and good sportsmanship."
Since Pantos wears number 12 at Polk State, kids in his hometown want to wear the same number.
"I'll show up at the court and see a group of kids all wearing number 12," he said.
"These kids are hungry for work and practice, but they often don't have the conditions to take their game to the next level. By helping them have a better facility, I know they will have fun and improve."
Pantos proudly points out that everyone who helped renovate the court did so as a volunteer.
"We did not pay the workers. They did it for the love of basketball."
That same love for the game has helped Pantos achieve success both on and off the court while making a difference in the lives of others.