High-Wind Warnings of Two Kinds Predicted for Eagles' First Game of JuCo World Series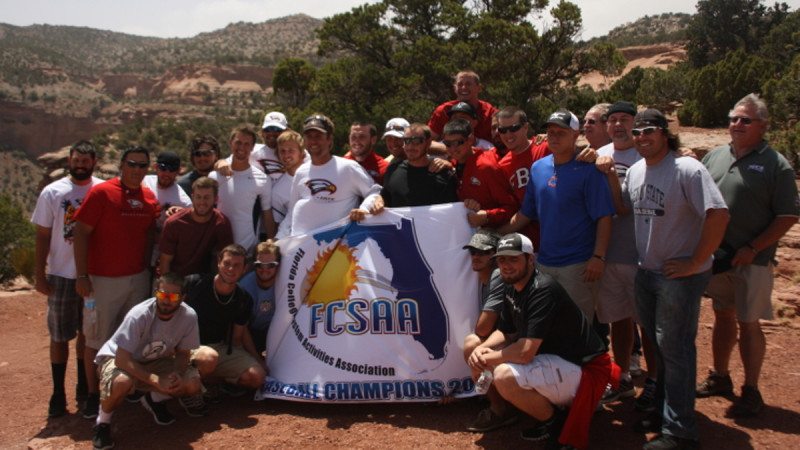 It will be a blustery day for Polk State's first-ever appearance in the NJCAA JUCO World Series — both in terms of atmospheric conditions and the throwing speeds of two highly ranked pitching prospects.
The Eagles will face off against Western Nevada College at 5 p.m. (EST) at Sam Suplizio Field in Grand Junction, Colo.
Saturday's game will be a fierce pitching matchup, with the Eagles' Alec Asher expected to face off against Western Nevada's Dylan Baker.
Baker, ranked as the top junior-college MLB prospect by Perfect Game, is a righty who hails from Juneau, Alaska. He is making a name for himself off fastballs that reach 93 to 97 mph, as well as impressive breaking ball and curveball offerings. According to Western Nevada, he is 12-0 and has an ERA of 1.86.
Asher, meanwhile, is ranked at No. 13 by Perfect Game. Also a righty, he is the current FCSAA Pitcher of the Year. He is 12-1, consistently throws in the mid-90s and has an ERA of 1.38.
"We're ready," Head Coach Al Corbeil said of the team on Friday, adding that the free time the team has been able to enjoy leading up to today's game — including a Friday tour of Colorado National Monument — has been healthy for the players.
The matchup, in addition to being a battle of pitchers, will also be interesting because of high winds the area has experienced in recent days.  A high-wind warning is in effect all day Saturday, according to The Weather Channel. Gusts on Saturday could exceed 40 mph.
While local radio hosts and TV news anchors advise their audiences to tether outdoor items and beware of airborne rocks, Corbeil said his team will simply have to endure the wind.
"It's going to be the same for both teams. There's not much you can do. We'll play with Mother Nature," he said.
Heading into the first game of the tournament, the team is feeling excited but also calm. Yes, Baker is a pitcher to take seriously, but Asher meets him stat-for-stat. Yes, the NJCAA JUCO World Series is a storied, 50-year tradition that draws national attention, but with a prospect like Asher on the roster, the Eagles are used to looking into the stands and seeing the speed-measuring radar guns of dozens of pro scouts.
What will carry them through the World Series is the same attitude that they used in clinching their conference and state titles: Forget the stands, forget the newspaper headlines, forget the fact that playing in this tournament is a once-in-a-lifetime opportunity, just play like they would if they were back home in Polk County.
"It's another game, another day. We're going to play like we always do and we're going to win," said Drew Reeves (1B/3B).
Eagles fans can watch Saturday's game live at http://www.ihigh.com/njcaatv/.