He's Never in the Spotlight, James Sharp Has Played Important Role at Fine Arts Theatre for 27 Years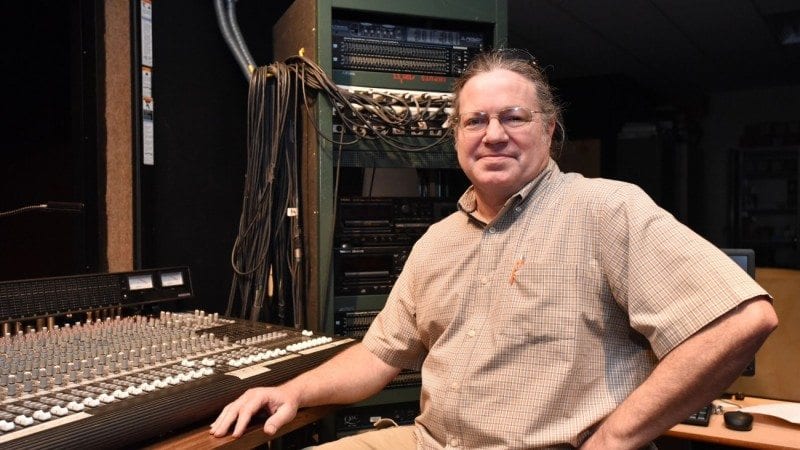 In the world of theatre, it's the actors and directors who get their names illuminated on the marquee, who get to bask in the spotlight at the end of each show.
Always in the shadows are people like James Sharp.
For 27 years, Sharp has managed the Polk State Winter Haven Fine Arts Theatre, overseeing everything from scheduling the 500-seat auditorium to making sure the spotlights are in working order.
It's unglamorous work, but work he never takes, well, lightly.
"We added it up a little while back, and we calculated that we have events going on here 200 nights a year," Sharp said. "For every one of those, my department is in charge of all the behind-the-scenes details, from lighting to sound, making sure the headsets are working and making sure the scenery is built and installed on time."
Two hundred events a year times 27 years. According to that math, Sharp has been involved in approximately 5,400 concerts, plays, recitals and the like. Reflecting on all those shows, Sharp can't help but recall his thoughts upon arriving at what was then Polk Community College in 1988.
"I thought I'd give it three years, then I'd move on or move up. But you get used to a place. You get comfortable and you stay," he said. "Twenty-seven years has gone by in a flash."
Sharp grew up in Arkansas. His mother worked as a clerk at a Kroger grocery store. His dad was a construction subcontractor. Sharp grew up helping his dad on jobs, where he learned to swing a hammer, handle a saw, deftly drag a paintbrush.
By high school, several of Sharp's buddies had formed a garage band. Sharp didn't play an instrument, but he wanted to be part of the group, so he made it his job to drive the equipment to each gig, set it up and break it down.
During his junior year, Sharp's mother began encouraging him to go to college.
"I wanted to do it for my mother," he said. "I was really just focused on graduating from high school, but me going to college meant a lot to her."
Sharp applied and got accepted to the University of Central Arkansas, but knew if he got bored or frustrated, he'd never make it to graduation.
"Theatre was the only thing I thought I might like," Sharp said.
Sharp's major required him to dabble in acting, but it was the lights, the soundboard and the sets that really captured his interest. For several years, he worked behind the scenes at the university's 1,200-seat auditorium and 300-seat theatre, contributing his previous construction and band-management experience to student productions and other events.
In his senior year, he saw an ad for a theatre technician in a place called Polk County.
"I came down for an interview, and I figured that even if I didn't get the job, at least I'd get a free trip to Florida and the chance to go to EPCOT," Sharp said.
Of course, he did get the job. He finished his finals, hit the road, and started working at Polk less than a week after graduating from college.
"And I never left," said Sharp, whose title was changed to theatre technical supervisor a few years ago, when he gained a small part-time crew.
Sharp has occupied the same office throughout his time at Polk, and by now it's become something of a time capsule. Behind his desk is the large Beatles poster that he hung during his first week on the job. The walls are covered in relics from various plays and concerts.
Sharp will never forget many of the shows he's managed, especially Maya Angelou's sold-out appearance in 2011.
Perhaps the most fascinating thing he's witnessed from backstage, however, has simply been the passage of time. Polk State has added buildings and campuses. Presidents have come and gone. Students who battled nerves on Polk's stage have gone on to perform in New York City.
Sharp has been right there, watching it all from the shadows, and playing his own crucial role.
"I'm still a technician at heart. If something breaks, I make sure we get it fixed. If a light bulb blows, I make sure we get it changed. As they say, the show must go on."
In addition to Theatre, Polk State Fine Arts includes Music and Visual Arts, all of which enjoy outstanding statewide reputations.